Remember, Remember the 11th of November – Viacom Honors Vets
Remember, Remember the 11th of November – Viacom Honors Vets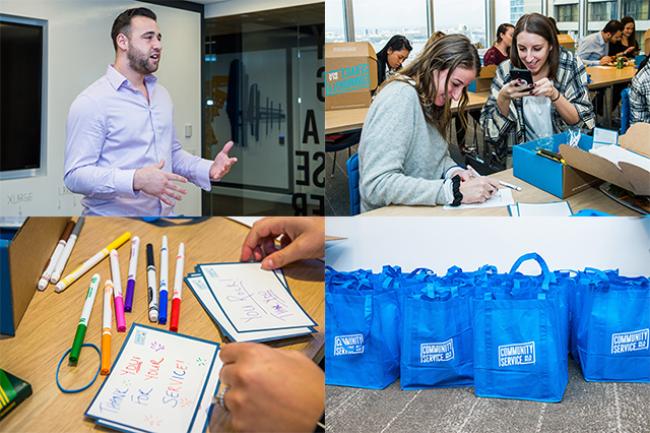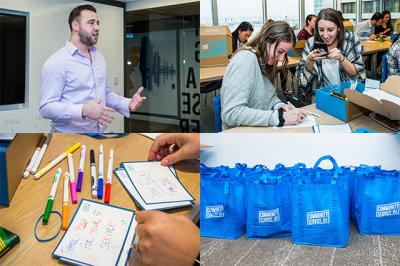 Friday, November 17, 2017 - 3:00pm
It occurs on the 11th day of the 11th month of every year: Veterans Day. Creativity and patriotism were flowing at Viacom during the lead up to the holiday this year, a time dedicated to honoring American military veterans.
This year, Viacom President and CEO Bob Bakish shared his appreciation to those who have risked their lives for our country by sending personal emails along with MyViacommunity gift cards to the more than 85 employee vets. The veterans can then use the gift cards to donate to a charity of their choice.
Viacommunity and Community Service in a Box (formerly known as Operation Goody Bag) also honored our nation's bravest by inviting employees to decorate goody bags and send handwritten notes of encouragement to our servicemen and women currently on duty across the country and overseas.
Nearly 100 employee volunteers showed up, designing and assembling 500 Veterans Day-inspired goody bags. Viacommunity sent these gifts to the USO of Metropolitan New York.
Viacommunity featured the project on Viacom's social pages and LinkedIn highlighted employees' personal stories:
"Veteran's day is important to me because my grandfather was a veteran. He served in the Vietnam war. I have other cousins in my family who are also in the military, and these people give their lives to make us safe here at home. A lot of them travel and live in different places around the world. It must be so hard for military wives and husbands who have partners out there risking their lives, so this day really speaks to me."
"What I love about Viacom is the people that work here. The empathy we are trying to create within the company is something that I feel should be established in all companies. I've always felt that we should be more sensitive to our surroundings. When we impact people positively, they gravitate towards us. I am here today to write notes to our Viacom Veterans because I want to thank them for their service. Even though I am not their family, I want to let them know that we are grateful for everything that they do."
The notes of encouragement and goody bag designs, fueled by the same creativity and uniqueness that drive Viacom, creating a tangible appreciation of veterans' efforts on a day dedicated to their courage and sacrifice.
About Viacom
Viacom is home to premier global media brands that create compelling television programs, motion pictures, short-form content, apps, games, consumer products, social media experiences, and other entertainment content for audiences in more than 180 countries. Viacom's media networks, including Nickelodeon, Comedy Central, MTV, VH1, Spike, BET, CMT, TV Land, Nick at Nite, Nick Jr., Logo, Nicktoons, TeenNick, Channel 5 (UK), Telefe (Argentina) and Paramount Channel, reach over 3.9 billion cumulative television subscribers worldwide. Paramount Pictures is a major global producer and distributor of filmed entertainment.
For more information about Viacom and its businesses, visit www.viacom.com. Keep up with Viacom news by following Viacom's blog at blog.viacom.com and Twitter feed at www.twitter.com/viacom.
About Viacommunity​
Viacommunity is the umbrella effort representing all of Viacom's social impact programs.
Through the power of entertainment, Viacommunity works to inspire social change hand and hand with the people we serve, the employees we work with, and the communities in which we operate. Some of Viacommunity's key areas of focus include building diverse and inclusive societies, promoting healthy living, inspiring future generations through education and empowering our employees with the tools, resources and freedom to truly make a difference.