Registration Is Now Open for 3BL Forum: Brands Taking Stands® - Now What?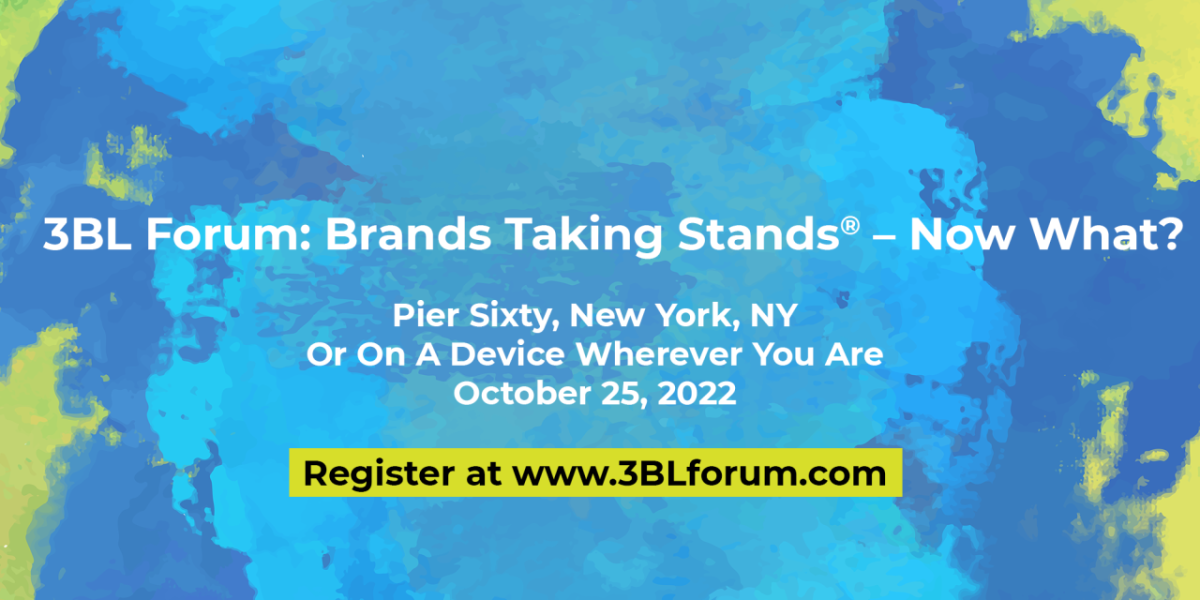 3BL Forum returns this October with a live stage in New York City. Complementing the New York stage will be a virtual one available on a device wherever you are. Register today for lowest in-person rates.
At some point over the past two years we've all asked ourselves, "Now What?"
3BL Forum: Brands Taking Stands® returns in person on October 25, 2022 as we seek answers to the question, Now What? Given our collective challenges over the past two years, no one knows what's on the horizon. We will bring together the best of our in-person stage with a virtual one and continue those high-octane conversations and explore how we navigate 'business as not usual.'
The 2022 edition of the 3BL Forum will be at Pier Sixty, on the banks of the Hudson River in New York City, and will stream much of the event live on devices worldwide. Early registration is now open — reserve your in-person seat by April 30 to receive 3BL Forum's lowest in-person ticket prices. In-person seats are limited.
"We are very excited to bring the 3BL Forum stage to New York, and you can expect we will continue our tradition of delivering an authentic, fast-paced event," said Executive Producer Lynne D. Filderman. "The Forum stage conversations are designed to shed light on how business leaders are navigating this complex new era of purpose, ESG and stakeholder primacy."
Attendees at the live event will experience a broadcast studio environment inside Pier Sixty, an acclaimed event space in Manhattan's Chelsea Piers complex, along the Hudson River in the west 20s. In-person attendees will also have the opportunity to engage in meaningful conversations, connect with long-time colleagues and join 3BL Media's Responsible CEO of the Year Awards luncheon where we recognize CEOs who exemplify the spirit of bold leadership.
Those participating in the 3BL Forum via live video streaming will have access to all the in-person main stage sessions, and get access to post-session live interviews with speakers, sponsors and keynoters.
Conversations are sharply focused on the 'why' and 'how' and the importance of flexibility and innovation in the face of uncertainty and the unknown. With broad 'Now What?' themes, we'll dive into perspectives on the most significant topics impacting businesses, such as diversity, equity & inclusion, climate crisis, employee activism, shifting consumer and investor expectations, brand authenticity and more.
'Now What' Themes We Will Cover:
We Can't Unlearn What We've Experienced, Can We?
The New Qualifications for Corporate Leaders
What Do Stakeholders Want You to Know?
Is Corporate Purpose Doing What It's Supposed to Do?
ESG + Sustainability + Purpose = The Ultimate Silo
How Do We Navigate 'Business As Not Usual'?
Purchase your tickets to 3BL Forum: Brands Taking Stands® – Now What? by April 30 to receive discounted in-person rates. Seating is limited.