Quest's Chicagoland Laboratory Hosts Americares Leaders During Lab Week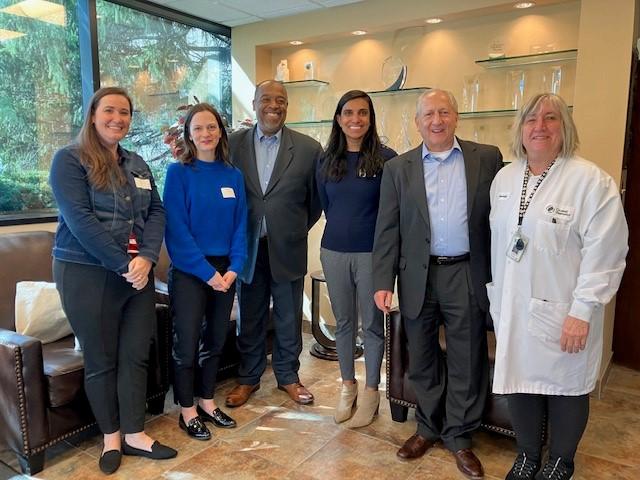 L to R: Jessica Orndorff, Associate Director, Strategic Partnerships, Americares; Renee Hervieux, Chicago and Midwest Regional Director, Americares; Michael Floyd, Senior Director, Quest for Health Equity; Julie Varughese, MD, SVP of Programs and Chief Medical Officer, Americares; Matt Hamlin, Vice President and General Manager – Great Midwest Region, Quest Diagnostics; Barbara Heredia, Laboratory Manager, Quest Diagnostics
Quest Diagnostics is proud to support Americares in their efforts to improve health for people affected by poverty or disaster with a grant from Quest for Health Equity (Q4HE).
Americares is a health-focused relief and development organization and one of the world's leading nonprofit providers of donated medicine and medical supplies. Each year, Americares reaches 85 countries on average, including the United States, with life-changing health programs, medicine, medical supplies and emergency aid.
With a grant from the Quest Diagnostics Foundation, Americares will build capacity, strengthen health systems, and advance health equity in the national free and charitable clinic sector. Specifically, Q4HE will support funding for telehealth support, chronic disease management and wellness, and donated testing to support 10 safety net clinics across the United States.
During a special week for the laboratory company–Medical Laboratory Professionals Week, an annual celebration of essential frontline laboratory staff–Quest hosted senior leaders from Americares at its Wood Dale, Illinois facility. Groups of employees could be seen wearing fun matching attire while the smell of freshly popped popcorn wafted throughout the building. After a private tour of the lab led by Barbara Heredia, Laboratory Manager at Quest, the Americares team enjoyed a conversation with Matt Hamlin, Vice President and General Manager of Quest's Great Midwest Region, and Michael Floyd, Senior Director & Leader, Quest for Health Equity, about the impactful collaboration between both organizations.
"Quest had the honor of hosting the Americares team, sharing an inside look at our complex laboratory operations at Quest," said Floyd. "Learning more about the Americares mission and their collaborations across the Midwest geography was inspirational. I am proud Quest is playing an important role in ensuring all people have access to quality healthcare."
"At Americares, we support nearly 1,000 health facilities nationwide with the resources they need to provide accessible health services and support equitable health outcomes," said Americares Senior Vice President of Programs and Chief Medical Officer Dr. Julie Varughese. "Quest's support and genuine interest in our efforts means a great deal to us, and we're excited about the possibility of future collaborations with Quest to help even more people affected by poverty or disaster."
To learn more about Quest for Health Equity, visit our website at www.QuestForHealthEquity.com.