Providing More Health Providers in South Los Angeles
Providing More Health Providers in South Los Angeles
A new community medical group, supported by a $1 million grant from Wells Fargo, aims to help the "health care desert" in South Los Angeles.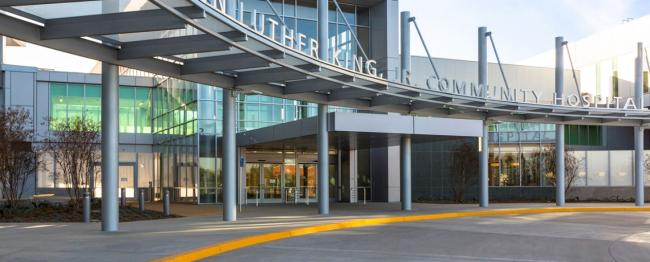 Saturday, March 23, 2019 - 9:00am
Dr. Yulsi Lili Fernandez Montero grew up in a medically underserved community like Compton, California, and knew she wanted to practice medicine in a similar community when she finished medical school. Today she is a family medicine and addiction medicine doctor practicing with the MLK Community Medical Group in Compton. However, she said the decision to practice in this type of community can be difficult for many doctors.
"This area is one of the poorest areas in Los Angeles," Fernandez Montero said. "There are a lot of minorities, new immigrants, and we tend to see uninsured or underinsured patients. Most have public, not private, insurance, so the reimbursement rate is lower. It's tough for newly graduated doctors to come into this area and make a living that is comparable to the rest of the country because most of us graduate with a significant amount of debt."

South Los Angeles is a "health care desert": The area has been designated a medically underserved area and health professional shortage area by the federal government, with a deficit of about 1,200 physicians, said Dr. Elaine Batchlor, CEO of Martin Luther King, Jr. Community Hospital in Los Angeles.

Without enough doctors to go around, patients are not getting diagnosed with or treated for conditions like diabetes, high blood pressure, and hepatitis C, Fernandez Montero said. "There is not a lot of dialogue because there is no doctor, and patients let those chronic diseases go rampant," Fernandez Montero said. "There are negative outcomes because no one diagnosed them."

The physician shortage also puts stress on the hospital's emergency department, which is meant to serve about 45,000 patients a year. It currently sees more than 100,000 patients a year, Batchlor said.

To help address the shortage and create more positive health outcomes for local residents, Wells Fargo provided a $1 million grant in November 2018, paid out over five years, to support the newly created MLK Community Medical Group, which provides high-quality primary and specialty care.

"South Los Angeles is a vital community, contributing greatly to the history and culture that makes Los Angeles a great place to call home," said Gregg Sherkin, Community Relations senior manager for Wells Fargo in Los Angeles. "The shortage of doctors practicing in this area led to an issue that needed to be addressed. We are proud to be working with MLK Community Hospital and other funders in the region to assist in bringing talent and resources to this community."

Batchlor said the grant was extremely generous. "I think it reflects an understanding of the needs of a community like ours. It's an innovative way to subsidize recruitment of physicians to an area like ours," she said.

Recruiting and retaining physicians is something that was difficult prior to and when the hospital opened in 2015, said Dr. John Fisher, chief medical officer of Martin Luther King, Jr. Community Hospital. "When we talk about a health care desert, South Los Angeles is just that," Fisher said. "There were days I wondered, 'How in the world are we going to do this?' I felt the overwhelming challenge of staffing the hospital with even the minimum coverage necessary to provide medical care for a small community hospital."

In addition to supporting the recruitment and retention of talent, the grant from Wells Fargo will allow physicians to comprehensively address primary and specialty care gaps, Fisher said.

"The grant creates an immediate opportunity for a physician interested in providing care to an underserved population," he said. "It also allows other physicians to see it is possible to practice in an underserved area and deliver the type of care all of us want to provide to patients. For the patients, it is impactful because many patients have not experienced health care delivered in this community the way this funding allows us to. For patients, it isn't merely what they need. It's what they deserve."

Fernandez Montero can already see the effects of the grant. "I love coming to work in the morning, and my patients are so appreciative," Fernandez Montero said. "You can see how their health improves, and they feel they now have a medical home."