Power Generation – Is Coal Making a Comeback?
New Strategic Directions Report examines the role of coal, renewables in powering the future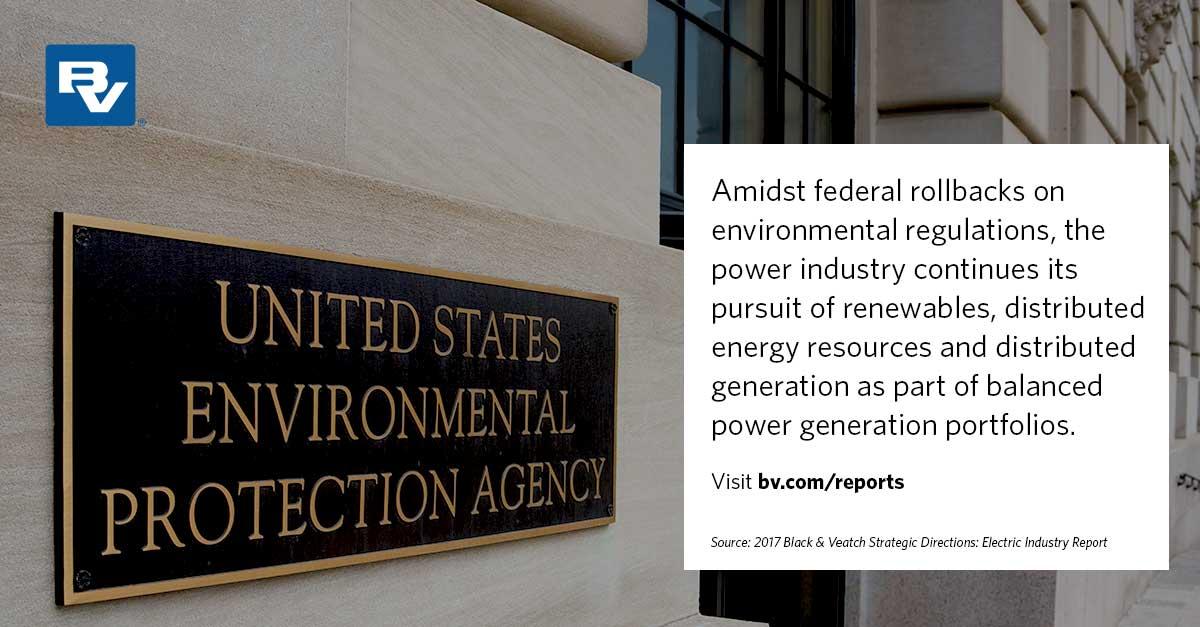 Utilities are banking on renewables to power the future, not coal
The current administration has revived debates over coal's role in the country's overall energy mix. Still regarded as one of the most economical generation resources in an industry heavily driven by cost and reliability, some believe coal may experience a revival of sorts; however, most forward-looking infrastructure investors and industry leaders are not as optimistic.
Learn More - Download the 2017 Electric Industry Report
Industry respondents in this year's Strategic Directions: Electric Industry Report reflected this reality, with only 2 percent indicating that they are adding 50 megawatts (MW) or more of coal-fired power generation to their systems in the next five years. Conversely, solar photovoltaic, wind turbine generation and combined cycle gas-fired generation were listed as the top forms of electric generation to be added by providers.
Changing Market Dynamics
The energy market is changing and many operators are now evaluating the future of their existing coal-fired facilities. Natural gas, renewable energy and DG are becoming more attractive, economical choices. Even in regions where coal has historically been a part of the infrastructure backbone, customer and investor demand is giving way to more clean power generation sources.
Many operators that have plans in place to retire coal-fired units are evaluating renewable options for replacing this capacity. For example, Kansas City Power & Light Co. recently announced that it would retire five coal-burning power units and will supplant some of this capacity with wind energy, increasing its renewable portfolio to more than 20 percent of its total generating capacity. American Electric Power (AEP) is another industry leader that recently announced it is focusing on sustainable energy such as new wind and solar generation in an effort to "de-risk" its business.
Collaborating to Create Market Value
Despite fluid market dynamics, electric providers must continue to serve as trusted connectors that adapt in a continuous effort to provide value to their customers. These resources can provide a hedge against rising power costs and have been positively received by both end users and power providers alike. For example, military bases pursue self-power generation for energy security, those in regions that experience outages from major storms seek to ensure uninterrupted service for their communities.
An increase in power purchase agreements by commercial, industrial and utility players has also raised the question of who is in the best position to shape the balance in the emerging grid profile. Major corporations are gaining attention for their commitments to renewable energy use, with many looking to achieve energy independence from the grid at large. Without proper industry collaboration, particularly with local utilities, grid reliability could be put at risk—so the industry must find an efficient and effective way of working in partnership to orchestrate this transition.
The Future of Coal
Despite renewable energy's advantages over the long term, a diverse portfolio that includes fossil generation resources and renewable DER will be needed to maintain system reliability and achieve optimal economics. Forty percent of respondents indicated that they plan to maintain a balanced fuel portfolio to mitigate future unknowns; however, another 32 percent expressed that coal has no long-term play in their generation profile because of environmental concerns.