Pizza Hut Grow Local Initiative - From Urban to Rural, From Farm to Table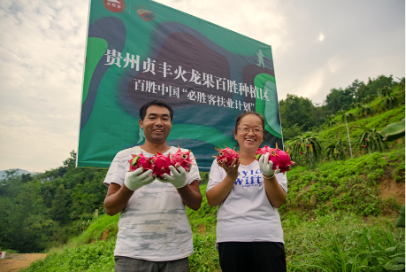 Contributing to poverty alleviation has always been a primary focus for Yum China. The company believes that both its scale and expertise can create the greatest positive change. In 2018, Pizza Hut China, operated by Yum China, launched the Grow Local Initiative in Yunnan province, helping to identify business opportunities in rural areas with the aim of supporting local economic development.
This program has empowered underprivileged areas to better explore a sustainable path to rural revitalization based on a deeper understanding of local conditions and advanced technologies. Meanwhile, by assisting local farmers to improve agricultural techniques and better connect to Pizza Hut China's customer base, the Pizza Hut Grow Local Initiative has managed to create meaningful employment opportunities and promote the revitalization of rural areas in support of China's common prosperity agenda.
How did dragon fruit land on Pizza Hut's menu?
The warm climate and abundant rains of Zhenfeng, an underprivileged county in Guizhou province, make it suitable for the cultivation of dragon fruit. In 2019, after months of research and analysis, Pizza Hut China sought to assist local farmers in cultivating and bringing Zhenfeng dragon fruit to its menus by contracting a 41.09-acre farm in the area to serve as its production base; thus, paving the way for long-term support for the local economy.
This was by no means an easy task. Pizza Hut China had to develop new menus to incorporate dragon fruit and make sure that dragon fruit from Zhenfeng met the company's high quality standards. To this end, Pizza Hut China has actively worked with agricultural specialists to develop training materials for local farmers on the best cultivation standards and practices.
Starting with just six farmhands, the production base began to produce dragon fruit in accordance with Pizza Hut China's standards and practices. The program has presented an incredible learning opportunity for the local farmers to gain key insights into modern cultivation methods. This has led to a profound change in farming techniques within Zhenfeng, further sustaining local economic growth.
"I used to go to Pizza Hut with my coworkers when I was in Guangdong," said Qin and Lu, a couple who met when they were working in Guangdong province, both of whom are from Guizhou province. "I missed my hometown so much when I was in Guangdong. However, I knew that working as a local farmer just wouldn't make as much compared to if I went to work in a bigger city. When we heard about this project, we decided to come back. Now, not only can we eat our own locally grown dragon fruit at Pizza Hut, but our income has increased to about RMB 60,000 a year! We are overjoyed to be able to do this and be reunited with our family in Guizhou."
Now, Qin and Lu have settled down in Zhengfeng. Their hard work has paid off, and they have been able to create a better future for themselves in their hometown through the support of the Pizza Hut Grow Local Initiative.
Following the wisdom of the timeless saying, "Teaching a man to fish is better than just giving him a fish," Pizza Hut China established the Grow Local Commune in Zhenfeng county in 2021.
The commune has set up 24-hour agricultural technical service assistance mechanisms through lecturing, on-site teaching, social media interactions, and telephone consultations. Today, the Grow Local Commune has conducted more than 40 planting training sessions for dragon fruit farmers in Zhenfeng. As the commune continues to grow in popularity among local agriculturalists, it has had to move into a larger building to meet increasing demands. Besides being able to supply more training sessions and advanced equipment, this program has also been able to provide an e-commerce live-broadcast service, helping local farmers promote their products through the internet.
In Shaanxi province, the Grow Local Commune has also been welcomed by local farmers. In the city of Tongchuan, teachers have combined lecturing and field teaching to satisfy the growing demand. Additionally, Pizza Hut China has been able to impart its high standards of quality upon local farmhands, helping Tongchuan build up the reputation of its apples.
By developing various businesses related to dragon fruit, Yum China is constantly exploring creative ways to boost rural economies and provide greater job opportunities.
After the initial success of the program, the Pizza Hut Grow Local Initiative has now expanded to the provinces of Yunnan, Guizhou, and Shaanxi, promoting their local specialties, including truffles, dragon fruit, and apples, on Pizza Hut China's menus. At the same time, Pizza Hut Grow Local Initiative is utilizing e-commerce platforms in advertising a myriad of local specialties to hundreds of millions of active users on the Pizza Hut China's App.
Through the Pizza Hut Grow Local Initiative – among other important initiatives Yum China will continue its efforts to create sustainable agriculture programs while empowering local industries and contributing to rural revitalization.