Pathway To Premier: Entergy's Talent and Culture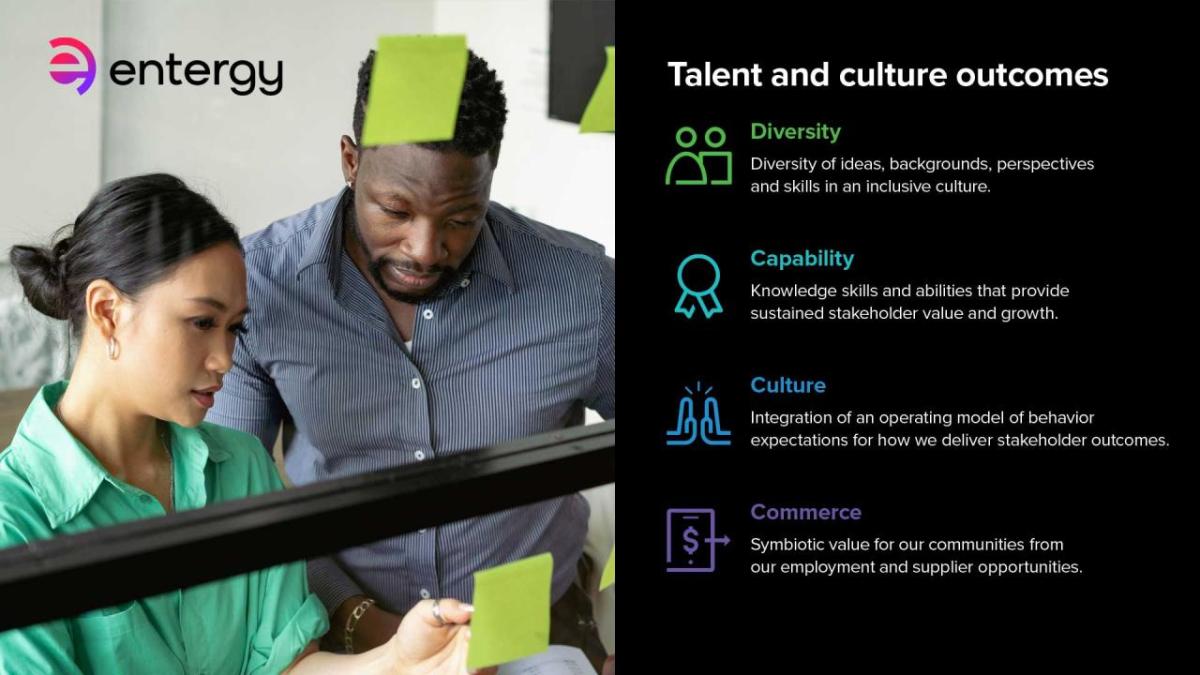 Originally published in Pathway to Premier: 2022 Integrated Report
Entergy's 2022 Integrated Report focuses on a number of key sustainability and ESG initiatives, including our sustainability strategy. Read on for an overview of Entergy's approach to sustainability and view our full report at integratedreport.entergy.com.
Powering life for our customers, communities and owners starts with our employees, who work every day to build the premier utility. We're working to deliver the training, tools and direction they need to envision a better future and to make it a reality. 

In 2022, our human resources team focused on the five drivers of our talent and culture strategy: 
• Deliver a value proposition that recruits, retains and drives performance. 
• Cultivate diverse talent to raise organizational performance. 
• Build premier utility capability. 
• Develop leaders to develop their organizations. 
• Strengthen the leader-employee relationship. 

We track our progress in these areas by specific measures of our diversity, capability, culture and commerce. 

Diversity 
At Entergy, we work to foster a workforce with diversity of ideas, backgrounds, perspectives and skills in an inclusive culture. 

We regularly monitor progress toward our goal of attracting, developing and retaining a more diverse workforce. Over the last several years, we have made consistent gains in female and diverse race/ethnic representation in the workforce and in management. 

You can learn more here about how we pursue that goal through workforce development partnerships, internships and educational support programs, and a sustained organizational health process within the company. 

Workforce development 
Our growth strategy depends on developing leaders who are able to manage strong, inclusive teams and provide meaningful work. We're helping develop those abilities through programs like All In, a leadership program that launched in 2022 with 101 participants from across the company. The program will expand to add 300 Talent and culture outcomes Diversity Diversity of ideas, backgrounds, perspectives and skills in an inclusive culture Capability Knowledge skills and abilities that provide sustained stakeholder value and growth Culture Integration of an operating model of behavior expectations for how we deliver stakeholder outcomes Commerce Symbiotic value for our communities from our employment and supplier opportunities employees in 2023. It teaches critical inclusion concepts and offers techniques employees can use to pave the way for improvement in the rest of our organization. 

Capability 
To help build and lead a premier team, we provide employees with both foundational training and career development, along with innovative new ways to grow their careers. In 2022, Entergy introduced a series of differentiated, only-at-Entergy leadership programs aimed at accelerating capabilities among our top talent. 

We started with ensuring the top 300 leaders had a common understanding of our premier utility strategy and increased business acumen. All directors and above attended the Entergy Strategy Workshop, a three-day program that combined a business simulation competition with deep dives into our strategic focus areas. 

Next, we executed two new accelerated development programs for high-potential talent: Power Up for directors and vice presidents, and RISE: our emerging leader program for top individual contributors. Eighteen leaders completed our inaugural Power Up leadership program, a 12-month journey that combined field visits, executive interactions, skills assessments and targeted training to create meaningful relationships, measurable development and memorable experiences. Nearly 80 emerging leaders completed RISE in 2022. This three-month journey combines self assessments with training and networking to help these individuals land their first manager positions at Entergy. 

Our human resources team responds to an array of talent-related market forces. Today's workers seek a compelling and inclusive experience. The company operates in a labor market with high costs, low participation rates and competition for employees with advanced skills. Increasing retirements and organizational changes in 2022 put a premium on knowledge retention and collaboration. Automation and remote work trends continue to challenge our ability to create a lasting, high-performing workplace culture.