NPHY, Sands Highlight Progress in the Movement to End Youth Homelessness
NPHY, Sands Highlight Progress in the Movement to End Youth Homelessness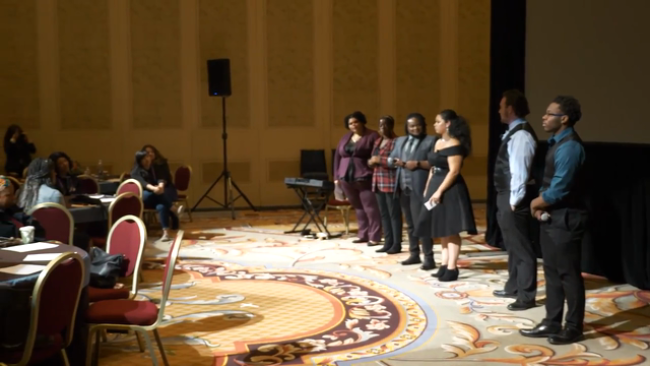 Thursday, March 5, 2020 - 4:15pm
With support from Las Vegas Sands as the founding corporate partner for the Movement to End Youth Homelessness in Southern Nevada, Nevada Partnership for Homeless Youth (NPHY) continues to make significant strides in spearheading the community effort to deliver on the core strategies outlined in the region's first-ever definitive plan to address the high rates of youth homelessness that have put the Greater Las Vegas area among the top in the nation. 
At the recent Southern Nevada Youth Homelessness Summit presented by NPHY and Sands Cares in November 2019, NPHY executive director Arash Ghafoori outlined accomplishments of the Movement to date, which included passage of Assembly Bill 363 (AB363) by the Nevada State Legislature. This unanimously passed law breaks down the barriers homeless youth face in obtaining IDs, driver's licenses and birth certificates by providing fee waivers to youth under age 25 and also makes it easier for unaccompanied homeless youth to obtain these documents with the help of social workers and educational liaisons.
A working session around policy issues at the annual Youth Homelessness Summit in 2018 defined the need for and kicked off action to promote adoption of AB363. A little more than a year later in February 2020, NPHY is now providing training efforts to explain the new policies that went into effect January 1 under AB363 to help youth experiencing homelessness obtain these vital documents.
"Not having access to critical identification documents can prevent young people experiencing homelessness from gaining employment, furthering their education, opening a bank account or obtaining stable housing," explained NPHY executive director Arash Ghafoori.  "NPHY is proud to have worked with young people to pass and implement this critical legislation, which is already providing key support to homeless youth who are striving to work, study and find independence and stability"
The policy action represents one of the strategic focus areas outlined in the Southern Nevada Plan to End Youth Homelessness, which was unveiled at the Summit in 2018 following kickoff of the Movement at the Summit in 2017. The plan delivers a detailed roadmap to guide the region in reducing youth homelessness to rare and brief occurrences that are immediately and effectively addressed to keep youth off the streets permanently.
Assembly Bill 363 is the first enacted major policy initiative to come about as a result of the Movement and introduction of the comprehensive plan, and was one of the many accomplishments highlighted during the 2019 Summit themed "The Movement at Work," which featured intensive track sessions in the areas of higher education, data capture, innovative housing solutions and sharing the voices of youth with lived experience. 
Sands encourages community members interested in youth homelessness and youth-related issues to attend the Sands Cares INSPIRE Charity Concert featuring Sheryl Crow on Thursday, May 28. All ticket sales benefit Sands Cares Accelerator members Nevada Partnership for Homeless Youth and Green Our Planet, which works to increase student academic performance in STEM subjects and conserve the environment through project-based STEM education in PreK-12 schools. For more information or to purchase tickets, visit www.venetian.com/INSPIRE.