Northern Trust's Talent Management Team Delivers Over 400K Hours of Training in 2016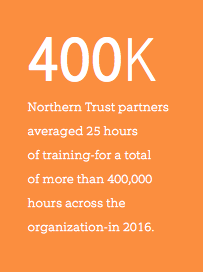 Download the full report and learn more about CSR at Northern Trust
Northern Trust's talent management team has designed and created blended learning solutions in a customized training portfolio of core, manager, sales and client servicing programming that delivered more than 400,000 hours of training in 2016. In addition, these teams launched new onboarding sales and client service curricula, developed a new behavior approach for partners and designed a new manager philosophy.
Paired with this new manager philosophy are targeted learning and development opportunities for managers. Training classes, guidebooks, articles, webinars and suggested web pages are organized by leadership level and encompass a range of topics including team development, results delivery, performance management, emotional intelligence, agility and productivity. Northern Trust also offers external development programming for managers on various management and leadership topics. These interactive programs provide peer networking opportunities and direct access to wellknown expert facilitators.
In addition, Northern Trust offers an educational assistance program that encourages partners to pursue further education. A new mentoring guidebook serves to encourage partners at all levels to seek mentoring opportunities. The guidebook includes tools and resources to enable a mentoring relationship.
For high-potential partners, Northern Trust Talent Management administers multiple leadership programs tailored by career level. These leadership programs are focused on building a healthy pipeline of leadership talent to meet our evolving business needs.
The Northern Trust Rotational Development Program is designed to build the technical skills, business acumen and leadership abilities of recent college graduates. Program members participate in meaningful job rotations over an eighteen-month period. On-the-job learning is supplemented with additional development activities, including a comprehensive program orientation, mentoring, leadership speakers, a book club, community service events, a competitive business case challenge and targeted training courses.
The Enterprise Talent Leadership Program aims to prepare high-performing mid-career partners for leadership success through the following program components:
Leadership assessment and self-awareness
Career mapping and development planning
Mentoring assignments
Targeted development and leadership skill-building
Exposure to senior leadership
Download the full report and learn more about CSR at Northern Trust