Nominations Open for 2018 CR Magazine 11th Annual Responsible CEO of the Year, Lifetime Achievement Awards
Judged by CEOs Committed to Corporate Responsibility, Awarded at COMMIT!Forum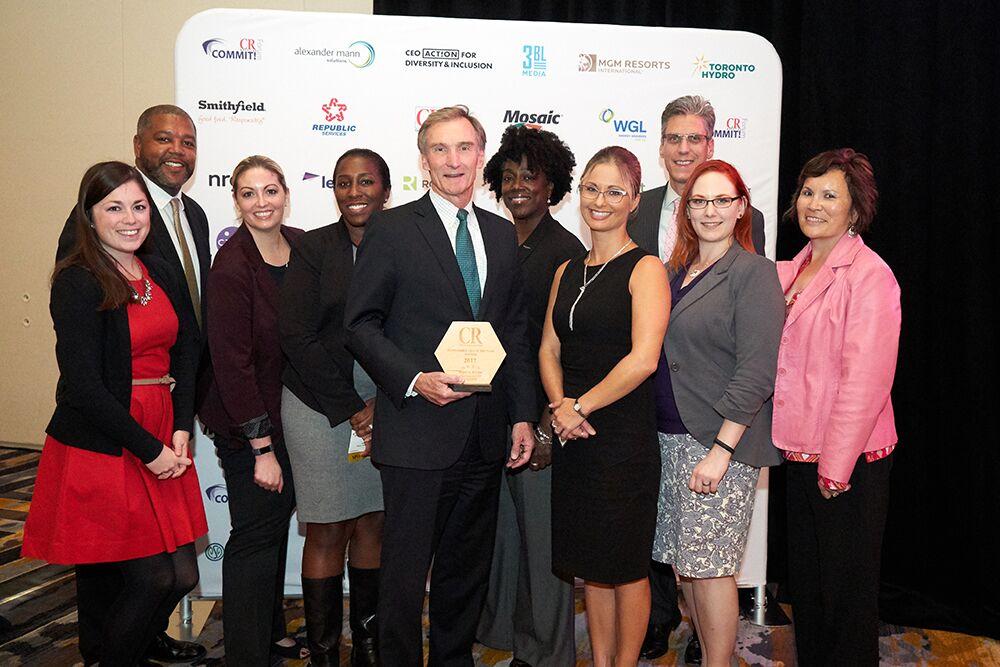 Leidos CEO Roger Krone and team accepting CR Magazine 2017 Responsible CEO award during COMMIT!Forum. The Virginia company is taking a leadership role fighting the opioid epidemic.
WASHINGTON, December 7, 2017 /3BL Media/ - Nominations are now being accepted for CR Magazine's 11th annual Responsible CEO Award and Lifetime Achievement Award, given to corporate leaders committed to a progressive environmental, social and governance (ESG) agenda.
These prestigious awards will be presented at COMMIT!Forum, the leading event for corporate responsibility and sustainability practitioners, Oct. 23–25 at MGM National Harbor, just minutes from the nation's capital. The judging panel is comprised of past Responsible CEO winners.
"Our 2017 winners included CEOs who personally led their companies to address important social issues like the opioid epidemic, groundbreaking research to treat burn victims and transforming corporate culture around sustainability and safety," said Dave Armon, publisher of CR Magazine.  "Being selected by fellow CEOs and honored by peers makes these awards extremely meaningful for the winners.
Both public and private companies are invited to nominate their CEO.  There is no entry fee.  The nomination form can be found on the CR Magazine website. Nomination must be submitted by April 30, 2018, to be eligible for judging.
Winners of the 2017 Responsible CEO of the Year Awards were:
Lifetime Achievement -- Donald W. Slager, President and CEO, Republic Services, Inc.
CEOs of the Year -- Roger A. Krone, Chairman and CEO, Leidos, and Kenneth M. Sullivan, President and CEO, Smithfield Foods, Inc.
CEO of the Year, Municipal/Nonprofit -- Anthony Haines, president and CEO at Toronto Hydro Corporation.
Most Innovative CEO of the Year -- Tom Szaky, Founder and CEO, TerraCycle, Inc.
All award winners were nominated by fellow members of the CR community and selected by an independent judging panel comprised of previous winners and other industry leaders including:
Emanual Chirico, Chairman and CEO, PVH Corp.
William Cho, President and CEO, LG Electronics USA
Gale Klappa, Chairman, President and Chief Executive Officer, Wisconsin Energy
Terri Ludwig, President and CEO, Enterprise Community Partners, Inc.
James Murren, Chairman and CEO, MGM Resorts International
Richard Shadyac, President and CEO, ALSAC
To determine the winners, judges considered several dimensions of the aforementioned standards including the scope of the CEO's impact on their organization and community, the extent to which the CEO drove this initiative, and the individual reputation or professional risk taken by the CEO.
About the Corporate Responsibility Board
The Corporate Responsibility Board LLC publishes CR Magazine, organizes COMMIT!Forum and manages of the Corporate Responsibility Association. CR Board is a unit of 3BL Media, a Northampton, Massachusetts, company formed in 2009 to serve corporations, nonprofits, NGOs and service providers active in corporate citizenship and sustainability initiatives.