New Small Business Research Report Reveals Insights and Opportunities for Community Engagement
Leading Locally: Small Business & Social Change shows small businesses are driving change and want to do more.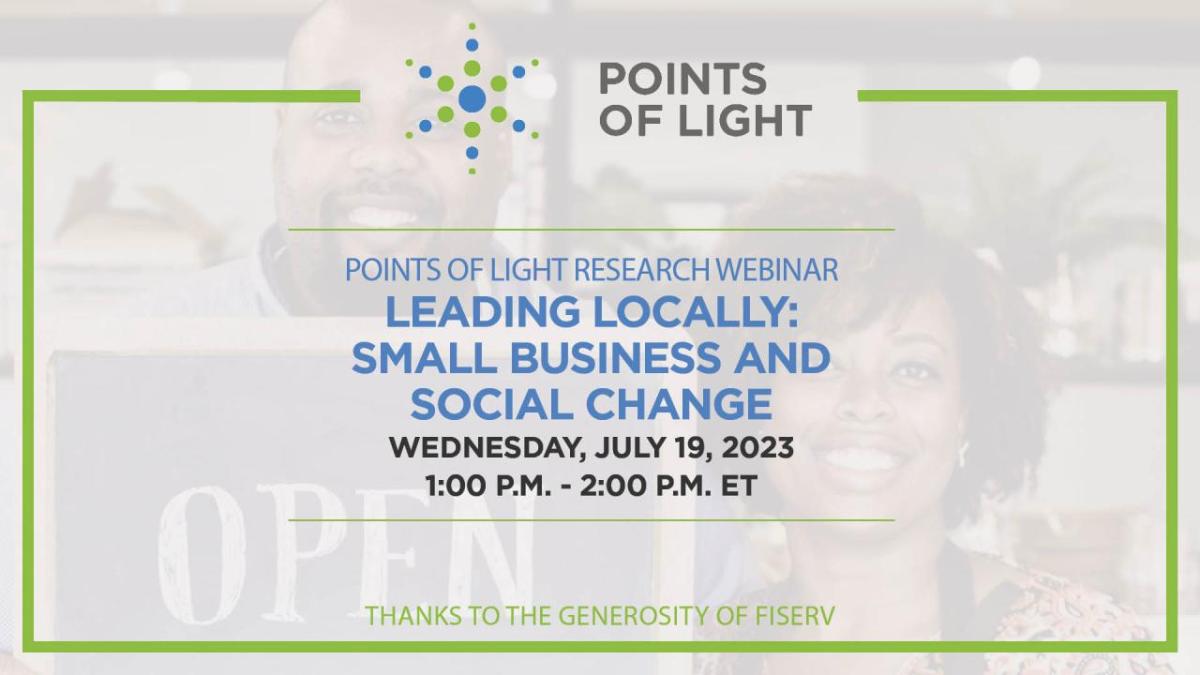 June 6, 2023 /3BL Media/ -Thanks to the generous support of Fiserv, Points of Light and INFLUENCE|SG have partnered to share a new research report, Leading Locally: Small Business & Social Change. Building on Points of Light's body of civic engagement research, this new report explores the expectations, perceptions and ways in which small businesses are taking action to support social issues and their communities. Points of Light will host a special webinar on July 19 at 1 p.m. ET to learn small business insights from Tasha Helm, director of corporate citizenship at Fiserv, and explore key findings from the new research with Derrick Feldmann, managing director of INFLUENCE|SG.
"Small business owners are an untapped resource to drive social impact and can be the key to unlocking deeper relationships with communities. While 41% of owners said they were not sure what their small business could do to help, their knowledge of the community, connections and creativity can make a deep impact locally. We hope this research brings awareness to the critical role small businesses can play in partnering with local nonprofits to create thriving and participatory societies." — Diane Quest, interim president & CEO, Points of Light
Small business owners are often on the front lines of change, whether responding to a local disaster, supporting a local youth sports league or advocating for policies that help their community and local economy. This group is driving social change, and our research found they want to do more. With its emphasis on the public's relationship to small business, this report spotlights the following takeaways:
The general public has high expectations of how small businesses get involved in social issues, but small business owners consistently expect even more of themselves than the general public. For instance, half the public and two-thirds of small business owners ranked speaking out as pretty important or essential.
Rather than fear of customer backlash, small business owners who are not particularly involved in social issues avoid them because they do not know how to get involved or are unsure how they can make a difference. In fact, nearly half of small business owners responding to the survey felt this way.
In spite of this, small businesses are positioned to have a unique influence on their communities and their customers – especially through opportunities to donate when customers make a purchase. Our research found that almost 75% of the public will make donations at the point of sale.
Regardless of their involvement in social issues, the general public consider small businesses valuable. Nearly two-thirds of respondents purchased from a small business within the last month.
"Back2Business reflects our Fiserv commitment to leverage business as a force for good in communities across the country. Our investments supporting small businesses helps to strengthen communities and drive economic empowerment by providing needed resources, technology, and solutions to our clients while contributing to a diverse, inclusive ecosystem in which all small business owners can thrive." — Vivian Greentree, SVP, head of global corporate citizenship and president of Fiserv Cares Fund
ABOUT POINTS OF LIGHT 
Points of Light is a global nonprofit organization that inspires, equips and mobilizes millions of people to take action that changes the world. We envision a world in which every individual discovers the power to make a difference, creating healthy communities in vibrant, participatory societies. Through 145 affiliates across 39 countries, and in partnership with thousands of nonprofits and corporations, Points of Light engages 3.7 million volunteers in 16.7 million hours of service each year. We bring the power of people to bear where it's needed most. To learn more about Points of Light visit pointsoflight.org.
ABOUT INFLUENCE|SG 
INFLUENCE|SG is a global research and advisory firm focused on helping companies and causes bolster their social change initiatives by informing through new insights and guiding through strategy. We create and drive public involvement in our clients' social change work. Learn more at isgresearchadvisors.com.