New Report from The Boston Consulting Group and the World Business Council for Sustainable Development Details Business Benefits and Best Practices from Circular Economy Leaders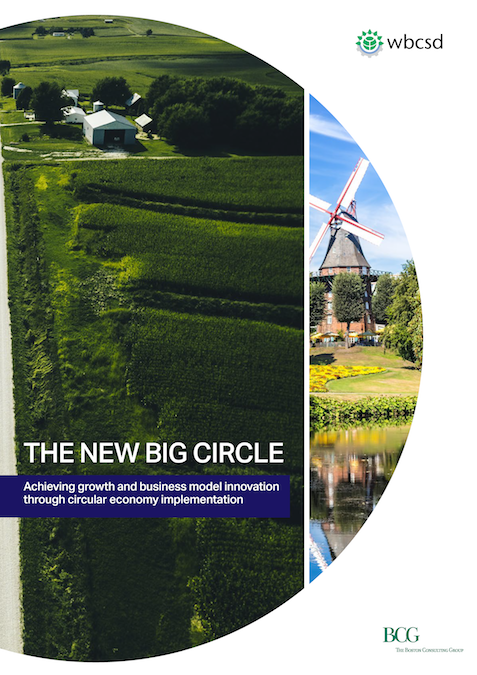 In a world of finite resources and growing population, the traditional "take-make-dispose" economic model is increasingly unsustainable. As a consequence, companies are feeling pressure from customers, NGOs, regulators, and investors to rethink wasteful linear value chains. The "circular economy" envisions a more regenerative alternative focused on a "refurbish-repair-reuse-recycle" model that has the potential to sustain global growth in the face of increasing resource scarcity.
The Boston Consulting Group (BCG) and the World Business Council for Sustainable Development (WBCSD) joined forces to offer practical guidance for organizations seeking to successfully transition to the "circular economy." Their report—"The New Big Circle. Achieving Growth and Business Model Innovation through Circular Economy Implementation"—is the result of a research effort that included a survey of 78 managers from different industries across the globe and one-on-one interviews with leaders to understand best practices on how leading companies are making the circular economy come to life.
It's been estimated that the transition to the circular economy could unlock USD $4.5 trillion of GDP growth worldwide by 2030—and the executives interviewed agreed that the shift would yield economic benefits:
97% of respondents felt that circular innovations would make their company more efficient and competitive in areas such as sourcing, product development ,and production processes; and
96% believed the move to the circular economy will help increase long-term value creation
Given that, it is not surprising that 84% of respondents stated they expect to increase their investments in circular economy projects in the future.
The report argues that the circular economy journey should be tackled in three stages of increasing complexity: first via process innovation, then product innovation, and finally business model innovation. Thirteen case studies of leading companies achieving growth and enhanced competitive advantage as a result of circular initiatives—AkzoNobel, C&A, CMPC, Cohealo, GreenHome, Hirdaramani, IKEA, LafargeHolcim, Michelin, Philips, Rubicon, Skanska, and Solvay—offer concrete examples.
While every company is different with different opportunities and challenges, the report distills 10 practical recommendations for putting circular initiatives in place:
Engage with external stakeholders
Ensure consistent and strong top management support
Define "circular" and communicate the vision
Quantify specific ambitions and develop a business case
Educate your employees
Engage and empower business units
Start with process innovation, then move to product innovation and business model innovation
Collaborate with external partners
Define and align KPIs for goals and accountability
Do good and talk about it
About The Boston Consulting Group
The Boston Consulting Group (BCG) is a global management consulting firm and the world's leading advisor on business strategy. We partner with clients from the private, public, and not-for-profit sectors in all regions to identify their highest-value opportunities, address their most critical challenges, and transform their enterprises. Our customized approach combines deep insight into the dynamics of companies and markets with close collaboration at all levels of the client organization. This ensures that our clients achieve sustainable competitive advantage, build more capable organizations, and secure lasting results. Founded in 1963, BCG is a private company with offices in more than 90 cities in 50 countries. For more information, please visit bcg.com.
Follow us on Twitter and LinkedIn.
About the World Business Council for Sustainable Development (WBCSD)
WBCSD is a global, CEO-led organization of over 200 leading businesses working together to accelerate the transition to a sustainable world. We help make our member companies more successful and sustainable by focusing on the maximum positive impact for shareholders, the environment and societies. Our member companies come from all business sectors and all major economies, representing a combined revenue of more than $8.5 trillion and 19 million employees. Our Global Network of almost 70 national business councils gives our members unparalleled reach across the globe. WBCSD is uniquely positioned to work with member companies along and across value chains to deliver impactful business solutions to the most challenging sustainability issues. Together, we are the leading voice of business for sustainability: united by our vision of a world where more than nine billion people are all living well and within the boundaries of our planet, by 2050. http://www.wbcsd.org
Media Contact:
Alexander Meyer zum Felde
BCG Sustainability Expert Principal