New Ambient Pack From Tetra Pak for In-shop and At-home Freezing of Dairy and Juice Based Products Wins Award
New Ambient Pack From Tetra Pak for In-shop and At-home Freezing of Dairy and Juice Based Products Wins Award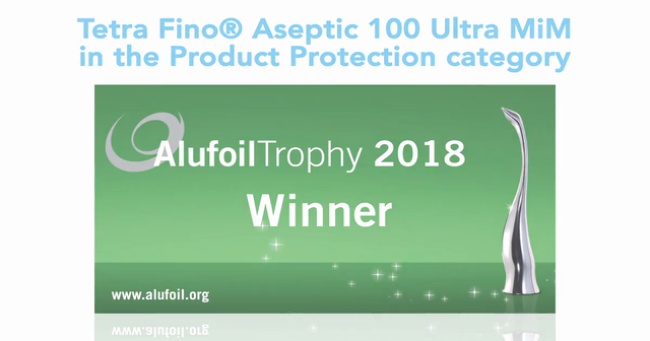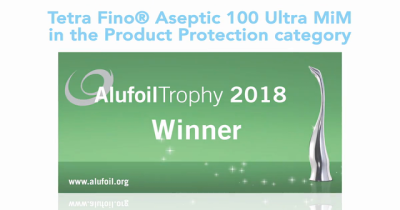 Friday, May 4, 2018 - 9:00am
May 4, 2018 /3BL Media/ - Tetra Pak has won an Alufoil Trophy 2018 award for Product Protection with a new single-portion pack for juice and dairy products, featuring a thin aluminium foil inner layer. The Tetra Fino® Aseptic 100 Ultra MiM not only enables the contents to be kept for long periods at ambient temperatures, but also allows them to be turned into frozen treats, with minimal changes to existing dairy and juice production processes.
The aseptic processing and packaging means the product does not need preservatives to maintain its nutritional values. The thin layer of aluminium helps to maintain the colour, texture and taste of the contents for at least four months without refrigeration.
The judging panel, made up of leading aluminium industry specialists, felt the new pack offered advantages in several areas: "We were impressed that quite complex dairy and juice products could be stored, handled and sold without any temperature control being required. In addition, the style of the pack, as a small carton/pouch format, lends itself to being marketed as a frozen or ice cream product. The pack offers security along the supply chain, until it is frozen by the retailer or the consumer at home."
Ashutosh Manohar, Vice President, Product Management Carton Value & Economy at Tetra Pak commented: "Receiving this award further acknowledges the success of our innovative Tetra Fino® Aseptic 100 Ultra MiM, a packaging solution that has opened up the ice cream category for our customers in the dairy, juice and still drinks business. The thin layer of aluminium inside our package is what enables the product to retain its nutritional value and be distributed at room temperature, allowing our customers to tap into the ice cream market without additional investment in production equipment."
The consumer can be completely confident that the product is in optimal condition when it reaches them. No requirement for a cold chain also means energy savings across the entire value chain, according to Tetra Pak.