Nestlé Waters North America Holds Annual Celebration to Honor Our Dedicated Volunteers
Company Will Honor Seven Associates for Their Commitment to Community Service Excellence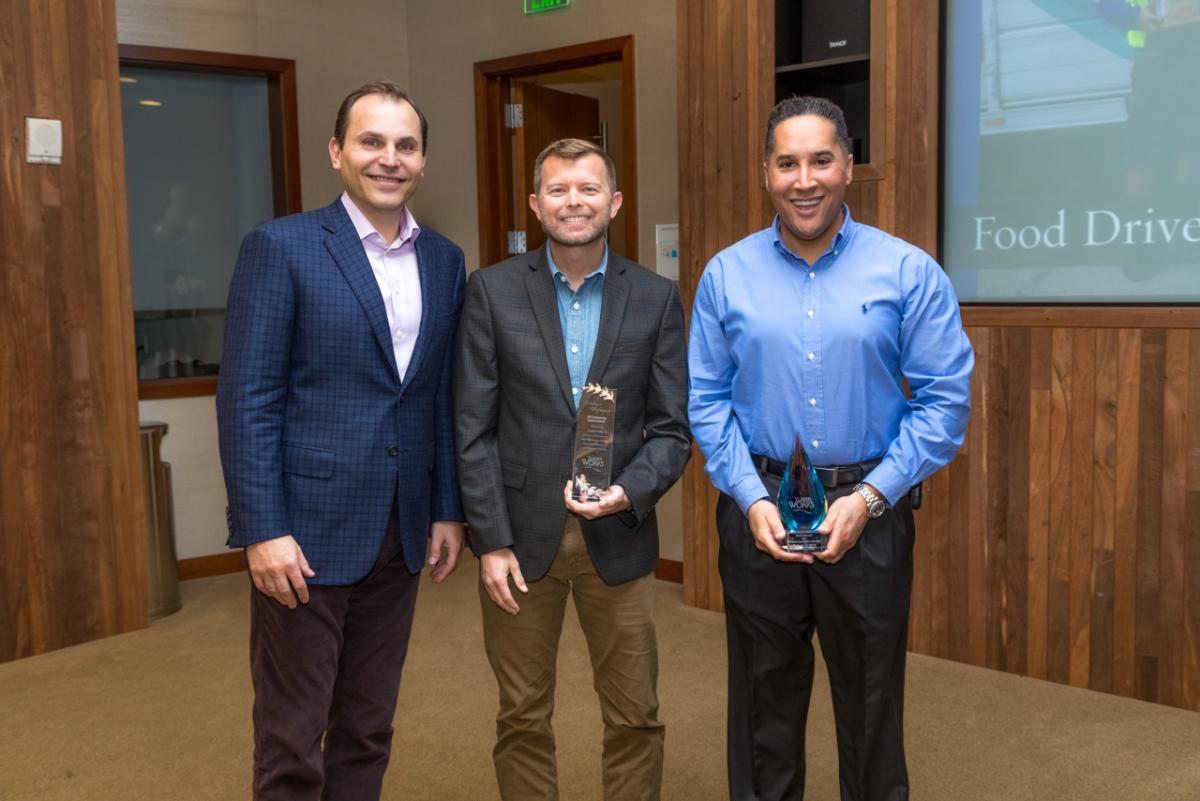 STAMFORD, Conn., November 16, 2017 /3BL Media/ - Nestlé Waters North America today hosted our annual "Thanks for Giving" luncheon to honor employees' volunteer efforts and commitment to supporting local communities and organizations.
"Volunteering is an integral part of our company's identity, and our associates are dedicated to improving the lives of those who live in the communities where we operate," said Nestlé Waters North America President and Chief Executive Officer Fernando Mercé. "Today's celebration gave us a chance to recognize associates who go above and beyond, and I'm honored to be here to thank them."
In 2017, our company's associates collectively dedicated an estimated 20,000 volunteer hours, supporting a variety of charitable initiatives, such as the company's Better Lives Food Drive, disaster relief donations and fundraisers, park and waterway cleans ups, and community water education programs. This year we celebrate, the following associates that continue to go the extra mile and lead the way in volunteerism:
Volunteer of the Year – John Boothman, Customer Service Representative, Coppell, TX. John spent more than 240 hours volunteering in support of the Irving Texas Boys Baseball Team and Association, serving as a coach, manager, and board member to name a few. He also serves on several associated panels and participates in volunteer initiatives for the Coppell office. John has been with the company since 2010.
Volunteer Leadership Support Award – Lance Tully, Natural Resource Manager, McBee, SC. Coworkers describe Lance, as "the driving force in support of the McBee community," leading by example and using his enthusiasm and passion to inspire other associates to get involved. This year, Lance trained plant employees to share water education in the McBee community and helped the plant to hold its first water festival with the local elementary school this past October. Lance will celebrate 11 years with the company in December.
Volunteer Coordinator of the Year – Robert Griffith, Zone Sales Development Manager, Los Angeles, Calif. Since joining in May 2016, Rob has led the Orange County and Los Angeles offices in volunteering. He's organized activities and recruited zone members for a wide variety of volunteer efforts including distributing water to the homeless during the hottest days of this past summer, and taking water education into local community schools. He's also organized and led food and diaper drives, cleaned waterways and supported restoration projects. Coworkers acknowledge his dedication saying: "He has owned volunteering in the West and his tireless efforts and passion to engage in our communities has impressed us all."
Outstanding Volunteer Project Support – Maria Migliaccio, Administrative Assistant, Information Services, Stamford, CT. Maria helped organize and lead the execution of the companywide Better Lives Food Drive. She provided outstanding support from the beginning to the end of the drive, in which our company collected a record 52,000 pounds of food to donate to food banks in the communities we operate in. In Stamford, with Maria's help, the company collected more than 7,000 pounds of food that was donated to the Food Bank of Lower Fairfield County. Maria will celebrate her 22 year anniversary in December.
Due to the superior work of this year's volunteer coordinators, who organize volunteer efforts at our plant, ReadyRefreshSM branches and corporate offices, we're also celebrating three honorable mentions:
Kimberly Morel, Production Scheduler, Hawkins, TX – Kimberly has led our volunteer program in Hawkins since 2012. Even when the Hawkins plant was not fully operational after the devastating tornado in 2016, she kept the volunteer efforts going by organizing and engaging employees in a local back to school support effort. Associates shared that "Morel embodies the best spirit of giving back to the Hawkins community." Kimberly joined the company in 2007.
Michelle Strader, ReadyRefresh Administrative Assistant, Chicago, IL – Michelle has almost singlehandedly put the Chicago branch on the map for volunteering. Her team has applauded her efforts to ensure that her branch supports all corporate initiatives and local activities, as well as to organize a zone-wide water festival this summer that included a team from Nestlé USA. She is also a prior Employee of the Year award winner. Michelle has been an employee for more than 14 years.
Marie Watson, Plant Administrative Assistant, Cabazon, Calif. – Marie is an outstanding and "tried and true" volunteer who always provides excellence and consistency in every opportunity that's brought to the Cabazon team. Associates shared that Marie has an innate ability to nurture great relationships in the Cabazon community, and finds ways of promoting the company and its products with every activity that she arranges. Marie joined the company in 1989, and is approaching her 28 year with the company this November. She also holds the honor of being a prior Nestlé Waters North America Presidents' Award Winner.
In honor of the holiday season, United Way of Western Connecticut's Chief Executive Officer Kim Morgan and Chief Impact Officer Bridget Fox will also be in attendance and will officially kick-off its annual giving campaign for the Stamford-based office. Nestlé Waters North America provides associates at the Stamford headquarters with the opportunity to pledge a donation to benefit the United Way of Western Connecticut, and match 100 percent of the contribution.
About Nestlé Waters North America
Nestlé Waters North America provides people with an unrivaled portfolio of bottled waters for healthy hydration. Brands such as Poland Spring® Brand 100% Natural Spring Water, Nestlé® Pure Life®, Perrier® and San Pellegrino® have driven Nestlé Waters North America to be the third largest non-alcoholic beverage company by volume in the U.S. Nestlé Waters North America also owns and operates ReadyRefreshSM by Nestlé®, the largest home and office water delivery service by volume in the U.S. Based in Stamford, Connecticut with some 8,500 associates, Nestlé Waters is committed to reducing its environmental footprint across its operations. As a natural resource company, Nestlé Waters sustainably manages our 47 spring sources and maintains nearly 14,000 acres of natural watershed area. The company is also committed to creating shared value and being a good neighbor in the 140 communities where it operates in the U.S.