'Much More Than a Scholarship'
The Hispanic Scholarship Fund has found that its scholarship recipients excel when it offers mentorships, career opportunities, wellness coaching, and other support services.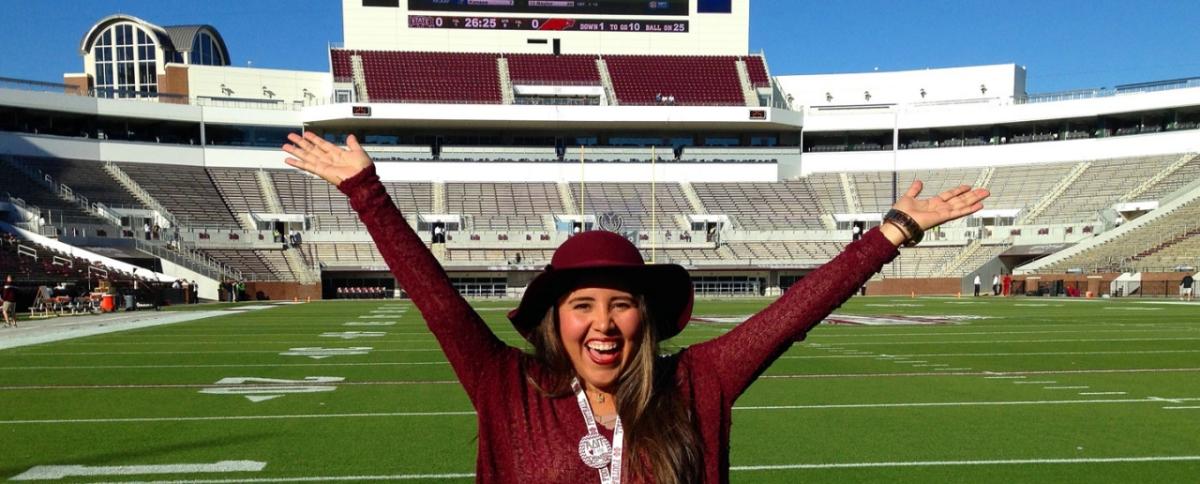 Vanessa Velasquez at her alma mater, Mississippi State University.
'Much more than a scholarship'
When Vanessa Velasquez was in high school, she knew she wanted to go to college, but she wasn't sure where to start. As the daughter of a single mother and the first in her family to go to college, she didn't know how the college admissions process worked or how to find financial aid.
Fortunately, her mother's friend who had taught her mother English referred Velasquez to the Hispanic Scholarship Fund, which provides scholarships and support services to as many Hispanic American students as possible. Today, thanks to scholarship funding and receiving support services from the organization, Velasquez, 24, has two college degrees from Mississippi State University — one in international business and marketing, the other in Chinese and Spanish — and currently works as a manager of operations at Amazon.
"I realized what I had was much more than a scholarship," Velasquez said. "The staff cheers you on to do anything you want to do. HSF, honestly for me, has been a family. HSF has really been there for me at all times. It's so empowering."
'Making sure you have everything to be successful'
The Hispanic Scholarship Fund awarded Velasquez with a scholarship to pay for her college education. She also attributes her success to the support services the organization provides. It began offering these services — which include mentoring, career services, and wellness — in 2015. It has been able to continue this work thanks to support from Wells Fargo, said Fidel Vargas, president and CEO of the Hispanic Scholarship Fund.
Vargas said offering support services has been a priority of his since he became the organization's CEO in 2013.
"There's lots of research that suggests what students value are the types of experiences they gain through mentorship, through coaching, through guidance, through people who've gone through similar experiences," Vargas said. He also wanted to "solidify the connection between HSF and the Scholars, to let them know we support them financially and want to accelerate their path to a career during college. Our technology platform, which Wells Fargo funded, facilitated us implementing the tools we can use to provide these support services."
Walter Dolhare, co-head of Corporate and Investment Banking for Wells Fargo and a board member of the Hispanic Scholarship Fund, said the company is proud to support the organization's work.
"I have enjoyed witnessing firsthand the possibilities and opportunities that Hispanic Scholarship Fund provides," he said. "At Wells Fargo, we believe there is a linkage between education, opportunity, and economic development, and I appreciate serving on the board for an organization that fosters these linkages by empowering the members of our Hispanic community."
The Hispanic Scholarship Fund provides five support services: mentorship; career services, to connect scholarship recipients to internships and career opportunities at companies with whom it has a relationship; leadership development through conferences and online content; knowledge building, which provides resources on behalf of companies like Wells Fargo to help make students more well-rounded and successful in their careers; and wellness, which includes mental health, financial wellness, and general well-being.
The services help the organization deliver resources and guidance directly to scholarship recipients as they pursue their degrees, Vargas said. "It's more than a scholarship. While in college, they're thinking of what they'll do next in their careers," he said. "Ultimately for us, we want to serve students in every way, but our job is to make sure students graduate — and with a path to a career."
Velasquez has participated in the leadership development conferences; volunteered at the Youth Leadership Institute, where she has mentored rising high school seniors and new HSF scholarship recipients; and taken advantage of career services, receiving notifications about jobs, participating in mock interviews, and having her LinkedIn profile reviewed. She said she still reaches out to staff members of the Hispanic Scholarship Fund for support and guidance as she works to move up in her career. Velasquez said having access to these resources through technology makes it easier, too.
"The career services are absolutely amazing," Velasquez said. "I'm so grateful for that because now, as an adult, you don't get access to things like that much. It's a very holistic approach, making sure you have everything to be successful."
Vargas said the feedback from scholarship recipients like Velasquez has been encouraging. He recently polled a group of about 20 seniors in college and recent alumni to see if they would rather have a scholarship or support services, and they all chose the support services.
"It's really easy to understand that," Vargas said. "Ultimately, we all value experiences over everything else and people over anything. While scholarships are important, the support services are things they can tangibly see the impact of because the relationships they make continue to give way beyond the time you have scholarship money."
Velasquez agreed and said her experience inspires her to volunteer and share her experiences with current scholarship recipients. "I've been super fortunate to get the scholarship, but going to conferences, I've met the majority of my friends and network," she said. "I think HSF honestly is one of the greatest resources. They are there to support you 120 percent. Without HSF, I would not be where I am today."