Mondelēz 2021 Snacking Made Right Report: Economic Inclusion & Supplier Diversity
Mondelēz 2021 Snacking Made Right Report: Economic Inclusion & Supplier Diversity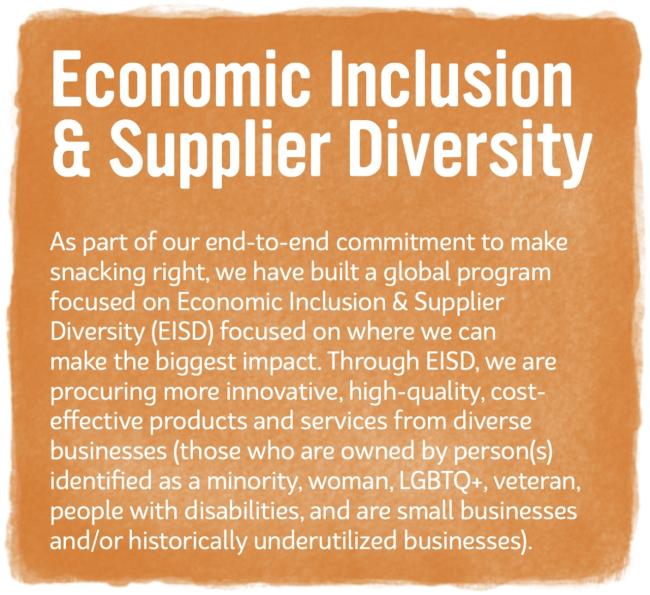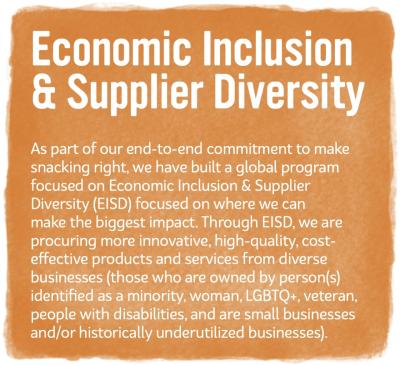 Wednesday, August 31, 2022 - 11:10am
As part of our end-to-end commitment to make snacking right, we have built a global program focused on Economic Inclusion & Supplier Diversity (EISD) focused on where we can make the biggest impact. Through EISD, we are procuring more innovative, high-quality, cost- effective products and services from diverse businesses (those who are owned by person(s) identified as a minority, woman, LGBTQ+, veteran, people with disabilities, and are small businesses and/or historically underutilized businesses).
EISD 2021 Progress1
Total EISD spend: $682.4M
Total EISD Women and Minority Spend: $329.3M
2021 Goal
Our goal is to spend $1 billion with minority and women-owned businesses globally by 2024.
Building Relationships With Diverse Suppliers
Through our EISD program, we strive to create mutually beneficial business relationships with diverse suppliers that strengthen the communities in which we operate and that deliver value to our consumers and colleagues. This approach and partnership with diverse suppliers has helped us ensure our supply base mirrors the communities we serve in driving a more inclusive sourcing mindset.
The primary goal of our EISD program is to drive economic impact and provide business opportunities to diverse suppliers that satisfy our procurement and contractual standards through our inclusive sourcing processes and practices.
To this end, we encourage our sourcing and procurement colleagues to identify and include diverse suppliers and service providers in the procurement process. As part of our snacking made right initiatives, our goal is to increase our inclusive sourcing practices to integrate diverse suppliers globally more thoughtfully. This is good for our business and for our supplier communities – allowing for increased innovation and high-quality, cost-effective products and services.
Spending With Purpose & Focusing On Inclusive Sourcing
As part of the program, we are creating more equitable sourcing opportunities for diverse suppliers, educating buyers around the value of supplier diversity, and challenging the business to think differently about ways to include diverse suppliers in our supply chain.
Securing Mutual Economic Benefits
We actively seek certified diverse suppliers that can provide competitive, high-quality, innovative goods and services and whose business model is aligned with our business strategy and values.
Developing Suppliers
We help diverse suppliers enhance their offerings, reach and capabilities through joint development and performance improvement programs.
Enhancing Awareness and Education
We communicate the value of supplier diversity as a whole, and of our EISD program in particular, both internally and externally to our stakeholders.
In 2021, we conducted EISD awareness sessions for our business to educate team members on the importance of EISD and how they can personally make it an impact in communities throughout the globe. Education of EISD and tools available is a key pillar in driving program efforts to create equitable opportunities in the EISD landscape.
Mondelēz International & ASI
For nearly a decade Mondelēz International has partnered with ASI, part of Diversified Chemical Technologies which over the years has supplied the company with over 13M lbs of adhesive for product packaging – high performance adhesives which deliver high quality food safety measures use on packaging of many of Company's brands in the U.S. including Oreo, Chips Ahoy, Ritz, Triscuits.
"At Mondelēz International, Diversity, Equity & Inclusion is at the forefront of our business and culture. Our Global Economic Inclusion & Supplier Diversity program strives to create equitable business opportunities through inclusive sourcing and supply chain transparency, driving consumer and society awareness regarding how our brands support the communities we live, work and snack in."
Liel Miranda,
BU President, Brazil

"It is often said that shared vision & purpose are key foundations of good partnership. When I think of the ASI & Mondelēz International relationship, this is what comes to mind. Culture & Community are important topics to each of our organizations independently, in which we multiply our impact on through our partnership together. Our partnership with Mondelēz International allows ASI, one of very few minority owned specialty chemical manufacturing companies in the US, to empower our employees to show up, be themselves, and deliver great product & service to our customers. It brings jobs and drives employment in an area where the poverty rate is nearly triple the national average. We have created a trusted transformative partnership, and together we are truly delivering impact."
Karl Johnson
President and CFO,
Diversified Chemical Technologies
1 Based on invoiced/accrued spend