MLK Day Employee Volunteer Spotlight: Stephanie Burgess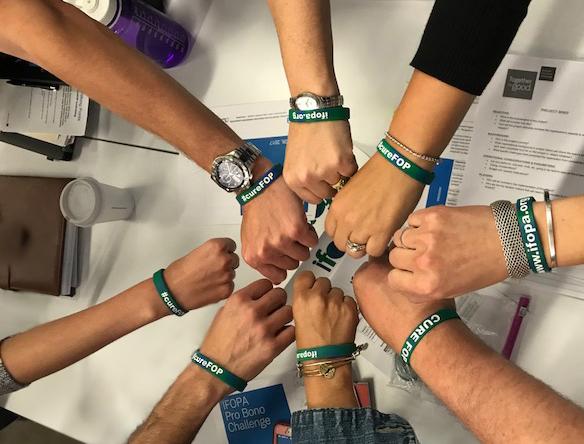 Originally published by Charles Schwab
When you hear Schwabbie Stephanie Burgess's story, you might become a believer in a mother's intuition.  She knew her young son needed help.  The little boy was having unusual symptoms that doctors were unable to diagnose, but Stephanie persisted, convinced she knew what was ailing her child and worked to find an answer that led her to a non-profit organization that would have a significant impact on her life and the life of her child.  
Stephanie's son Caleb is 11 years old and living with Fibrodysplasia Ossificans Progressiva (FOP)—an "ultra-rare" disease that affects only about 275 people in the United States.  FOP turns soft tissues, ligaments, muscles, and tendons into bone with injury, illness, or sometimes for no reason at all.
Stephanie works at Schwab's Lone Tree, Colorado, campus as a product manager within the firm's Investor Services business.  "I had worked here for four months when Caleb was first diagnosed. The outpouring of help, care, and donations from people I didn't even know was overwhelming to me and really drove home this idea that Schwab really believes in the values it promotes."
And that spirit of support is what led Stephanie to Schwab's Pro Bono Challenge, a program that offers Schwab expertise to non-profit organizations as part of Schwab's mission to give back.  She encouraged the International Fibrodysplasia Ossificans Progressive Association (IFOPA), which has helped her family so much, to apply to participate in the program.   IFOPA is a non-profit organization that works to fund research that focuses on curing the disease while also supporting, connecting, and advocating for individuals with FOP and their families. As a Pro Bono Challenge participant, IFOPA wished to leverage Schwab's expertise to create a marketing plan for a turn-key fundraising system supporting people committed to raising money for FOP.
And a team of Schwabbies, led by Stephanie, gathered in Lone Tree to design that plan.  The team focused on how to not only encourage people to fundraise for IFOPA, but how to provide resources and support to those who are already doing so.  The team wore green IFOPA bracelets to support Stephanie, Caleb, and the cause.
"We're so grateful for all that Stephanie and her family have done to raise money for the organization and we hope that by building more of these programs that are actually managed by the organization that it takes the burden off families like Stephanie's," said Michelle Davis, executive director of IFOPA.  "We're just really grateful to Schwab for selecting us for the program and for the support they've shown the FOP community as a whole."
"For me," said Stephanie, "the Pro Bono Challenge means I can give back to the non-profit closest to my heart. I know how tirelessly they work to support research and hundreds of FOP families around the world, including my own. Their work and dedication means hope for so many."
To learn more about FOP, visit the association's website.  To learn more about Schwab's Pro Bono Challenge, click here.