A Message From the Chair of the Board of Trustees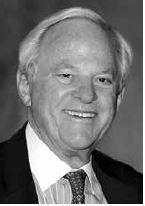 Ray Empson, Chair, Board of Trustees
As Published in the Arbor Day Foundation 2017 Annual Report
Dear Members and Friends,
As I look back on this past year, I am struck by the energy and power generated by the concern for trees. Our members, corporate partners, and planting partners are joining together with the Arbor Day Foundation every day and making great positive changes through our stewardship programs. Our vision of being a worldwide leader in the recognition and use of trees as a solution to global issues is being realized through these united efforts.
That energy is also fueling passion and alignment throughout the organization, spurring growth and innovation. It resulted in a year of high impact. A record 3,492 communities received Tree City USA designation, providing healthy tree canopies for more than 143 million residents. More than 800,000 trees were distributed to homeowners rebuilding after natural disasters — a beacon of hope amid difficult times. Replanting efforts in rain forests not only revitalized entire ecosystems but also brought forestry training and jobs to impoverished countries. And more than 4 million membership trees were distributed to dedicated Arbor Day Foundation members to plant in their yards across the country.
As we look to the future, we are committed to continue to focus this unifying energy and build on its momentum with our organization, our loyal members, and our supporters sharing in our important work. Energy like this, and the efforts that it enables, is what makes a real difference in our world. Thank you for your continued support in helping the Arbor Day Foundation grow and achieve our mission to inspire people to plant, nurture, and celebrate trees and broaden our impact as stewards of the Earth.
Sincerely,
Ray Empson,
Chair Board of Trustees