Merck for Mothers Blog | FOR ALL MOTHERS: Bridging the Quality and Equity Gaps in Maternal Health Care
By Dr. Mary-Ann Etiebet, Executive Director, Merck for Mothers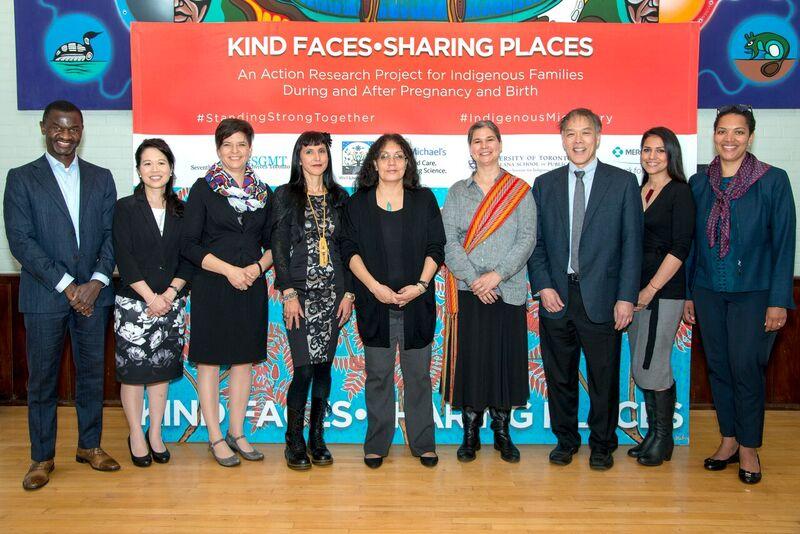 While we have seen global maternal deaths drop by 44% since 1990, women are still dying from preventable causes during pregnancy and childbirth – and not just in low and middle-income countries that lack resources. Even in high-income countries, there are women who face a much higher risk of death, or grave injury because they are poor, migrants, refugees, minorities or from indigenous populations.
In Canada, indigenous women are twice as likely as members of the general population to die in the weeks before or after delivering a baby. The indigenous infant mortality rate is also two to four times higher than the general population.
Merck for Mothers and Merck Canada Inc. recently teamed up to launch a very exciting program in Toronto to address this disparity in maternal and child health. Called "Kind Faces, Sharing Places," the Toronto project is a unique community-hospital-university-private sector partnership, led by indigenous health professionals, researchers and community leaders. It focuses on the patient, and on providing culturally-sensitive, individualized, wraparound support.
"The hope is that we will be able to demonstrate something that is sustainable, and that other levels of government in the country, including the federal government, will decide to pick it up and run with it," says Ani Armenian, Corporate Communications Manager for Merck in Canada who was instrumental to getting this project going.
Sara Wolfe of Seventh Generation Midwives Toronto – Indigenous midwife, nurse, researcher and this project's boots on the ground — tells me that oftentimes indigenous mothers shy away from seeking the support they need. They are afraid that by revealing their challenges – maybe they're homeless, or unemployed, have a mental illness, addiction, or are experiencing violence at home – they risk having their babies taken away. By being proactive, and taking this wraparound services approach, we can help break this cycle of family disruption.
One hundred women and their families will be recruited to participate in the three-year study. Participants will receive care from an integrated, interdisciplinary team that covers health and social services as well as traditional counseling and healing. There will be no one solution that fits all. "We will identify what each individual needs and then provide it in a coordinated, culturally sensitive and responsive way, so that they feel respected and safe – and that state child protection authorities don't have a reason to get involved, period," Sara says. "Mothers shouldn't lose their babies because they're poor and can't afford to get the help and support they need."
What I particularly love about this program is that patient voices, and community voices, have been an integral part of the design, development and governance of this project. Various advisors to the program include indigenous elders, knowledge keepers and grandparent council members. These individuals are making sure that the project builds responsive and culturally sensitive support structures for pregnant women.
"Kind Faces" is also putting the social determinants of health front and center in the fight against maternal mortality. Before we can resolve the disparities in maternal health outcomes that we see in high-income countries, we must take a closer look at factors such as culture, language, race, education, employment and housing, any of which can mean the difference between a healthy pregnancy and a fatal one. Only by designing interventions that address these social determinants will we be able to eradicate preventable maternal deaths worldwide.
This type of community-based, patient-centered, multi-disciplinary and multi-sectoral approach is reflected across many other Merck for Mothers programs. We have partners in Alberta, Canada working to improve care and expand community-based resources for indigenous mothers in Edmonton. In Europe, our partners are working to increase access to care for vulnerable women in rural parts of Romania, and among the migrant and refugee populations of Germany and Greece. In the U.S., we are supporting interventions led by community health workers in New York City, Philadelphia and Camden, N.J.
We intend to continue leveraging Merck resources through the company's country and regional offices worldwide, and seek partnerships that address local needs and allow us to broaden our impact beyond maternal health. Our Global Giving Program was established with these goals in mind. It is our hope that through these efforts we can help transform systems and societies, so that all women are treated with dignity, and have equal opportunities to survive and thrive.
Join us at MerckforMothers.com to read and comment on this blog.
About Merck for Mothers
Merck for Mothers is a 10-year, 500 million dollar initiative that applies Merck scientific and business expertise – as well as its financial resources and experience in taking on tough global healthcare challenges – to end preventable maternal mortality worldwide. To achieve this, Merck for Mothers is providing transformational and sustainable solutions focused on improving the quality of maternal health care women receive at health facilities and increasing women's access to family planning.
Merck for Mothers focuses on helping countries reduce maternal mortality and improve maternal health with the overall aim of supporting United Nations' Sustainable Development Goal (SDG) 3.1, which calls for a global reduction in the maternal mortality ratio to fewer than 70 maternal deaths per 100,000 live births by 2030. For more information, visit www.merckformothers.com.