Merck Donates $1 Million to Hand in Hand Hurricane Relief Fund
Merck Donates $1 Million to Hand in Hand Hurricane Relief Fund
Donation made as part of Hand in Hand: A Benefit for Hurricane Relief television fundraiser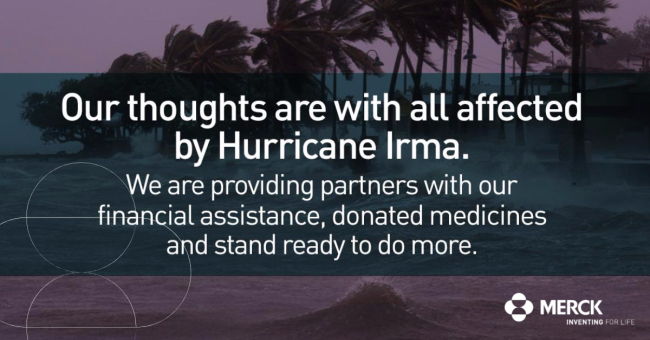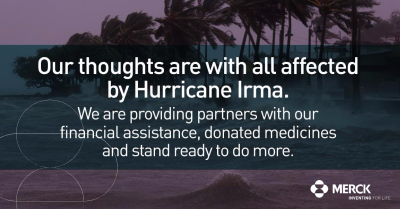 Tuesday, September 12, 2017 - 10:25am
Our thoughts are with everyone affected by Hurricanes Harvey and Irma.  Merck provides disaster-relief assistance through cash and product donations during major disasters and supports efforts in disaster preparedness and recovery. We are committed to helping those helping in the wake of these recent storms.
Today, Merck announced a donation of $1 million to the Hand in Hand Hurricane Relief Fund to support Hand in Hand: A Benefit for Hurricane Relief television fundraiser. The one-hour special will include a host of celebrities who are supporting Hurricane Harvey and Hurricane Irma disaster relief.  The special will air live on Tuesday, Sept. 12 at 8 p.m. EST and re-air at 8 p.m. PST.
For more information about Hand in Hand: A Benefit for Hurricane Relief, visit www.HandInHand2017.com.
Natural disasters can happen at any moment. Learn more about Merck's overall disaster relief efforts and the Hurricane Harvey and Hurricane Irma relief efforts.
About Merck
For more than a century, Merck, a leading global biopharmaceutical company known as MSD outside of the United States and Canada, has been inventing for life, bringing forward medicines and vaccines for many of the world's most challenging diseases. Through our prescription medicines, vaccines, biologic therapies and animal health products, we work with customers and operate in more than 140 countries to deliver innovative health solutions. We also demonstrate our commitment to increasing access to health care through far-reaching policies, programs and partnerships. Today, Merck continues to be at the forefront of research to advance the prevention and treatment of diseases that threaten people and communities around the world - including cancer, cardio-metabolic diseases, emerging animal diseases, Alzheimer's disease and infectious diseases including HIV and Ebola.
For more information, visit www.merck.com.