Men Still Outnumber Women in STEM Fields. The Girl Scouts is Trying to Change That.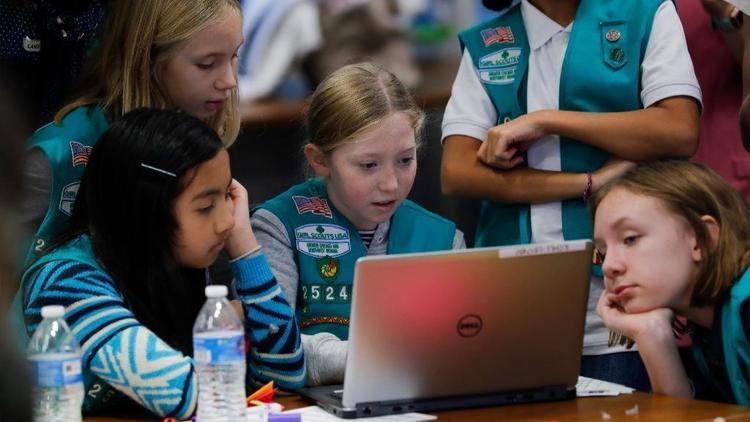 Maura Dollear, 11, center, with Girl Scout Troop 25242, works on a password exercise Nov. 3, 2018, at Northern Trust in Chicago's Loop. The Girl Scouts is working to increase the number of science- and technology-related badges the organization offers. (Jose M. Osorio/Chicago Tribune)
Originally posted on The Chicago Tribune
Maggie, Carys and about two dozen other Girl Scouts were participating in a workshop at Northern Trust's Loop office on a Saturday morning earlier this month to earn their cybersecurity badges. Girl Scouts earn badges or other awards once they've explored a topic or learned a new skill. The cybersecurity badges, introduced for girls in kindergarten through fifth grade earlier this year, are part of an effort from the Girl Scouts of the United States of America to increase participation in STEM fields, which have long been dominated by men.
Click here to continue reading
About Northern Trust
Northern Trust Corporation (Nasdaq: NTRS) is a leading provider of wealth management, asset servicing, asset management and banking to corporations, institutions, affluent families and individuals. Founded in Chicago in 1889, Northern Trust has offices in the United States in 19 states and Washington, D.C., and 20 international locations in Canada, Europe, the Middle East and the Asia-Pacific region. As of September 30, 2015, Northern Trust had assets under custody of US$6 trillion, and assets under management of US$887 billion. For more than 125 years, Northern Trust has earned distinction as an industry leader for exceptional service, financial expertise, integrity and innovation.