Meet the Speakers Series Part 2: Demystifying the CSA & DJSI
Focus on Assessment Questions for Human Rights, Human Capital & Supply Chain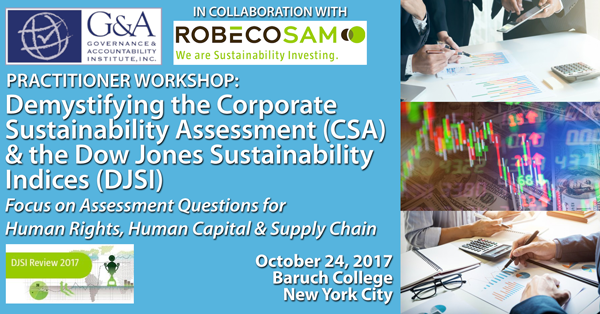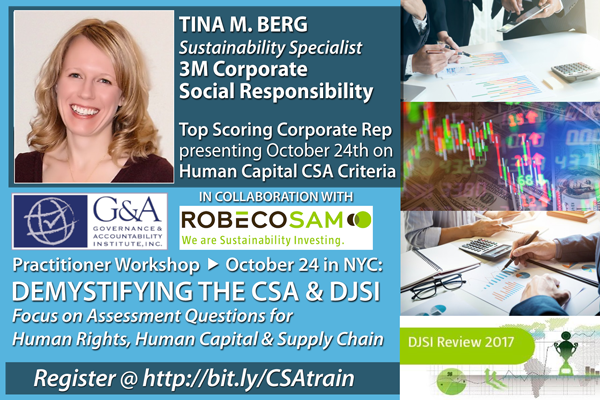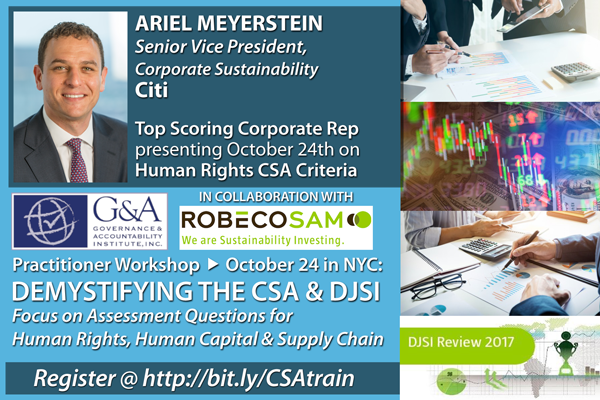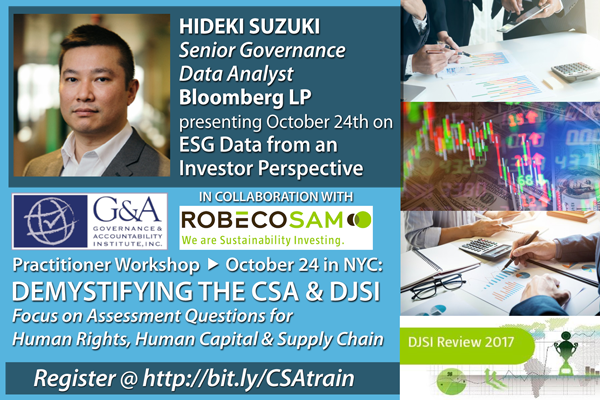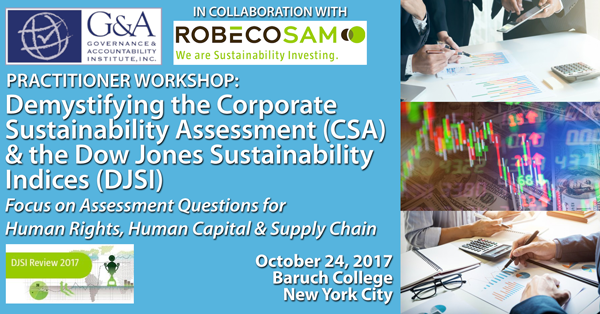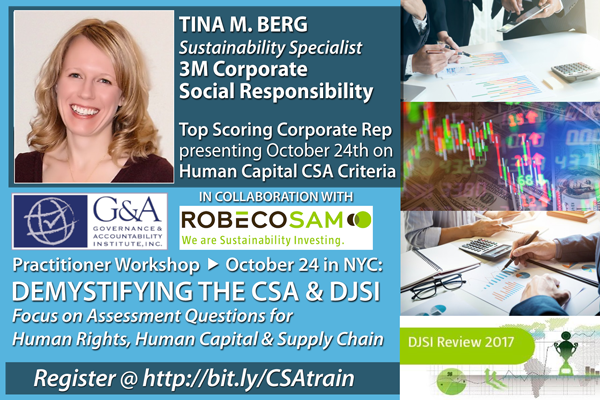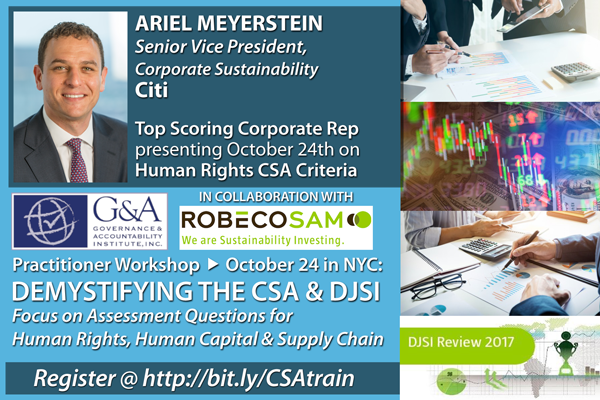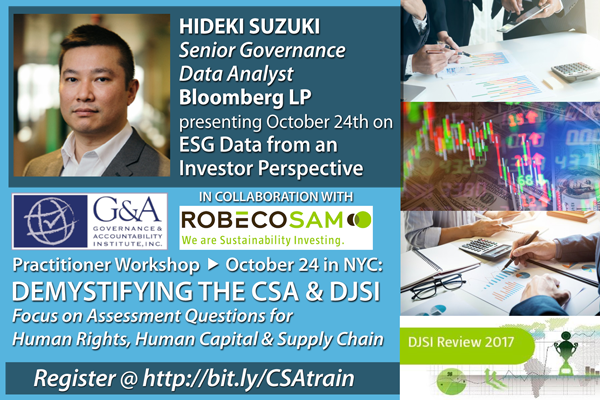 A Practitioner Workshop Presented By Governance & Accountability Institute  in collaboration with RobecoSAM
Tuesday, October 24, 2017 -- 8:45 am – 4:00 pm
Hosted at Baruch College/ CUNY (at the Newman Vertical Campus, 55 Lexington Avenue, New York, NY)
The aim of this workshop is to increase the participants' knowledge about the methodology behind the Dow Jones Sustainability Indices (DJSI) and the RobecoSAM Corporate Sustainability Assessment (CSA). In this session, special focus will be on on selected criteria including Human Rights, Supply Chain, and Human Capital.
Come join experts from CSA-responding corporations that achieve high scorers in the respective CSA criterion as they their perspectives and experience in crafting responses to the CSA:
Ariel Meyerstein, Senior Vice President, Corporate Sustainability Program, Citi 
Tina M. Berg, Sustainability Specialist, 3M Corporate Social Responsibility 
Jocelyn Cascio, Supply Chain Sustainability Senior Manager, Intel Corporation
PLUS
RobecoSAM's Robert Dornau, Director, Senior Manager Sustainability Services, presenting the DJSI 2017 Results & Learnings
Bloomberg's Hideki Suzuki, Senior ESG Analyst, presenting on ESG Data from an Investor Perspective
with Governance & Accountability Instiute Moderators 
Hank Boerner, Co-Founder & Chairman
Louis Coppola, Co-Founder & Executive Vice President
MEET THE SPEAKERS SERIES PART 1
We asked our speakers to share with you some background on their companies experience completing the RobecoSAM CSA for the DJSI each year as well as what attendees can expect to learn from their session and advice they have for anyone considering attending the program. Click the links below to find out what they said and learn more about their background:
CLICK HERE FOR FULL AGENDA & MORE INFORMATION
Cost is $1,190 and registration will be open until October 22nd, 2017.
For questions, contact Louis D. Coppola, Executive Vice President & Co-Founder, Governance & Accountability Institute, Inc. at Tel 646.430.8230 ext 14 or email lcoppola@ga-institute.com.