Meet One of CBRE's Advantage Builders: Daniel Taylor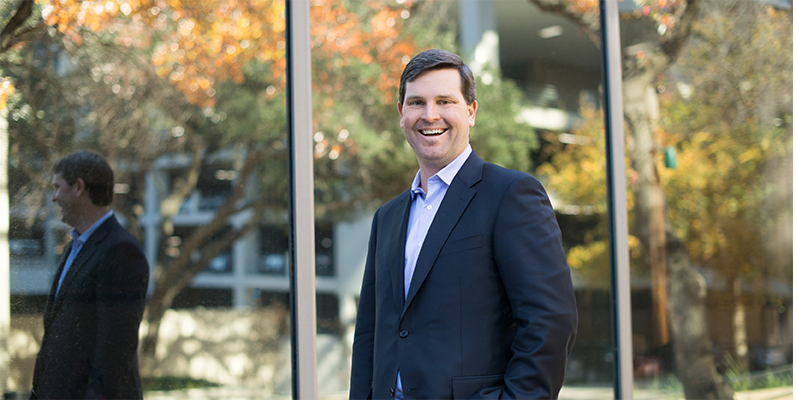 One of Daniel Taylor's earliest memories of real estate was asking his dad what "receivership" meant.
Taylor was a nine-year-old in Texas, and the savings and loan crisis barreled through the state like a cyclone. Profligate lending and overbuilding in the 1980s were made worse by an oil bust and a collapse in crop prices. "The Dallas real estate world was wiped out," Taylor recalled. "I remember people around town losing their houses. I went to elementary school with kids whose dads were in serious financial trouble."
But his parents and grandfather, all real estate professionals, came through the downturn unscathed. Ethical practices, Taylor's dad said, were the foundation of business. "For a little guy, that was really formative," he said. "A lot of values were imparted during that time. They were definitely some of my best mentors."
As CBRE Managing Director of Retail for the South Central United States, Taylor is now the mentor. "I like coaching and helping other people see the big picture, develop a business strategy and find ways to leverage CBRE's powerful network of tools, resources and people that can make them successful," he said. "It's so important to find someone who is willing to invest in you and help you grow."
Coaching comes naturally for Taylor, who started playing sports as soon as he could walk. Growing up, he played football, basketball, baseball and golf, wrestled and ran track. "I didn't care about social life or hanging out – I just wanted to play sports," he laughed. The fourth of five kids, he spent weekends hunting, fishing and riding horses on his family's ranch south of Dallas. Sundays meant church, brunch and watching Dallas Cowboy games together.
The summer after graduation, Taylor played catcher for a Texas team that won the Connie Mack World Series, defeating teams of 17- and 18-year-olds from the U.S., Canada, Puerto Rico and Latin America. "All the scouts from the majors were in the stands with radar guns and stop watches," he recalled. "That was the first time I saw true excellence – we had some guys who went in the first round of the MLB draft. Working with the talent at CBRE is like being on the field with that team. They're just better, and they make you raise your game."
A Game Changer
Baylor University recruited Taylor to play baseball. But after a year of balancing life as a collegiate athlete as well as his studies, Taylor decided to hang up his cleats. "For a lot of guys on the team, this was their shot – they wanted to go pro," he recalled. "I knew there was something for me other than baseball."
Taylor interned at CBRE between his junior and senior year and loved the work so much he asked his father if he could quit school. "I got bit by the bug – I knew this was what I was meant to do," he said. His dad convinced him to finish his business degree. When he graduated, Taylor went to work for a small boutique firm which sent him across the country, leading industrial and office transactions.
Eventually, The Staubach Company recruited Taylor to work in its retail practice, where he spent a decade as a multi-market tenant representative for companies such as Verizon Wireless, In-N-Out, J.C. Penney, Toys R Us and Babies R Us. He was a top producer, and repeatedly named a Dallas Fort Worth Retail Heavy Hitter by The Dallas Business Journal. Taylor joined CBRE in 2010, and in 2015 was offered a leadership role. He is currently focused on integrating the CBRE retail team with United Commercial Realty, which was acquired in 2015.
"It's similar to managing a sports team," Taylor explained. "You develop a shared vision and common goal, a culture and expectations for performance and behavior, and you figure out how you are going to succeed. And it's hustle -- not taking no for an answer, finding creative solutions to problems, bringing people together and arriving at a consensus. Just like athletics, it's the extra stuff you do early in morning or late in the day or on weekends that will separate you from the pack working 9 to 5."
SAME FIELD, DIFFERENT GAME
When he's not at the office, Taylor is still coaching – his three- and four-year-old sons, who play soccer and T-ball. "My friends and I joke that we're in the season of life that's kind of like Groundhog Day: you go to soccer games and birthday parties and then you do it all over again." His parents and four siblings – now with their spouses and children – still gather on Sundays for brunch and Cowboys games.
And with three generations of Taylors in the business, they talk about real estate. "Change is happening in retail at the speed of light, right before our eyes," he said. "That's exciting to me because we're on the leading edge of this at CBRE. It's fantastic. I tell my wife I don't feel like I've ever gone to work a day in my life. For me this is a passion."