MedTech Market Leaders Share Their Long-Term Business Strategy at CECP's CEO Investor Forum @ The MedTech Conference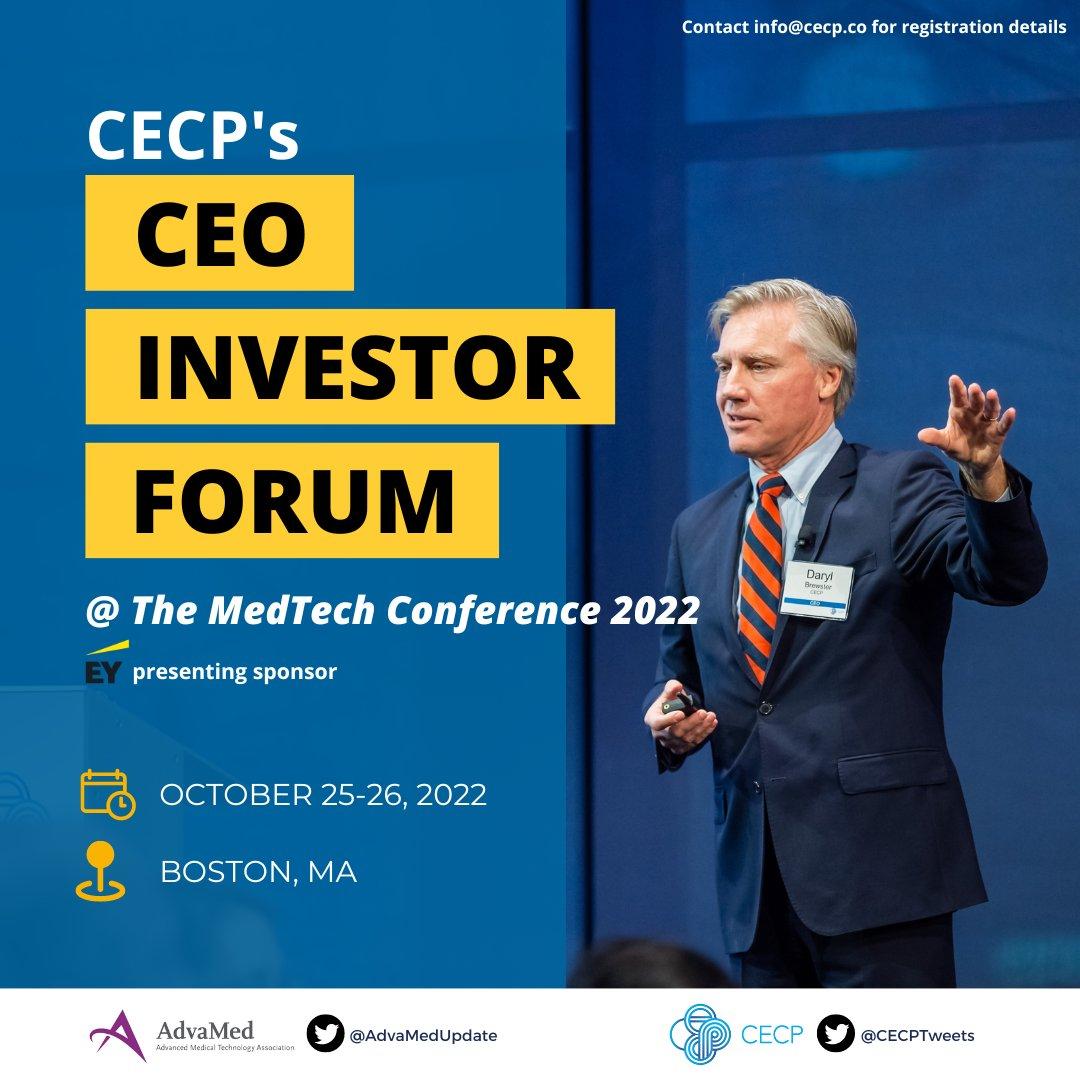 Three CEOs representing over $372 billion in market capitalization set the context for the future engaging with institutional investors
November 7, 2022 /3BL Media/ - CECP's CEO Investor Forum, the only platform that brings CEOs and investors together to discuss Long-Term Plans, hosted three CEOs from the world's largest medtech companies—Abbott (NYSE: ABT), Medtronic (NYSE:MDT), and Intuitive Surgical (NASDAQ:ISRG). They presented to investors representing trillions in market cap at the Advanced Medical Technology Association (AdvaMed) 2022 MedTech Conference October 25-26 in Boston, MA.
CEOs shared long-term plans covering growth, strategy, and material Environmental, Social, Governance (ESG) risks, three to five years out, with institutional investors and companies. The presentations can be viewed via CECP's YouTube channel. The 2022 CEO Investor Forum @ the Medtech Conference featured Long-Term Plans for sustainable business from:
Robert B. Ford, Chairman and Chief Executive Officer, Abbott (NYSE: ABT)
Gary S. Guthart, Chief Executive Officer, Intuitive Surgical (NASDAQ: ISRG)
Geoff Martha, Chairman and Chief Executive Officer, Medtronic (NYSE: MDT)
More than 50 CEOs to date have presented their Long-Term Plans at the CEO Investor Forum to an audience of institutional investors, representing $25 trillion in assets under management. The next CEO Investor Forum for climate leaders will be held in New York on June 2023; watch cecp.co for more information.
Key themes from the Long-Term Plan presentations emerged including:
In medtech and other industries, material issues of ESG need to be relevant and seen as a critical part of the entire business strategy, not just one department. This includes material issues other than financial capital—including intellectual capital, human capital, and social capital—to drive overall competitiveness.
The COVID-19 pandemic was a pivotal moment in healthcare, helping fuel perpetual value creation, particularly as many companies realized that technology has unlimited growth potential. This including increasing access, reducing cost, and transforming discoveries of the human body. AI and machine learning are increasingly turning quality data into insights used in solutions to help guide better care.
Supply chain issues cannot be solved by any one company alone. It takes a systems approach where government, non-profit organizations, and even competitors are collaborating across the value chain to re-wire the whole system.
"The CEO Investor Forum @ The MedTech Conference brought together companies, institutional investors, and professional services firms committed to reorienting our capital markets toward the long-term," said Daryl Brewster, CEO, CECP. "The forum serves as a bridge between today's corporate strategy and discounted, risk-adjusted future cash flows further down the road than next quarter."
"By 2030, we intend to touch the lives of 3 billion people, one in every three people on the planet and nearly 1 billion more than we impact today," said Robert B. Ford, Chairman and Chief Executive Officer, Abbott. "Our plan has one overarching imperative – to design access and affordability into our products from the start to get our products to the most people possible. We don't view sustainability as a check box exercise. The key question is how we can we use our products to help society deal with the issues they are going to face and that includes a clear plan with clear targets."
"We are standing at the epicenter of a changing world," said Geoff Martha, Chairman and CEO of Medtronic. "Rooted in an enduring mission to alleviate pain, restore health, and extend life, Medtronic is combining the application of biomedical engineering with the power of data science to exponentially expand the impact of healthcare technology. We see tremendous growth potential for years to come, as we create ecosystems of care that deliver better patient outcomes, at scale."
"The amount of opportunity to create better patient care is staggering," said Gary S. Guthart, Chief Executive Officer, Intuitive Surgical. "Today, because of prior investments in Electronic Medical Records (EMR), there is a huge amount of data that can be analyzed to design systems and integrated product lines where people are in the continuum. We expect huge changes in the next two decades."
Additional speakers included:
Eric Schwartz, Executive Vice President & Chief Legal Officer, Integra LifeSciences (NASDAQ: IART)
Bruno Sarda, Principal, Climate Change & Sustainability Services, Ernst and Young LLP
George Serafeim, Charles M. Williams Professor of Business Administration, Harvard Business School
Lucy Godshall, Senior Manager, Climate Change & Sustainability Services, Ernst and Young LLP
EY was a presenting sponsor of the CECP CEO Investor Forum @ The MedTech Conference.
CECP Media Contact
Katie Leasor
###
Chief Executives for Corporate Purpose® (CECP) is a trusted advisor to companies on their corporate purpose journeys to build long-term sustainable value and tell their impact stories. Working with CEOs and leaders in corporate responsibility, sustainability, foundations, investor relations, finance, legal, and communications, CECP shares actionable insights with its CEO-led coalition to address stakeholder needs.
Founded in 1999 by actor and philanthropist Paul Newman and other business leaders, CECP is a movement of more than 225 of the world's largest companies that represent $7.7 trillion in revenues, $37.4 billion in total community investment, 14 million employees, 22.5 million hours of employee engagement, and $21 trillion in assets under management. CECP helps companies transform their strategy by providing benchmarking and analysis, convenings, and strategy and communications in the areas of societal/community investment, employee engagement, environmental social governance/sustainable business, diversity equity inclusion, and telling the story.