Mars and Rubicon Team Up for 'Trick-or-Trash' Recycling Program on Halloween
Words by Mary Riddle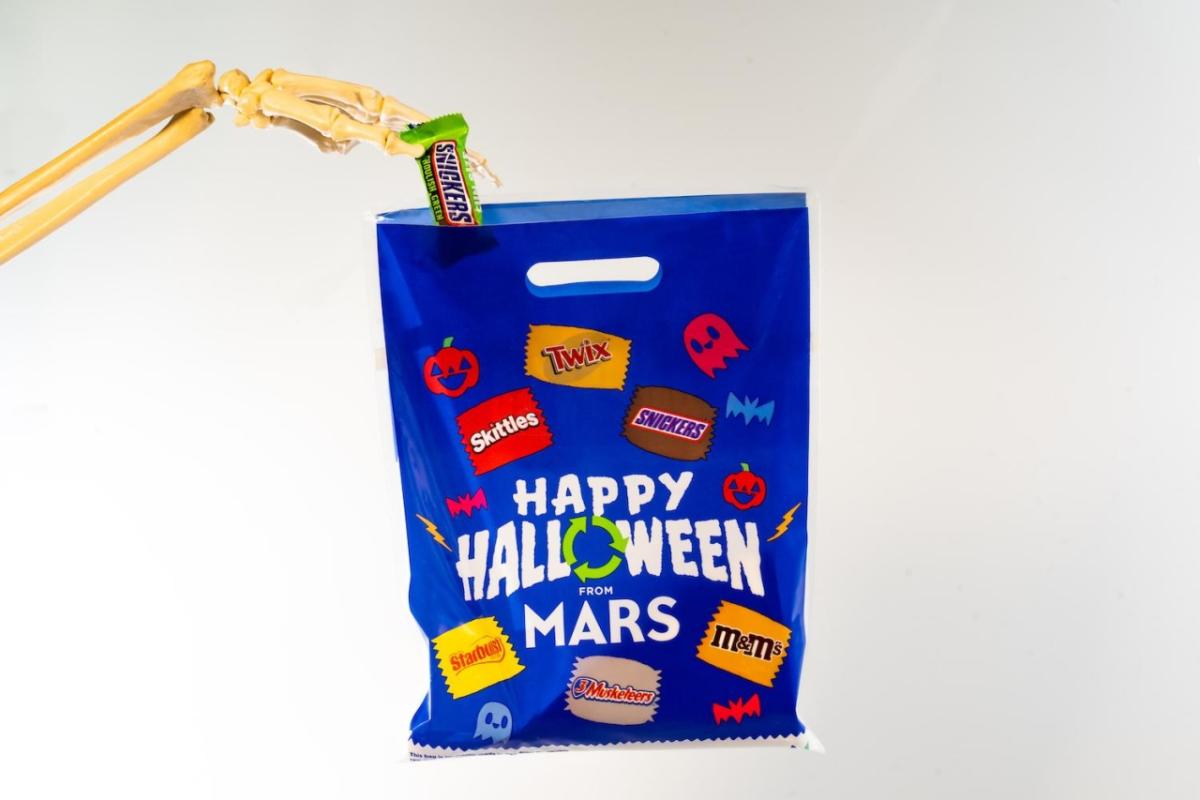 Originally published by TriplePundit
This Halloween, Mars and Rubicon are coming together to offer trick-or-treaters an easy way to collect and recycle their candy wrapper waste.
Mars, one of the world's largest producers of candy and confectioneries, and Rubicon, a digital marketplace company for recycling, are working to grow the Trick-or-Trash candy wrapper recycling initiative launched by Rubicon in 2019. Through the program, participants can sign up to receive a recyclable "Trick-or-Trash" bag with a pre-paid postage stamp and instructions on how to collect candy wrapper waste and return it for proper recycling.
Candy wrappers are not recyclable in most municipal recycling programs, so the wrappers of roughly 600 million pounds of candy purchased in the United States each season end up in landfills. The average trick-or-treater generates one pound of trash, most of which is plastic candy wrappers. Trick-or-Trash aims to give Halloween lovers a simple, fun and free way to combat waste.
Mars, the maker of candy brands like M&M's, Skittles and Snickers, knows Halloween, and company leaders see opportunity in investing to make the holiday easier on the environment. "As the authority on Halloween, it is critically important that we are investing in our biggest season in one of our biggest opportunities: recycling our packaging," Tim LeBel, president of sales at Mars and "chief Halloween officer," told TriplePundit.
For Rubicon's part, "our mission is simple: to end waste," said Chief Marketing and Communications Officer Dan Sampson. "We want to get people off the landfill model. We don't feel that taking trash and burying it in the ground is a sustainable way for people to operate. It's bad for people, business, the environment and communities. We want as much waste as possible diverted from landfills."
From classrooms to community hubs, growing the Trick-or-Trash program for a more circular Halloween
More than 75 percent of Americans plan to celebrate Halloween this year, up 11 percent from 2021, and 93 percent of them plan to incorporate chocolate and candy into their celebrations.
"There are several moments in the year when the amount of waste generated spikes," Sampson of Rubicon explained. "A lot of those moments are around holidays when people are spending more on things like candy. Packaging goes up, and waste goes up at a commensurate pace. Halloween is one of those moments when the volume of waste spikes. Most of the packaging materials are not recyclable, so we tried to come up with an idea to combat this problem while having a bit of fun, and Trick-or-Trash came from that."
Rubicon launched the Trick-or-Trash campaign in 2019 by providing schools with candy wrapper recycling boxes, reaching 450 schools that year. When schools shuttered amidst the pandemic in 2020, Rubicon pivoted and expanded the program to include 750 businesses and community organizations.
The program reached 2,000 schools and businesses by the end of last year, and now it's expanding once again. "Mars came to us with the idea of creating a trick-or-treat bag using the same process as our Trick-or-Trash boxes," Sampson said.
Trick-or-treaters sign up online to receive a bag at their homes, which can be filled, sealed and sent back via a prepaid return shipping label. "This program is in its fourth year, and with the addition of Mars, it is bigger and better than ever," Sampson said.
The reverse trick-or-treat bags became available online on Oct. 6, and the initial run of 5,000 bags sold out in five hours. "Bags were available in all 50 states, and we had purchases in all 50 states," LeBel of Mars said. "Word got out very quickly. We were overwhelmed by support." Thousands more bags are reserved for communities where Mars associates live and work — including Topeka, Kansas; Waco, Texas; and Newark, New Jersey. "Because of the incredibly positive response, by the hour we are revisiting what more we can do. It's just one step in creating a more circular holiday," LeBel continued.
How are candy wrappers and Trick-or-Trash bags recycled?
"The composition of an average candy wrapper is usually a mix of materials that doesn't lend itself to simple recycling in the way a can or a bottle does," Sampson explained. "There is plastic in them, but there is also often aluminum and other materials. Additionally, wrappers are so small that they are not easily recycled, either."
Rubicon's recycling partner, G2 Revolution, is tasked with processing the Trick-or-Trash bags. At G2's plant, bags are emptied onto a conveyor belt and inspected for non-recyclable materials, which are extracted and discarded. The wrappers are then cleaned to remove food residue, and the clean wrappers are turned into pellets — which is the process material for creating new products. "Individual wrappers, when discarded, are almost impossible to recycle," Sampson said. "When we collect in bulk, like in Trick-or-Trash, they can be effectively processed and recycled."
"The brilliance is in the simplicity of this program," LeBel added. "It's consumer friendly and super easy. Most people are trying to do the right thing, so if you can make it easy for the consumer to do it, you can make some magic."
Making a movement
While reducing waste is a critical mission for Rubicon, Sampson also emphasized the importance of educating young people about sustainability — and Halloween is a great time to do it. The company partnered with the National Wildlife Federation to create educational programs, lesson plans and reading lists for children of all grade levels, which are available for free on the Trick-or-Trash website. "We have built in this component because it's important for us to educate future generations," Sampson told us. "We can help teachers show their students how recycling works and why it's important."
The boost from Mars was well timed as Rubicon looks to expand the impact of its Halloween programming even further. "Given our mission, we are always looking for partners with true commitments to sustainability," Sampson said. "We have expanded our footprint and are making a bigger impact on waste that is generated at Halloween, and Mars is accelerating this."
This article series is sponsored by Mars and produced by the TriplePundit editorial team.
Image courtesy of Mars Incorporated