Marina Bay Sands Team Members Share: What Volunteerism Means to Me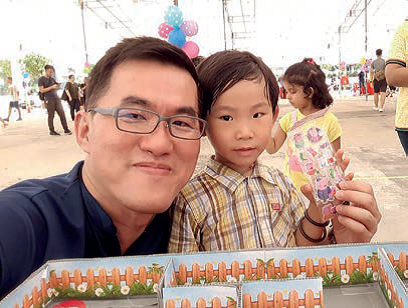 As featured on the official Las Vegas Sands Blog | Sands Confidential
Shortly after joining Marina Bay Sands in June 2014, Seah Beng Tat, Senior Guest Service Agent, signed up for his first Sands for Singapore volunteer opportunity.  He recalled the event, where Team Members assisted children with dyslexia, as a memorable and motivational experience.  Since then, Beng Tat has been an avid volunteer with Sands for Singapore, participating in numerous events over the past three years and making him one of the top 10 volunteers for the community event.  His efforts go beyond Marina Bay Sands – during his own free time, he also helps out with the elderly and handicapped.
"My numerous encounters with the underprivileged has allowed me to understand my responsibilities to others," he said.  "I try to give back to our community by volunteering.  I have realized how sheltered I was and I was determined to expand my horizons by continuing to help wherever I can."  
Beng Tat's eagerness to contribute extends beyond Singapore.  He has also volunteered for various overseas missions, including Indonesia in December 2016 where he helped the survivors of the Aceh earthquake, which displaced 84,000 people.  His goal was to step out of his comfort zone to make a difference in that community.  He shares the mentality of Marina Bay Sands and its parent company, Las Vegas Sands, to be good corporate citizens and give back to the communities in which the companies operate. 
"I am blessed to have food to eat, a roof over my head, a safe place to live, and the joy of having my family safe," Beng Tat said.  "This knowledge ignited my passion and drive to volunteer."
One of his favorite Sands for Singapore volunteerism activities was from May 2017, where Team Members organized a carnival for Cerebral Palsy Alliance Singapore (CPAS) beneficiaries.  While Beng Tat volunteers during his own time by taking leave or volunteering outside of working hours, he acknowledged his department's support of his volunteerism efforts.
"Our team embodies the Team Member manifesto by inspiring one another and our communities," he said.  "I'm touched by how Marina Bay Sands continually offers opportunities for us to contribute in our own ways.  Helping others reminds me that despite how different we are on the surface, we are still fundamentally the same."
Read the latest from Las Vegas Sands via Sands Confidential