Maria Menounos Debuts "Maria's Greek Kitchen" at Fenway
Maria Menounos Debuts "Maria's Greek Kitchen" at Fenway
Red Sox Fan, Emmy Winning Host and Best-Selling Author Partners With Aramark to Bring Her Greek Recipes to "America's Most Beloved Ballpark"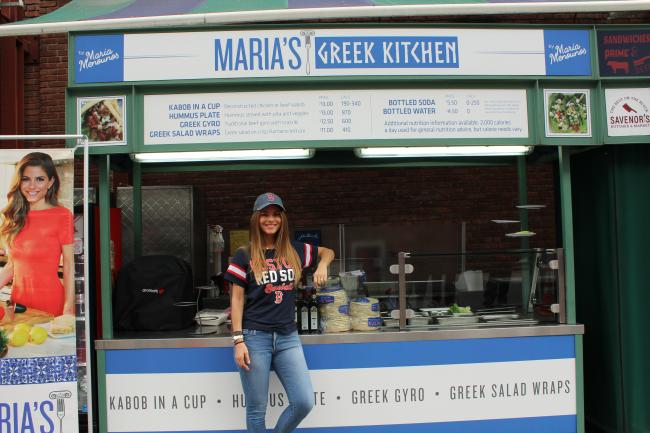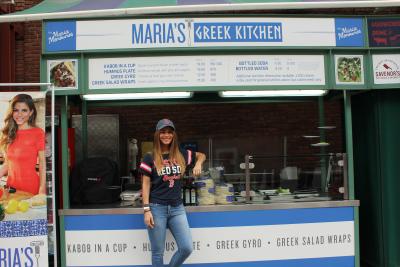 Friday, September 29, 2017 - 9:20am
Aramark, Fenway Park's food and beverage partner, and Emmy-winning Maria Menounos, have partnered and opened a new "pop-up" concessions concept at Fenway Park, featuring Menounos' healthy and authentic Greek family recipes. The opening of "Maria's Greek Kitchen" marks a return of sorts to Fenway for Menounos, who grew up in nearby Medford, MA, attended Emerson College in Boston, and sold sausages behind a cart outside Fenway Park, before and after Red Sox games.
The new concept showcases Menounos' Greek heritage and love of food, and features a line-up of homemade Mediterranean specialties fit for a ballpark, such as gyros, lettuce wraps, hummus plates and kabobs. Located on Yawkey Way, the stand is a first-of-its-kind for Menounos. The development of "Maria's Greek Kitchen" and builds on the success and popularity of Menounos' Greek food line, "Maria's Greek Delights."
"I wanted to add even more healthier options for Fenway fans and items that are easy to tote and consume. Working with Aramark, Maria's Greek Kitchen achieves all of that!" Menounos said. 
Read all about it here.