Making Life in Minneapolis Sweeter for Bees
Wells Fargo team members in Minneapolis work to increase the dwindling bee population.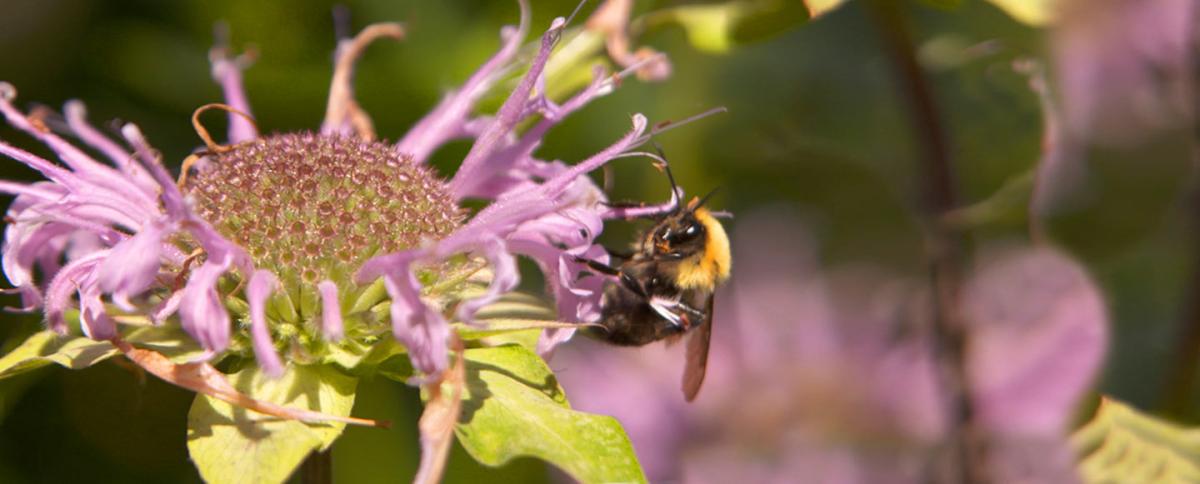 Wells Fargo is part of a citywide effort to boost pollinator habitats around Minneapolis.
Making life in Minneapolis sweeter for bees
Roberta Rogers spends her workdays concerned about her customers and how she can help them with their loans. But on a summer day outside of her office in Minneapolis, the Wells Fargo underwriter was worried about the dwindling population of bees and how she could help them avoid extinction.
"Bees are small creatures that are losing their place on this earth, and anything we can do, no matter how small — like planting one flower free of chemicals — or how big — like planting the gardens like we did — is great and will help save the bees and our planet," Rogers said.
She and about 25 other Wells Fargo team member volunteers planted about 100 pollinator-friendly plants in Elliot Park, a neighborhood near downtown Minneapolis, in June. The volunteers raked, dug holes, moved rocks, and planted about 65 bushes and trees and 11 patches of nine to 11 pollinator-friendly plants in a honeycomb-shaped habitat that they assembled. Their work created an inviting space for people and for the pollinators — such as bees, butterflies, beetles, and birds — that U.S.-produced food and drink depend on, according to the City of Minneapolis.
The event was part of a Wells Fargo Environmental Solutions for Communities grant awarded to the Minneapolis Health Department by Wells Fargo and the National Fish and Wildlife Foundation. Awarded in 2016, the $80,000 grant supported the city's Conservation of Minneapolis Bees Project, which seeks to promote and improve pollinator habitats for bees.
"Pollinators support healthy and diverse habitats for our nation's wildlife and serve a critical role in the cultivation of our food supply," said Jeff Trandahl, executive director and CEO of the National Fish and Wildlife Foundation. "NFWF is proud to support the efforts of the City of Minneapolis, along with Wells Fargo, to create healthy habitats for bees and other pollinators throughout the city." 
Jon Campbell, head of Corporate Responsibility and Community Relations for Wells Fargo and a beekeeper, agreed. "This is a really serious issue," he said. "We all depend on food and agriculture, and frankly people don't connect that, without pollinators, most crops don't develop and grow. Without bees doing pollination, we don't have many of the agricultural plant products that we sustain on."
'Doing hands-on projects in an innovative way'
The C.O.M.B. Project began with a resolution passed by the City of Minneapolis in August 2015 to declare the area a pollinator-friendly community and encourage residents and businesses to adopt pollinator-friendly practices. The Environmental Solutions grant allowed the city to purchase more than 200 shrubs and trees, as well as 150 pollinator patches — each containing about nine to 15 plants — of Minnesota-native grasses and wildflowers to be planted on commercial, multifamily residential, and community spaces throughout Minneapolis.
By planting these — with the help of local groups and volunteers — the Minneapolis Health Department said it hopes to increase the native habitat that is lacking in an urban city environment, provide food and nesting materials for pollinators, and provide education and outreach to increase community awareness about the dwindling bee and pollinator populations.
"The Environmental Solutions grant helped us take this from a resolution to going into the community, raising awareness with community members, and doing hands-on projects in an innovative way," said Tiana Cervantes, environmental health inspector for the Minneapolis Health Department.
After their recent volunteer event, several Wells Fargo team members said they felt inspired to continue the work and plant pollinator-friendly plants in their yards at home. Rogers commented that the event may have even sparked a passion in some of the younger volunteers.
"I enjoyed working with fellow team members and their families," Rogers said. "It was great seeing three children who enjoyed planting. One boy worked very hard pushing the wheelbarrow full of dirt over bumpy terrain. His sisters and he stated they loved to plant. It was great to see the young ones so enthusiastic about regenerating our earth. That was my favorite part of the day."
Please visit Wells Fargo Stories to watch the videos.