Lunch & Learn: Look Ahead to 2021 - The Future of ESG and Sustainability Communications
Lunch & Learn: Look Ahead to 2021 - The Future of ESG and Sustainability Communications
Aug. 26 event provides solutions for ESG storytelling in face of earned-media recession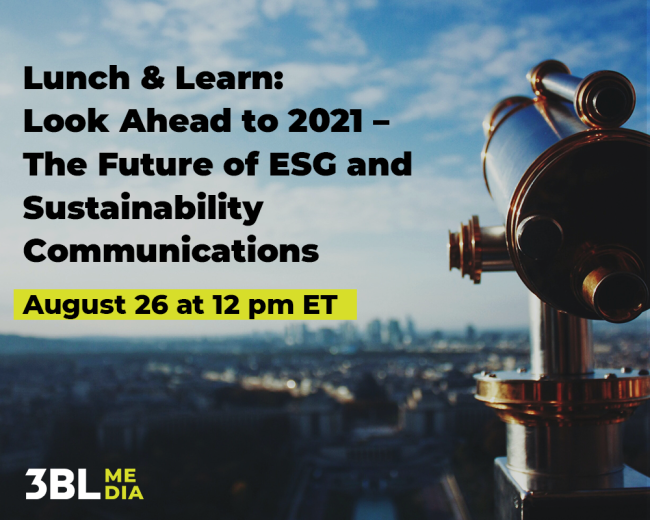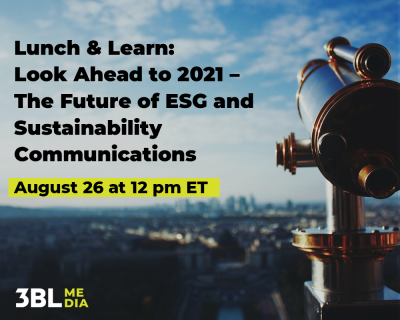 Tuesday, August 11, 2020 - 8:00am
NEW YORK, August 11, 2020  /3BL Media/ -- As corporate communications leaders plan for 2021, it is clear that the new normal involves less reliance on earned media and a strengthened ability to reach key stakeholders directly with content demonstrating leadership on social, environmental and governance (ESG) issues.
3BL Media, the leading ESG storytelling platform used by 200+ purpose-driven brands, NGOs and agencies, will hold a lunch-and-learn Aug. 26 at 12 p.m. ET to discuss the new paradigm for journalists and comms pros, and solutions to raise awareness around CSR, sustainability and ESG. This session will include an overview of the 3BL Professional content distribution platform, the audiences reached by 3BL Media, and the analytics clients use to make data-driven decisions about content strategy.
Register here for "Lunch & Learn: Look Ahead to 2021 – The Future of ESG and Sustainability Communications"
"Brands that communicated about their COVID-19 response, diversity and inclusion, climate change and other social impact topics experienced record engagement in 2020, and that trend is expected to continue into the new year," said Dave Armon, CEO of 3BL Media. "We look forward to sharing examples of client content that outperformed and a framework for brands considering an acceleration of their ESG communications program."
This event will explore:
-- What brands need to know since newsrooms suffered the worst layoffs on record during the first half of 2020, according to the outplacement firm Challenger, Gray & Christmas.
-- How companies are communicating year-round about their corporate citizenship agenda and impact.
-- New analytics providing 3BL Professional users with details on engagement, audience and benchmarking so communicators can make data-driven content decisions.
-- Distribution enhancements to the 3BL Media network to include ESG ratings and rankings analysts, fintech leaders Refinitiv and Factset, the sustainability recruitment site Acre and specialty sites including Green City Growers and the Republic of Green.
Joining us on  "Lunch & Learn: Look Ahead to 2021 – The Future of ESG and Sustainability Communications" will be Armon, a 30-year veteran of digital PR and marketing solutions; Katie Buckland, senior vice president of 3BL Media; and Travis Nicol, account supervisor at 3BL Media.
The event is free and open to business leaders in corporate responsibility, sustainability, ESG, communications and marketing roles. NGO and agency partners are also welcome to attend. 
Prior to attending the event, we recommend registering for the free, daily 3BL Media News Alert to gain familiarity with the topics and content formats being distributed to the 3BL Media audience.
About 3BL Media
3BL Media delivers robust ESG storytelling solutions for the world's leading companies. Our unrivaled distribution, editorial and leadership platforms inspire and support global sustainable business. Learn more here.