Look Ahead to 2022 - The Future of Corporate Reporting & ESG Storytelling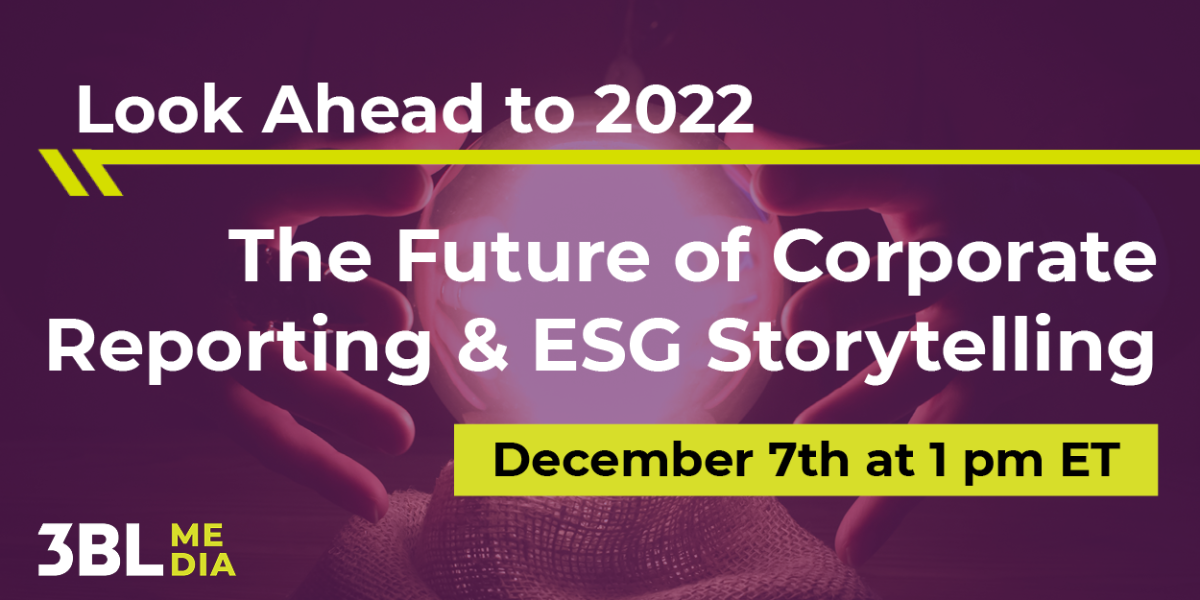 As the year comes to a close, 3BL Media is looking ahead to 2022 to understand trends in environmental social governance (ESG) communications. We've seen that stakeholders are demanding more from businesses. It's no longer enough to only share financial metrics. Audiences also want to know how companies are building a sustainable, inclusive future and progressing in their ESG initiatives.
Join us on December 7 at 1 p.m. ET for Look Ahead to 2022 – The Future of Corporate Reporting & ESG Storytelling. We'll chat with experts about trends in corporate reporting and ESG storytelling as we look ahead to the new year. Our discussion will cover the future of integrated reporting, practical tips for sharing your ESG progress with multiple audiences and advice on how to tell your story year-round.
Last year, five leading framework and standard-setting organizations — CDP, CDSB, GRI, IIRC and SASB — announced a shared vision for a comprehensive corporate reporting system that goes beyond financial accounting to include sustainability disclosures. These integrated reports provide a full picture of a company's operations by showcasing their triple bottom line approach to business.
While reporting is imperative, it cannot take the place of storytelling. Companies need to build and budget for both capabilities if they want to connect with all stakeholders. Telling the story behind ESG initiatives brings stakeholders along for the journey and shows that a company is making progress toward long-term goals.
Throughout this Lunch and Learn, we'll hear from:
Neil Stewart, Director of Corporate Outreach at VRF
Shari King, President at King Creative Services
Shannon Leiderman, Communications Strategy Lead at thinkPARALLAX