Live Twitter Chat: #YumRecipeforGood, July 31, Noon ET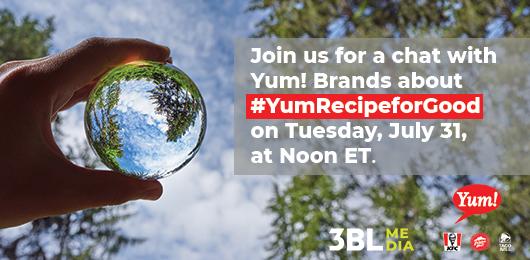 Please join us for a LIVE 1-hour Twitter chat with Yum! Brands as the company discusses its 2017 Global Citizenship & Sustainability Strategy, which highlights the company's progress and outlines efforts by KFC, Pizza Hut and Taco Bell to make a meaningful impact in three areas of strategic focus: Food, Planet and People.
Serving millions of customers across 45,000 restaurants in more than 135 countries and territories worldwide, Yum! Brands takes its role as a global citizen and its impact on society and the environment seriously and is focused on building three iconic restaurant brands that people worldwide trust and champion.
Featured guests include:
Tracy Skeans – Yum! Brands Chief Transformation & People Officer
Jon Hixson – Yum! Brands Vice President, Government Relations and Global Citizenship & Sustainability
Jerilan Greene  - Yum! Brands Global Chief Communications Officer
Clive Newton – Yum! Brands Chief Food Safety Officer
Liz Matthews – Taco Bell Global Chief Food Innovation Officer
Day and Time: Tuesday, July 31, Noon EDT/9:00a.m. PDT/5:00 BST
Where: On Twitter, follow with the hashtag #YumRecipeforGood
Tips to get the most out of the #YumRecipeforGood Twitter Chat:
Follow the main participants and # YumRecipeforGood hashtag
Submit questions before the event to promote a more dynamic discussion
Use the # YumRecipeforGood hashtag on comments that you want to share with the community
Share tweets you think your followers will appreciate
Follow Yum! Brands during and after the chat
New to our Twitter chats? Don't worry! Read this.
Media Contact:
Leon Kaye
Director of Social Media and Social Engagement, 3BL Media
Associate Editor, TriplePundit
lkaye@3blmedia.com