LIVE Twitter Chat on #PeopleBehindPalmOil with Golden Agri-Resources on October 3rd, 2018
LIVE Twitter Chat on #PeopleBehindPalmOil with Golden Agri-Resources on October 3rd, 2018
The Twitter Chat will occur on Wednesday, October 3, at 10am GMT / 1pm GST / 5pm SGT (5am EST).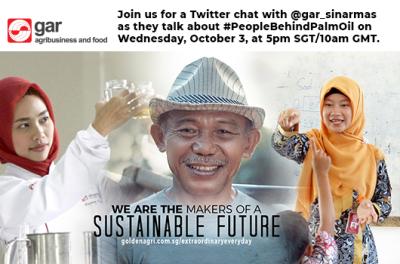 Tuesday, September 25, 2018 - 6:05pm
SINGAPORE, September 25, 2018 /3BL Media/ -- Be sure to join us for a LIVE 1-hour Twitter Chat with global palm oil company Golden Agri-Resources (GAR), Nestlé, WBCSD, and TriplePundit on #PeopleBehindPalmOil.
As palm oil is an ingredient in over half of the food and consumer products manufactured worldwide, there has been growing demand to ensure that this important commodity is grown and produced responsibly and sustainably. This chat with GAR will discuss major changes across the global palm oil value chain, along with the company's efforts to boost transparency and traceability.
Sustainability is an integral part of GAR's business. GAR understands that being a sustainable palm oil company requires a consistent and holistic approach, in 2015 it combined its forest conservation, social and community engagement and yield improvement policies into a single GAR Social and Environmental Policy, known as GSEP – details of which will be discussed during the Twitter Chat. Investment is also being made into the diverse nutritional benefits that palm oil can bring as consumers become increasingly health conscious.
To that end, the 1-hour #PeopleBehindPalmOil will also shine a light on people, from those who work on farms and in labs, to the stakeholders who are partnering with the global palm oil industry to ensure that it is accountable. Together, they are all are striving to realise GAR's vision of a sustainable palm oil industry.
Hosting the chat are 3BL Media (@3BLMedia) and TriplePundit (@TriplePundit); joining us are the following panelists:
Anita Neville, Vice President of Corporate Communications and Sustainability Relations at Golden Agri-Resources (@Aussieneets)
Dr Paul Wassell, Head of Research and Development at Golden Agri-Resources (@GAR_Sinarmas)
Anna Turrell, Head of Sustainability at Nestle (@anna_turrell)
Matthew Reddy, Director of Climate-Smart Agriculture at WBCSD (tbc)
Topics of the chat will include:
The driving forces behind changes across the global palm oil sector
What consumers should consider when purchasing products made with palm oil
GAR's drive to increase its supply chain's transparency and traceability
Market forces that will drive the future of the palm oil industry over the next several years
How stakeholders' concerns are having an impact on GAR's commitment to sustainability
Tips to get the most out of the #PeopleBehindPalmOil Twitter Chat:
Follow the main participants and #PeopleBehindPalmOil hashtag
Share tweets you think your followers will appreciate
Follow interesting participants during and after the chat
Submit questions before the event to promote a more dynamic discussion
Use the #PeopleBehindPalmOil hashtag on comments that you want to share with the community
WHEN: Wednesday, October 3, at 10am GMT / 1pm GST / 5pm SGT.
WHERE: Join the conversation on Twitter, or on a third-party platform such as TweetDeck or Hootsuite, by following #PeopleBehindPalmOil
New to our Twitter chats? Don't worry! Read this.
Media Contact:
Leon Kaye
Director of Social Media and Social Engagement, 3BL Media
lkaye@3blmedia.com