LIVE Twitter Chat on #GenerationForChange Hosted by Mars, Incorporated, Tuesday, December 4th, 2018 at Noon ET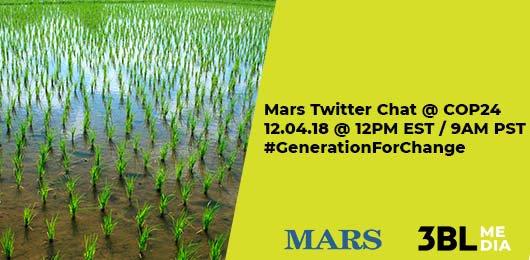 KATOWICE, Poland, November 29, 2018 /3BL Media/ — Be sure to join us for a LIVE one-hour #GenerationForChange Twitter Chat during COP24 in Poland. This virtual event will be hosted by Mars, Incorporated. Joining Mars for the December 4 chat are leaders from The Climate Group, EDF, The Nature Conservancy and Oxfam. TriplePundit and 3BL Media will moderate the chat.
During the hour-long discussion, Ashley Allen, Climate and Land Senior Manager at Mars, will discuss the company's various commitments to environmental and social sustainability – including long-term plans to lead on climate action, aligning with the United Nations' Sustainable Development Goals (SDGs) and ensuring a more sustainable supply chain worldwide. The NGOs rounding out this panel with Ms. Allen will offer perspectives on how collaboration and partnerships can help companies achieve long-term sustainability goals – as well as highlighting why it is critical for the private sector to support the goals of COP24 and the 2015 Paris Climate Agreement.
These steps are urgent, as the world is facing significant challenges. Poverty, water stress and climate change are just a few of the social and environmental issues  holding back the potential of people, their communities and businesses across the globe.
To that end, Mars is striving to develop new approaches to take on these challenges based on insights the company has learned over the past decade. Mars, which has long focused on the impacts of its direct operations, is now expanding such ambitions across its entire value chain. The clear need for urgent action is why, last year, Mars launched its Sustainable in a Generation Plan – a plan that will allow the company to grow in ways that benefit people, the planet and the business alike.
Topics that will unfold during chat include:
Why businesses like Mars should care about COP24 and the 2015 Paris Climate Agreement
The role companies like Mars have in supporting national climate policy
The important role partnerships and collaborations play in achieving long-term sustainability goals
Barriers to making supply chains climate-smart – and ways to overcome them
How companies can align their work on the SDGs with their overall climate action goals
Tips to get the most out of the #GenerationForChange Twitter Chat:
Follow the main participants and #GenerationForChange hashtag
Share tweets you think your followers will appreciate
Follow interesting participants during and after the chat
Submit questions before the event to promote a more dynamic discussion
Use the #GenerationForChange hashtag on comments that you want to share with the community
The 1-hour #GenerationForChange chat will touch upon the three key areas of Mars' plan: A healthy planet, thriving people and nourishing wellbeing.
WHEN: Tuesday, December 4, at Noon EST / 9am PST / 6pm CET.
WHERE: Join the conversation on Twitter, or on a third-party platform such as TweetDeck or Hootsuite, by following #GenerationForChange
New to our Twitter chats? Don't worry! Read this.
Media Contact:
Leon Kaye
Director of Social Media and Engagement, 3BL Media
Executive Editor, TriplePundit.com
lkaye@3blmedia.com