LIVE Twitter Chat on #BiodiversityandAg with Monsanto on June 22nd, 2018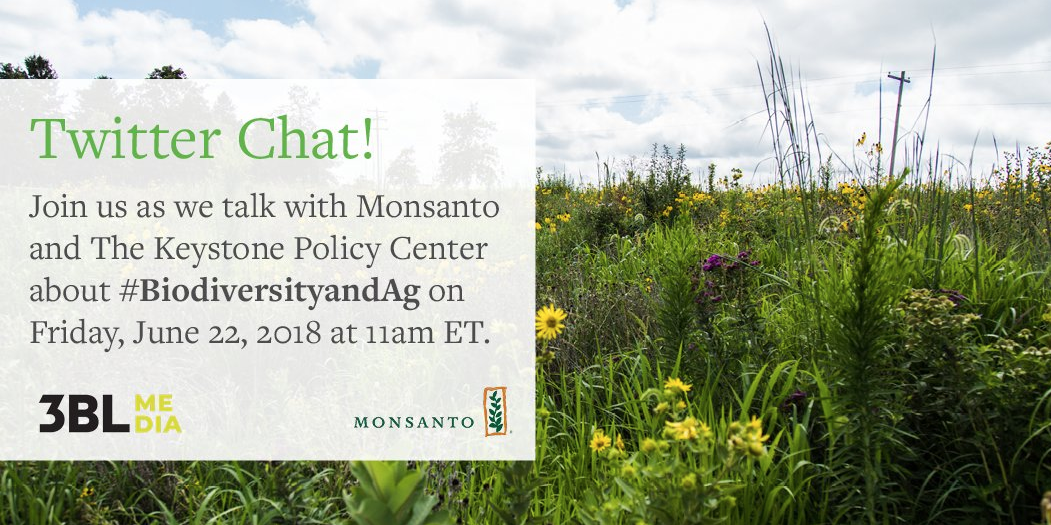 ​#BiodiversityandAg
The world's ecosystems—animals, plants, microbes, and humans—are all interconnected. The variation of life within these ecosystems is biodiversity. And Monsanto believes global agricultural systems can positively affect biodiversity. They are part of the landscape and intersect with natural ecosystems in many ways. Farmers and ranchers are stewards of their land and recognize that sustainable and responsible practices are important for conserving biodiversity on their land and beyond. Furthermore, modern agriculture depends on biodiversity and natural ecosystems to sustainably grow food in order to support the world's growing population.
Participants in the Twitter chat will learn how modern agriculture is harnessing the latest science to protect and support biodiversity, providing farmers with the needed tools that can help them conserve resources while also supporting local plant and animal species.
This Twitter chat on Friday, June 22, at 11 a.m. ET is an opportunity to discuss how biodiversity and agriculture are connected and crucial for sustainable development worldwide.
Join 3BL Media (@3BLMedia) and TriplePundit (@TriplePundit), along with the following panelists:
Topics of the chat will include:
What Pollinator Week and Biodiversity means to the global agricultural sector
The role women across the world can have in promoting the ties between agriculture and biodiversity
Steps Monsanto and its partners are taking to reestablish habitats for honeybees, native bees, monarch butterflies and other pollinators
How the agricultural sector can push sustainable development forward while aligning with the United Nations' Sustainable Development Goals (SDGs)
Tips to get the most out of the #BiodiversityandAg Twitter Chat:
Follow the main participants and #BiodiversityandAg hashtag
Submit questions before the event to promote a more dynamic discussion
Use the #BiodiversityandAg hashtag on comments that you want to share with the community
Share tweets you think your followers will appreciate
Follow interesting participants during and after the chat
WHEN: Friday, June 22nd at 11am ET / 8am PT / 4pm BT
WHERE: Join the conversation on Twitter, or a third-party platform such as TweetDeck or Hootsuite, by following #BiodiversityandAg
New to our Twitter chats? Don't worry! Read this.
Media Contact:
Leon Kaye
Director of Social Media and Social Engagement, 3BL Media
lkaye@3blmedia.com