Live #CiscoChat June 4th: Making Global Problem Solving More Intuitive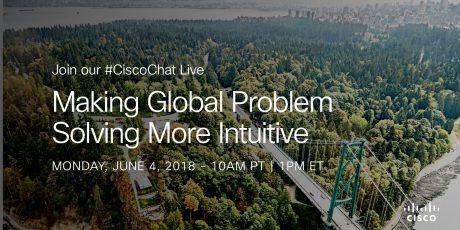 Cisco Blog | Corporate Social Responsibility
How can we work together to speed the pace of social change while making it more intuitive than ever before? To find out, make sure to attend the next #CiscoChat, a live video discussion on Monday, June 4th starting at 10 am PST.
In this live #CiscoChat, we'll take a look at some of the ways companies, organizations, and individuals can go above and beyond to transform our world for the better. From increasing access to innovative medical technology to improving disaster response and creating economic opportunity for others, there are endless opportunities to solve global problems.
By joining this chat, you'll explore how real #GlobalProblemSolvers are making a positive impact in the world and gain critical insights into how you can become one, too.
If you're going to Cisco Live next week, this is one #CiscoChat you especially won't want to miss. Why? As part of the live discussion, you'll learn how you can begin your journey as a global problem solver once you touch down in Orlando, Florida.
This live video discussion will be moderated by Austin Belisle, social media and content manager for Cisco Corporate Social Responsibility. He'll be joined by Cisco Live Event Program Manager Johannah Baccaglio and special guest Elliot Poulter, Senior Strategic Partnerships Manager at pi-top.
In Orlando, attendees will have the opportunity to build pi-top's modular laptops in our Social Impact Zone. And at the end of the week, they'll be donated to local Cisco Networking Academy students to provide a transformative learning experience.
To participate in this live video chat:
Head over to Cisco.com to watch the #CiscoChat as it happens. Moderator Austin Belisle will start the broadcast on June 4th at 10 am PST (1 pm EST).
From your Twitter account, tweet out the questions you want to be answered, making sure to include the phrase "#CiscoChat Live: Intuitive" in every post. We will be answering questions live, so feel free to post away during the chat.
Tune in to the live stream on Cisco CSR's Facebook page, starting June 4th at 10 am PST.
We hope to hear from you on June 4th, and can't wait for another exciting Cisco Live!