Linda Clement-Holmes and Jewell Hoover Named As Savoy Magazine's Most Influential Black Corporate Directors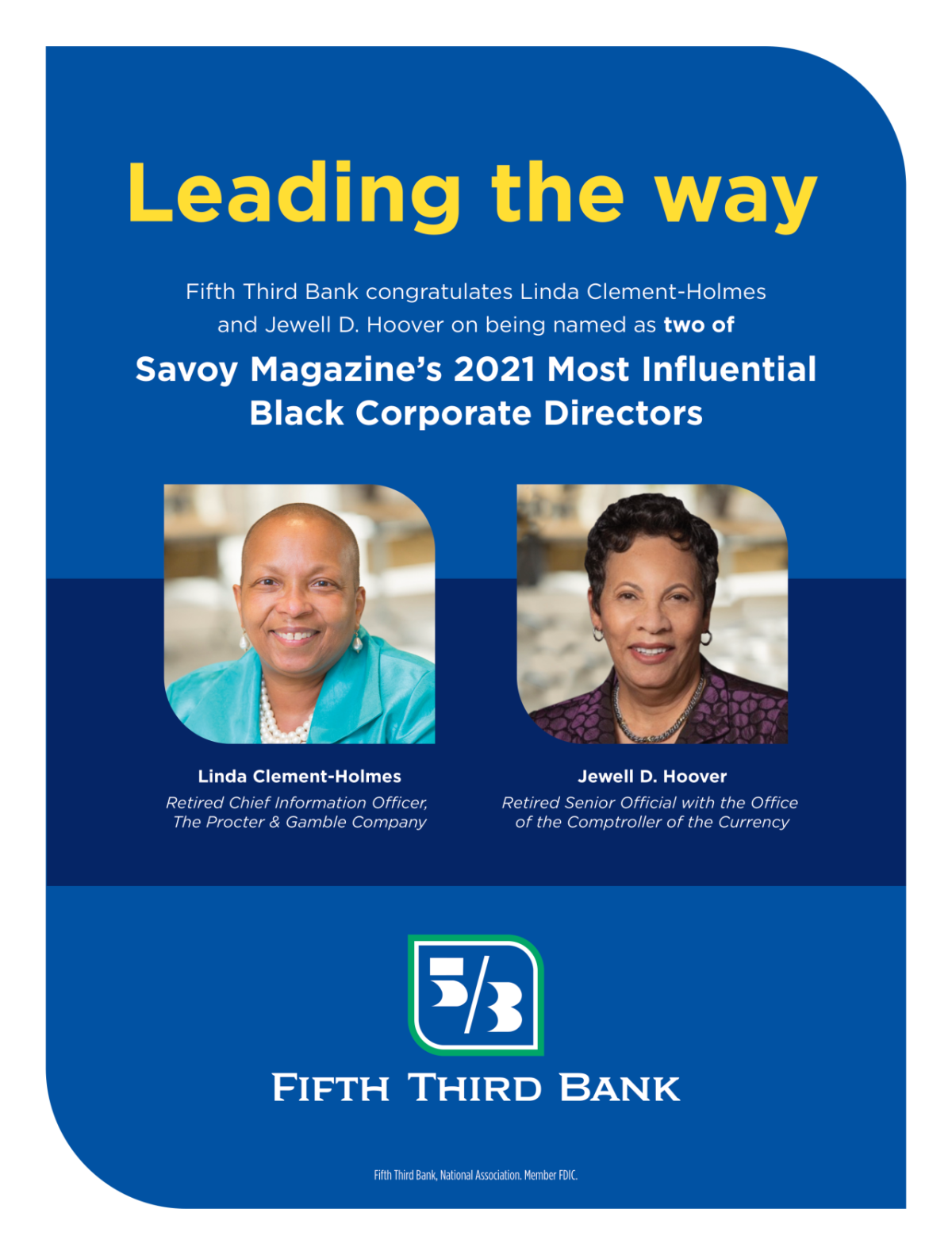 CINCINNATI, November 16, 2021 /3BL Media/ - Fifth Third Bancorp directors, Linda Clement-Holmes and Jewell Hoover, have been named as two of Savoy Magazine's 2021 Most Influential Black Corporate Directors. The listing is comprised of executives, influencers, and achievers who serve on the boards of the world's leading corporations and organizations.
Linda Clement-Holmes is widely recognized as a leader in information technology, information security and digital and IT strategy, and has been listed in Computerworld's Premier 100 IT Leaders, Uptown Professional's Top 100 Executives, and Black Enterprise magazine's Top Executives. Her career experience spans more than 35 years. She is a fellow at the IT Senior Management Forum and a recipient of numerous awards, including the Howard University Global Visionary Leadership Award. She has been a pioneer in diversity and inclusion. In addition to serving on Fifth Third's board, where she is a member of the risk and compliance committee and the technology committee, she also serves on the board of Cincinnati Financial Corporation and on the board of CincyTech, LLC.
Jewell D. Hoover is a retired senior official with the United States Treasury Department. She enjoyed a 28-year career with the Comptroller of the Currency and retired in 2003 as a senior bank regulatory official. She has extensive banking experience and knowledge as a bank consultant related to corporate governance, director training, and problem bank resolution matters. She is a National Association of Corporate Directors (NACD) Board Leadership fellow. She is a former principal with the bank consulting firm Hoover and Associates, LLC and she is a former Director of First Charter Corporation, a predecessor to Fifth Third Bancorp. As a member of Fifth Third's board, she serves on the audit committee, as well as the risk and compliance committee.
"Savoy is proud to present the 2021 Most Influential Black Corporate Directors. These innovative trailblazers have led efforts to foster growth for some of the country's highest-performing companies throughout and beyond the US market," Savoy's CEO & Publisher L.P. Green, II said. "We offer congratulations and appreciation to the directors recognized in Savoy's 2021Most Influential Black Corporate Directors edition for their inspiring leadership."
The full 2021 Most Influential Black Corporate Directors listing is available online, exclusively at www.savoynetwork.com, where the fall issue is available for purchase. The magazine is also available nationwide via Amazon.com.
About Savoy Magazine
Savoy magazine is a quarterly, national publication covering the power, substance, and style of African American lifestyle. From business to news, sports to entertainment, design to technology, Savoy is a cultural catalyst that highlights timely topics and drives positive dialogue on and about Black culture. Connect with Savoy: Twitter - www.twitter.com/savoynetwork, Facebook - www.facebook.com/savoymagazine, LinkedIn - www.linkedin.com/company/savoy-magazine.
About Fifth Third
Fifth Third Bancorp is a diversified financial services company headquartered in Cincinnati, Ohio, and the indirect parent company of Fifth Third Bank, National Association, a federally chartered institution. As of Sept. 30, 2021, the Company had $208 billion in assets and operates 1,100 full-service Banking Centers, and 2,336 Fifth Third branded ATMs in Ohio, Kentucky, Indiana, Michigan, Illinois, Florida, Tennessee, West Virginia, Georgia, North Carolina and South Carolina. In total, Fifth Third provides its customers with access to approximately 52,000 fee-free ATMs across the United States. Fifth Third operates four main businesses: Commercial Banking, Branch Banking, Consumer Lending, and Wealth & Asset Management. Fifth Third is among the largest money managers in the Midwest and, as of Sept. 30, 2021, had $541 billion in assets under care, of which it managed $61 billion for individuals, corporations and not-for-profit organizations through its Trust and Registered Investment Advisory businesses. Investor information and press releases can be viewed at www.53.com. Fifth Third's common stock is traded on the NASDAQ® Global Select Market under the symbol "FITB."
CONTACTS
Danielle Jones (Media Relations)
Danielle.Jones@53.com | 513-534-0162
Chris Doll (Investor Relations)
Christopher.Doll@53.com | 513-534-2345