The light at the 'Center' of LA's LGBTQ community
For 50 years, the Los Angeles LGBT Center has championed and advocated for the city's LGBTQ community by providing critical housing, health, and social services.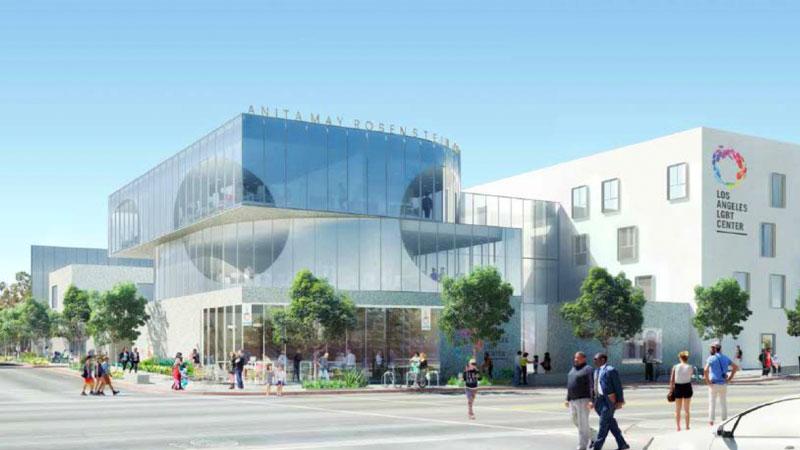 The Los Angeles LGBT Center's new Anita May Rosenstein Campus sits in the heart of Hollywood. Photo credit: Los Angeles LGBT Center.
The light at the 'Center' of LA's LGBTQ community
As the U.S. marks the 50th anniversary of New York City's Stonewall riots this June — and its role as a catalyst for the LGBTQ rights movement in America — it's important to remember the significant place in LGBTQ history for another city located across the country: Los Angeles.
In fact, nearly 20 years before the infamous police raid on Greenwich Village's Stonewall Inn, Los Angeles was the setting for America's first gay rights group, The Mattachine Society, which was founded in 1950. The city's Sunset Strip also experienced similar police raids on known gay establishments and saw corresponding public protests for gay rights erupt in response throughout the 1960s.
This public support manifested in 1969, when the Center's founders first began providing services to members of the LGBT community, which led to the opening of the Gay Community Services Center in 1971. Founded by a group of seven local activists, many of whom were social workers, the Center was one of the first places in LA to offer a safe place for LGBT individuals and their families, providing health services, counseling, and other programs.
Fifty years later, the Los Angeles LGBT Center is the world's largest provider of programs and services for LGBTQ individuals.
And with the recent opening of its new Anita May Rosenstein Campus in LA's Hollywood neighborhood, the Center is positioned to offer the community even more critically needed resources, including emergency overnight sleeping accommodations for homeless LGBTQ youth and affordable housing for LGBTQ senior citizens.
"What began as a vision for helping members of our community has developed into what's now the largest LGBT organization, with nearly 700 employees, thousands of volunteers and supporters, and many more thousands of people whose lives have been changed for the better," said Lorri L. Jean, CEO of the Los Angeles LGBT Center. "Our new Campus continues to be a place for LGBT people of all ages to gather and find community."
'We knew if Wells Fargo was willing to support us, others would be, too'
Developing and financing a two-acre, multibuilding complex in the heart of Hollywood requires access to a significant amount of working capital, said Jean. Fortunately, the Center's multidecade relationship with Wells Fargo provided a foundation to finding the right financing solution.
"When we started planning the Campus, we talked with Wells Fargo, and they said they were willing to make a significant capital commitment, which was very important in giving us the confidence to move forward," Jean said. "We knew if Wells Fargo was willing to support us, others would be, too — and in fact, that is how we built this phenomenal Campus."
Starting with a $7 million bridge loan that allowed the development team to complete the $12.7 million land purchase, Wells Fargo has worked with the Center throughout the course of construction.
"This project involved a total of more than $90 million in funding from Wells Fargo, including two areas within Community Lending and Investment — both New Markets Tax Credits and Low-Income Housing Tax Credits — as well as the Los Angeles Regional Commercial Banking Office and the Wells Fargo Foundation," said Christian von Merkatz of Wells Fargo's Community Lending & Investment group. "The new Campus' ability to provide affordable housing options for both young and old members of the city's LGBTQ community was of particular importance for Wells Fargo as we work to address challenges related to the U.S. housing affordability crisis."
When the second phase of the Campus opens next year, it will include 25 permanent housing units for transitional-aged LGBTQ youth and 99 affordable housing apartments for LGBTQ seniors.
Playing a leading role in financing the new Campus represents yet another touchpoint between Wells Fargo and the Los Angeles LGBT Center, which dates back to the bank's first corporate gift to the Center in 1996. Today, Wells Fargo is the largest philanthropic giver in the Center's history, including more than $3.8 million in grant funding since 2008.
Yet, as Jean noted, Wells Fargo's legacy of supporting the LGBTQ community extends beyond the Center and the city of Los Angeles.
"Wells Fargo was one of the first major corporations to begin to treat LGBT people equally — whether that was enacting nondiscrimination policies or providing equal benefits — long before others were doing it," said Jean. "Many people don't realize the example that set for corporate America and the difference it made for Wells Fargo to stand up for our community."