LG Provides $50,000-Plus in Equipment, Funding to N.J. Communities Devastated by Ida Flooding
Support for local first responders, educators and students will help communities recover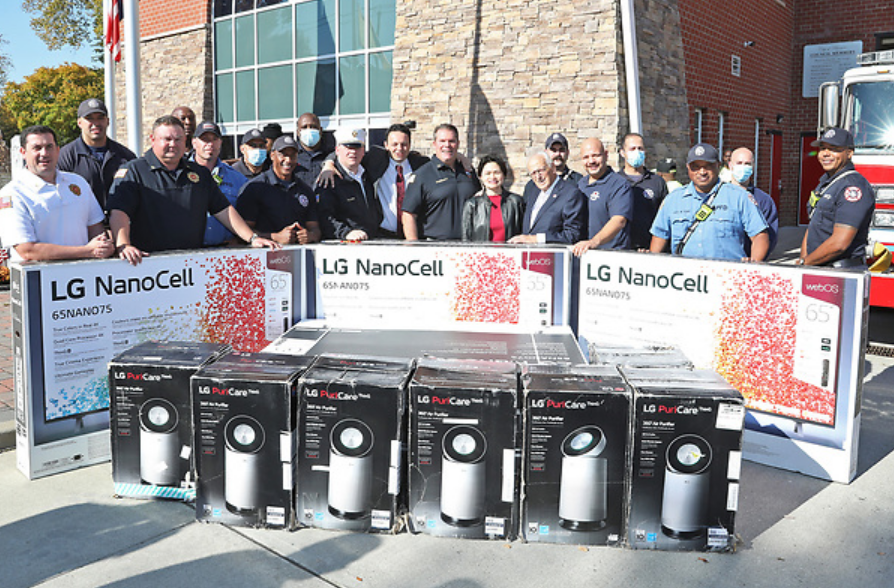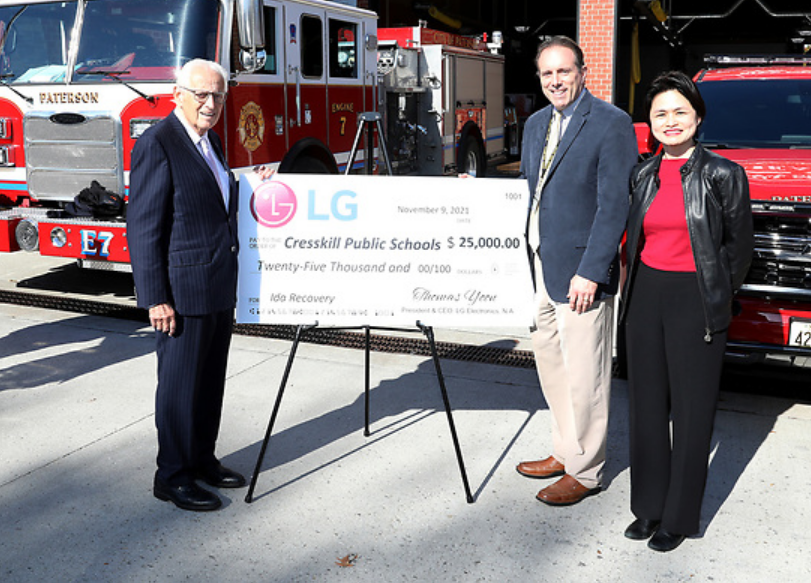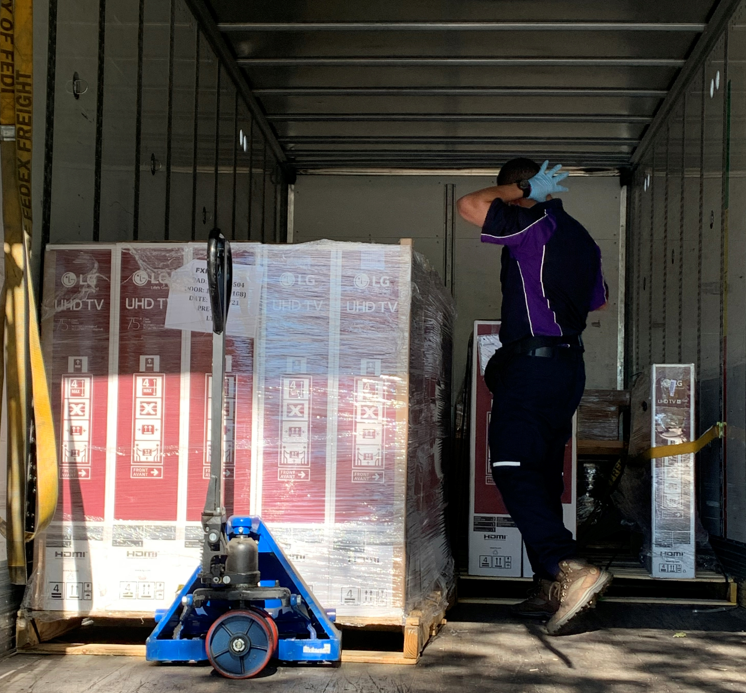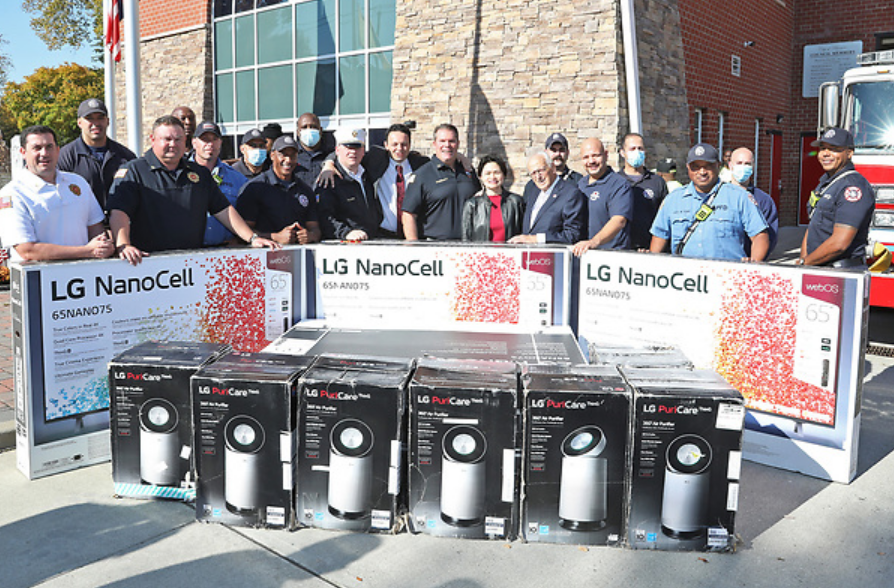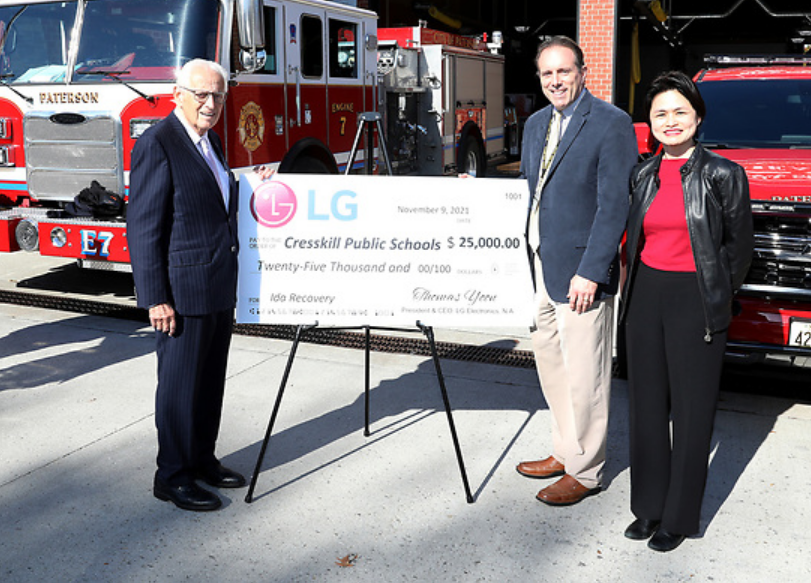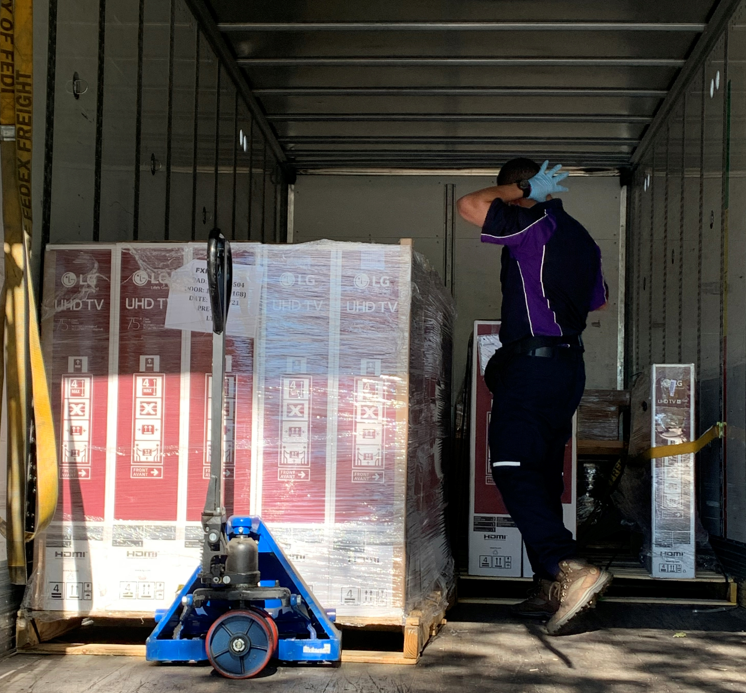 PATERSON, N.J., Nov. 9, 2021 /3BL Media/ – LG Electronics USA, based in Englewood Cliffs, N.J., today joined local officials from nearby Paterson and Cresskill in support of first responders, educators, and students, and to announce LG's donation of more than $50,000 in equipment and financial support to help those communities recover from widespread flooding and damage caused by the remnants of Hurricane Ida when it swept across the Garden State.
"New Jersey has been home to LG for decades, and it is natural to support our community to recover from the devastating disaster like Ida," said Peggy Ang, senior vice president of marketing at LG Electronics USA. "LG is committed to being a good corporate citizen especially focused on our next-door neighbor."
The announcement was made during a ceremony at Paterson Fire Department Headquarters with U.S. Representative Bill Pascrell, Jr. (N.J.-09), Paterson Mayor Andre Sayegh, Paterson Fire Chief Brian McDermott, Cresskill Public Schools Superintendent Michael Burke and other local officials.
"New Jerseyans have seen the effects of climate change firsthand, from Irene to Sandy and now Ida," said Rep. Pascrell. "There can be no question powerful storms have become more prevalent and their damage more severe. Ida's record rainfall and flooding ravaged nearly every corner of our Ninth District – from Paterson to Cresskill. It has upended families, displaced students, overburdened our first responders, and put enormous strain on local resources. Our residents are still digging out and this support from LG will help our communities get back on their feet that much faster."
LG is installing its new state-of-the-art, 86-inch smart digital whiteboard at the Paterson Fire Department headquarters to replace a smartboard that was damaged when flood waters inundated the facility on McBride Avenue while firefighters were out responding to emergency calls and performing water rescues during Ida. The department had used the smartboard for first responder training, and safety presentations for local students. LG also is providing advanced new air purifiers and 65-inch 4K Ultra HD TVs for each of the city's seven firehouses to further assist the firefighters.
"Ida's intense rain and flash flooding came so hard and so fast that the damage across Paterson was extensive. Throughout, our brave firefighters and first responders put themselves at risk to save lives and help Patersonians in need," said Mayor Sayegh. "Unfortunately, we couldn't keep the floodwaters out of fire department headquarters and we lost a $10,000 smartboard that the firefighters and police officers use for training—something the city didn't have in the budget to replace. We are so grateful for LG's generosity. Not only did LG offer to replace the damaged smartboard with a brand new one, but when we told them that our firefighters could also benefit from new air purifiers and televisions in each of the city's firehouses, LG didn't hesitate. On behalf of the City of Paterson and the fire department, thank you." 
Additionally, LG has provided a dozen 75-inch 4K UHD smart TVs to help Cresskill Public Schools equip temporary classrooms after severe flooding from Ida destroyed the building housing both the district's middle and high schools. The flooding damaged everything inside and displaced over 1,000 students just before the start of the school year.
To help further address teacher and student needs and make repairs to the damaged school, which officials say could take a year to complete, LG has donated $25,000 to the district. Recognizing Ida's toll on students' mental health, LG also is providing its award-winning "Life's Good: Experience Happiness" program to enhance social-emotional learning and mental wellness among Cresskill middle and high school students.
"Coming off a very challenging year of remote learning for our students and faculty, everyone was excited to finally return to the classroom this September—then Ida hit. We had three feet of water throughout our middle and high schools, everything inside was destroyed, the entire building had to be gutted, and it could take a year to fully repair," said Superintendent Burke. "But we were determined to resume in-person education as soon as possible and scrambled to secure space for temporary classrooms, but we also had to equip them working with limited resources while we apply for FEMA assistance. LG called us to see how they could help, and immediately offered to provide a large screen, smart TV for each of the temporary classrooms that our teachers can now use to project and enhance their lessons. The additional support LG is providing will go a long way to helping us resume some sense of normalcy for our students and teachers. I can't say enough to express my appreciation."
When Ida hit New Jersey on Sept. 1, it dumped more than nine inches of record rainfall on parts of the state, caused tornadoes and flash floods, and was responsible for 30 deaths. A federal Major Disaster Declaration was issued for 13 New Jersey counties. 
LG's disaster relief efforts in New Jersey represent the latest in LG's help for communities across the United States following natural disasters. Earlier this year, LG provided more than $25,000 in products and deployed appliance service technicians to flood-ravished neighbors in Humphreys County, Tenn., near the company's home appliance factory in Clarksville. LG's disaster response efforts on a national level include more than $400,000 in support to the American Red Cross and Team Rubicon.
# # #
About LG Electronics USA
LG Electronics USA Inc., based in Englewood Cliffs, N.J., is the North American subsidiary of LG Electronics, Inc., a $56 billion global innovator. In the United States, LG sells a wide range of innovative home appliances, home entertainment products, commercial displays, air conditioning systems, solar energy solutions and vehicle components. LG is a seven-time ENERGY STAR® Partner of the Year. The company's commitment to environmental sustainability and its "Life's Good" marketing theme encompass how LG is dedicated to people's happiness by exceeding expectations today and tomorrow. www.LG.com