Leveraging Sustainable Fashion to Achieve Economic Self-Sufficiency
S&P Global virtual volunteers support NYC nonprofit Custom Collaborative in its mission to help women from low-income and immigrant communities develop their fashion industry skills.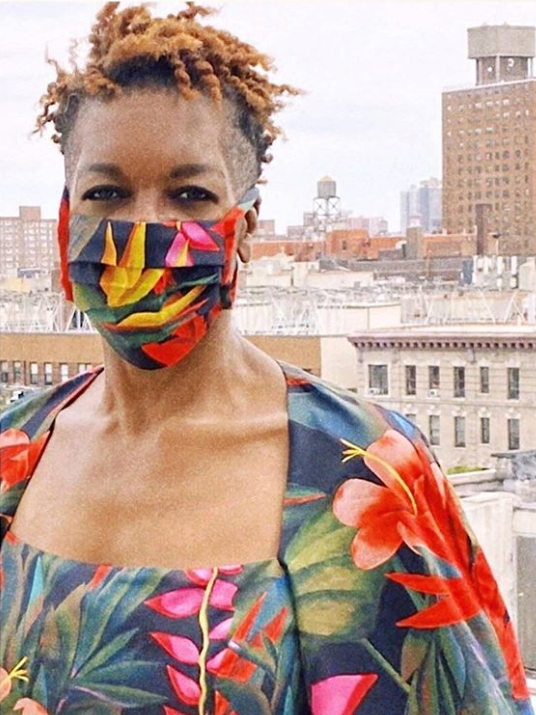 Ngozi Okaro, Custom Collaborative
For some, fashion is style, clothing and design. For Custom Collaborative, a NYC-based workforce development nonprofit, fashion is the path towards empowerment, self-sufficiency and success.
Founded in 2015 by Ngozi Okaro, Custom Collaborative serves three constituencies: fashion-industry workers who deserve fair compensation, businesses and designers who want to design and produce fashion locally – ultimately providing more work opportunities for the women in the nonprofit's programs – and thoughtful consumers who want sustainable fashion that fits.
While Custom Collaborative's core Training Institute program provides participants with 14 weeks of free technical training to prepare them for the fashion industry, the organization recognizes there are many other barriers to ensuring success. Custom Collaborative addresses this by providing holistic support, including a weekly unlimited metro card, monetary stipend, access to marketing and finance experts and, perhaps most importantly, the support of a community of women committed to their success.
In the face of COVID-19 and the resulting spike in unemployment, Custom Collaborative's work took on a new level of urgency. The organization, which typically offers technical training and fashion incubator programs, quickly pivoted to making masks, providing an economic lifeline to their participants, many of whom are immigrants, mothers or living below the federal poverty line.
Preparing to Scale: Helping Custom Collaborative Lay the Foundation for Growth
This strong community and focus on economic self-sufficiency was an inspiration to the women who made up the S&P Global volunteer team identified by Common Impact, a national nonprofit that leverages the power of skills-based volunteering through partnerships with companies like S&P Global.
The volunteers helped address an important question: how could Custom Collaborative develop a process to gather its rich, anecdotal data, which primarily lived in notebooks and the minds of staff, and use it to showcase the growing impact of their work to partners, employers and funders?
Over the course of three virtual sessions facilitated by Common Impact, S&P Global volunteers worked with Custom Collaborative to better understand the problem and brainstorm solutions, eventually developing a template the organization could use to map out the data process for various stakeholders. The templates were complemented by recommendations for how Custom Collaborative could better track the participant experience, highlight outcomes and scale their programs.
Women Supporting Women: The Power of Collaboration
After their final session together, the S&P Global volunteers and Custom Collaborative staff reflected on their experience working together.
Ngozi Okaro, Custom Collaborative's Founder and Executive Director noted, "Our most important job is to develop the people we work with. Partnering with Common Impact and S&P Global on this project is going to help us help more women achieve economic self-reliance sooner."
Margo Manbode from Custom Collaborative shared, "It was a wonderful experience. The volunteers stepped up to offer their support despite this global pandemic. I am continually moved by the power of collaboration. This was a GREAT DAY that allowed our organization to leverage our strengths with greater impact."
The volunteers echoed these sentiments. Cecilia Yabut, an S&P Global volunteer remarked that "getting to collaborate with women of all different professional and personal backgrounds was not only a rare opportunity but a humbling one. I am very happy that we were able to share our expertise and propose a plan together that could be implemented in the coming weeks."
About S&P Global
S&P Global is the world's foremost provider of credit ratings, benchmarks and analytics in the global capital and commodity markets, offering deep data and insights on critical business factors including ESG. The Company's divisions include S&P Global Ratings, S&P Global Market Intelligence, S&P Dow Jones Indices and S&P Global Platts. S&P Global has approximately 23,000 employees in 35 countries. For more information visit www.spglobal.com.
About Custom Collaborative
Custom Collaborative is a New York City-based entrepreneurship and workforce development program that trains and supports women from low-income and immigrant communities to launch fashion careers and businesses. By learning the standard techniques and ethical business practices of the fashion industry, our participants can achieve secure livelihoods in fashion as designers, entrepreneurs, pattern makers and seamstresses who create and sell high-quality clothing and accessories. Learn more at www.customcollaborative.org.
About Common Impact
Common Impact is a national nonprofit that works to build a society in which individuals and businesses invest their unique talents towards a shared purpose: strengthening the local communities in which we live and work. Founded in 2000, Common Impact has partnered with Fortune 500 companies and hundreds of the country's leading nonprofit organizations to create this transformational change through skills-based volunteering. Learn more about Common Impact's services, impact and clients.