Leaders at Mondelēz Share What Sustainability at Mondelēz Means to Them
Leaders at Mondelēz Share What Sustainability at Mondelēz Means to Them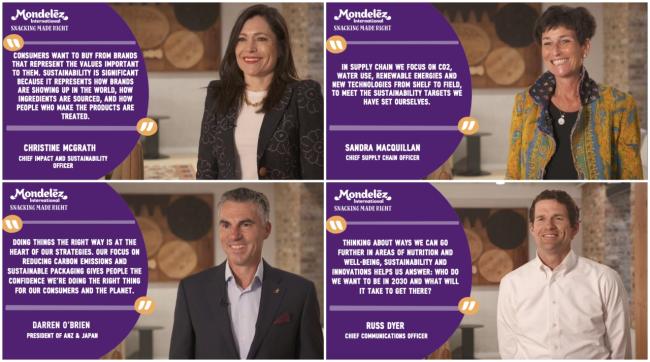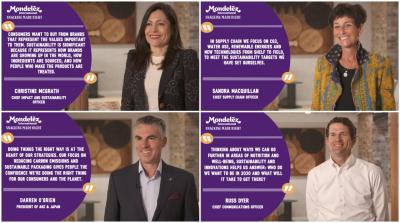 Wednesday, June 1, 2022 - 11:15am
Hear from some of our leaders about what sustainability at Mondelēz means to them:
Christine Mcgrath | Chief Impact and Sustainability Officer
"Consumers want to buy from brands that represent the values important to them. sustainability is significant because it represents how brands are showing up in the world, how ingredients are sourced, and how people who make the products are treated."
Sandra MacQuillan | Chief Supply Chain Officer
"In Supply Chain we focus on CO2, Water use, renewable energies and new technologies from shelf to field, to meet the sustainability targets we have set ourselves."
Darren O'Brien | President of ANZ & Japan
"Doing things the right way is at the heart of our strategies. Our focus on reducing carbon emissions and sustainable packaging gives people the confidence we're doing the right thing for our consumers and the planet."
Russ Dyer | Chief Communications Officer
"Thinking about ways we can go further in areas of nutrition and well-being, sustainability and innovations Helps us answer: Who do we want to be in 2030 and what will it take to get there?"
Learn more about the sustainability framework at Mondelēz here: Snacking Made Right
About Mondelēz International
Mondelēz International, Inc. (Nasdaq: MDLZ) empowers people to snack right in over 150 countries around the world. With 2020 net revenues of approximately $27 billion, MDLZ is leading the future of snacking with iconic global and local brands such as OREO, belVita and LU biscuits; Cadbury Dairy Milk, Milka and Toblerone chocolate; Sour Patch Kids candy and Trident gum. Mondelēz International is a proud member of the Standard and Poor's 500, Nasdaq 100 and Dow Jones Sustainability Index. Visit www.mondelezinternational.com or follow the company on Twitter at www.twitter.com/MDLZ.