LA Galaxy Partner With the Garden School Foundation to Distribute Over 300 Bags of Produce to Leapwood Avenue Elementary School in Carson CA
LA Galaxy Partner With the Garden School Foundation to Distribute Over 300 Bags of Produce to Leapwood Avenue Elementary School in Carson CA
Event Supported Major League Soccer's 5th Annual Greener Goals Week of Service in Celebration of Earth Day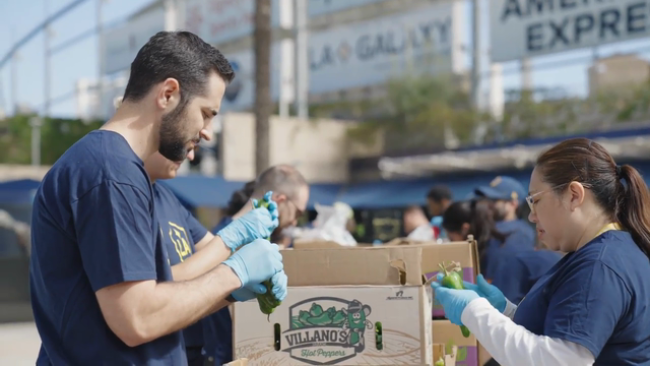 Wednesday, April 27, 2022 - 10:00am
In support of Major League Soccer's (MLS) 5th Annual Greener Goals Week of Service to celebrate Earth Day, AEG's LA Galaxy partnered with Garden School Foundation to donate and distribute more than 300 bags of produce to Leapwood Avenue Elementary School's students, staff, and families in Carson, CA. The Garden School Foundation provides in-depth garden-based education to youth at Title I schools in Los Angeles, strengthening connections between food justice, environmental stewardship, and community health.
"Today, many Los Angeles-based families are struggling with lack of access to nutritious meals — something that has only been exacerbated by the COVID-19 pandemic," said Mariah Rodriguez, Coordinator, Community Relations for the LA Galaxy.  "We are proud to partner with the Garden School Foundation whose garden school program is an exemplary model for teaching kids the value of nutrition, stewardship and community. By providing healthy food choices, we can not only grow a healthier generation of students, but also instill in them an understanding of why it is so important to protect our planet."
Throughout Greener Goals Week of Service, which was April 18 – 24, office staff from all 28 MLS clubs and the League volunteered their time and gave back to conduct environmentally friendly projects in partnership with local charitable organizations. For more information on Major League Soccer's Greener Goals, including sustainability tips, MLS club efforts around Earth Day and the League's efforts to help address its carbon footprint, visit MLSsoccer.com/MLSWORKS or follow @MLSWORKS on social platforms.