LA Galaxy Foundation and Herbalife Nutrition Donate $25,000 to A Place Called Home and Surprise College-Bound Students with Laptops
LA Galaxy Foundation and Herbalife Nutrition Donate $25,000 to A Place Called Home and Surprise College-Bound Students with Laptops
LA Galaxy forward Gyasi Zardes and Herbalife Nutrition CEO Rich Goudis will be on hand Wednesday, Aug. 9 to present a check to Shaheen Scholar students heading to college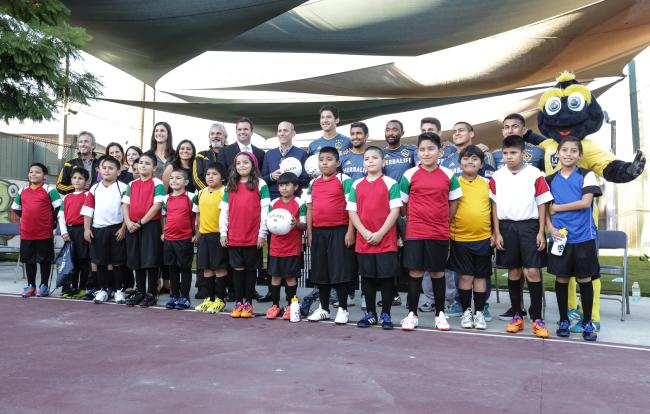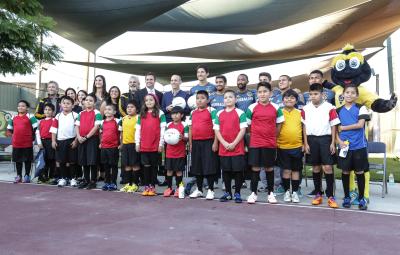 Wednesday, August 9, 2017 - 8:00am
LOS ANGELES, August 9, 2017 /3BL Media/ – AEG's LA Galaxy Foundation has partnered with Herbalife Nutrition to make a $25,000 donation to purchase laptops in support of A Place Called Home's (APCH) Shaheen Scholarship Program, which provides free laptops and awards more than $300,000 annually in scholarships and other support to up to 30 freshmen college students from South Central Los Angeles. LA Galaxy forward, Gyasi Zardes and Herbalife Nutrition CEO, Rich Goudis, will present the check on Wednesday, August 9 to APCH at their facility located at 2901 South Central Ave., in South Los Angeles.
At the event, Gyasi Zardes will share his story with the college-bound students about the importance of education and the role it has played in his life. Zardes, 25, recently earned his Bachelor of Science degree in Criminal Justice from California State University, Dominguez Hills (CSUDH). Zardes joined the Galaxy and ultimately returned to school while playing professionally in order to receive a degree.
"Through our long-standing support of A Place Called Home and partnership with the LA Galaxy, we are honored to provide these motivated, college-bound students with a laptop to help them on their educational journey," said Rich Goudis, CEO of Herbalife Nutrition. "We wish them all the best as they enter this exciting new chapter in their life."
The donation is in conjunction with the Joint Community Program partnership between the LA Galaxy Foundation and Herbalife Nutrition that aims to improve the lives of children living in the underserved communities of Los Angeles.
"When we send a young person to college to create a new legacy for his or her family and go on to change the world, we prepare them to do the necessary work to graduate and succeed," said A Place Called Home Executive Director Jonathan Zeichner. "We are grateful that, with the partnership of Herbalife Nutrition and the LA Galaxy Foundation, each young scholar from APCH will be equipped to excel,"
For more than four years, the LA Galaxy Foundation has partnered with APCH and supported a number of different events and causes, including the organization's annual Community Thanksgiving Dinner, A Place Called Home for the Holidays toy distribution, and installation of a new multipurpose sports field.
Event info:
Wednesday, August 9 – 3:30 p.m. PT
A Place Called Home
2901 S Central Ave, Los Angeles, CA 90011
ABOUT LA GALAXY FOUNDATION
The LA Galaxy Foundation, the 501c(3) organization associated with the LA Galaxy, is dedicated to assisting the community in which the team lives, works, and plays. LA Galaxy players, coaches, alumni and staff spend countless hours giving back to the community at local schools, hospitals, fields, and events. The LAGF continually strives to aid organizations that meet its mission of supporting and creating education, health, and soccer-related activities and programs for youth in the greater Los Angeles area.
ABOUT HERBALIFE NUTRITION
Herbalife Nutrition is a global nutrition company whose purpose is to make the world healthier and happier. We have been on a mission for nutrition - changing people's lives with great nutrition products & programs - since 1980. Together with our Herbalife Nutrition independent distributors, we are committed to providing solutions to the worldwide problems of poor nutrition and obesity, an aging population, sky-rocketing public healthcare costs and a rise in entrepreneurs of all ages. We offer high-quality, science-backed products, most of which are produced in Company-operated facilities, one-on-one coaching with an Herbalife Nutrition independent distributor, and a supportive community approach that inspires customers to embrace a healthier, more active lifestyle.
Our targeted nutrition, weight management, energy and fitness and personal care products are available exclusively to and through dedicated Herbalife Nutrition distributors in more than 90 countries.
Through our corporate social responsibility efforts, Herbalife Nutrition supports the Herbalife Family Foundation (HFF) and our Casa Herbalife programs to help bring good nutrition to children in need. We are also proud to sponsor more than 190 world-class athletes, teams and events around the globe, including Cristiano Ronaldo, the LA Galaxy, and numerous Olympic teams.
Herbalife Nutrition has over 8,000 employees worldwide, and is traded on the New York Stock Exchange (NYSE: HLF) with net sales of approximately $4.5 billion in 2016. To learn more, visit Herbalife.com or IAmHerbalife.com. Financial information is available on ir.herbalife.com.
ABOUT A PLACE CALLED HOME
A Place Called Home (APCH) provides a safe, nurturing environment with proven programs in arts, education, and wellness for the young people in South Central Los Angeles to help them improve their economic conditions and develop healthy, fulfilling and purposeful lives. For the past 24 years, APCH has served more than 19,000 at-risk youth (ages 8-21) in their educational, personal and artistic endeavors. Located in South Central Los Angeles, the organization secures an empowering learning environment through community outreach and activities, in hopes that children will gain core values of respect, empathy, accountability, courage and hope. This is accomplished through programs in education, arts and wellbeing, inspiring them to make a meaningful difference in their communities and the world. For more information, please visit: www.apch.org
Media Contact
Chris Glidden
LA Galaxy
cglidden@lagalaxy.com