KPMG U.S. Foundation President and Chair Anita Whitehead To Chair Program Convening Top Corporate Social Responsibility (CSR) Leaders and Advancing the Corporate Social Impact Sector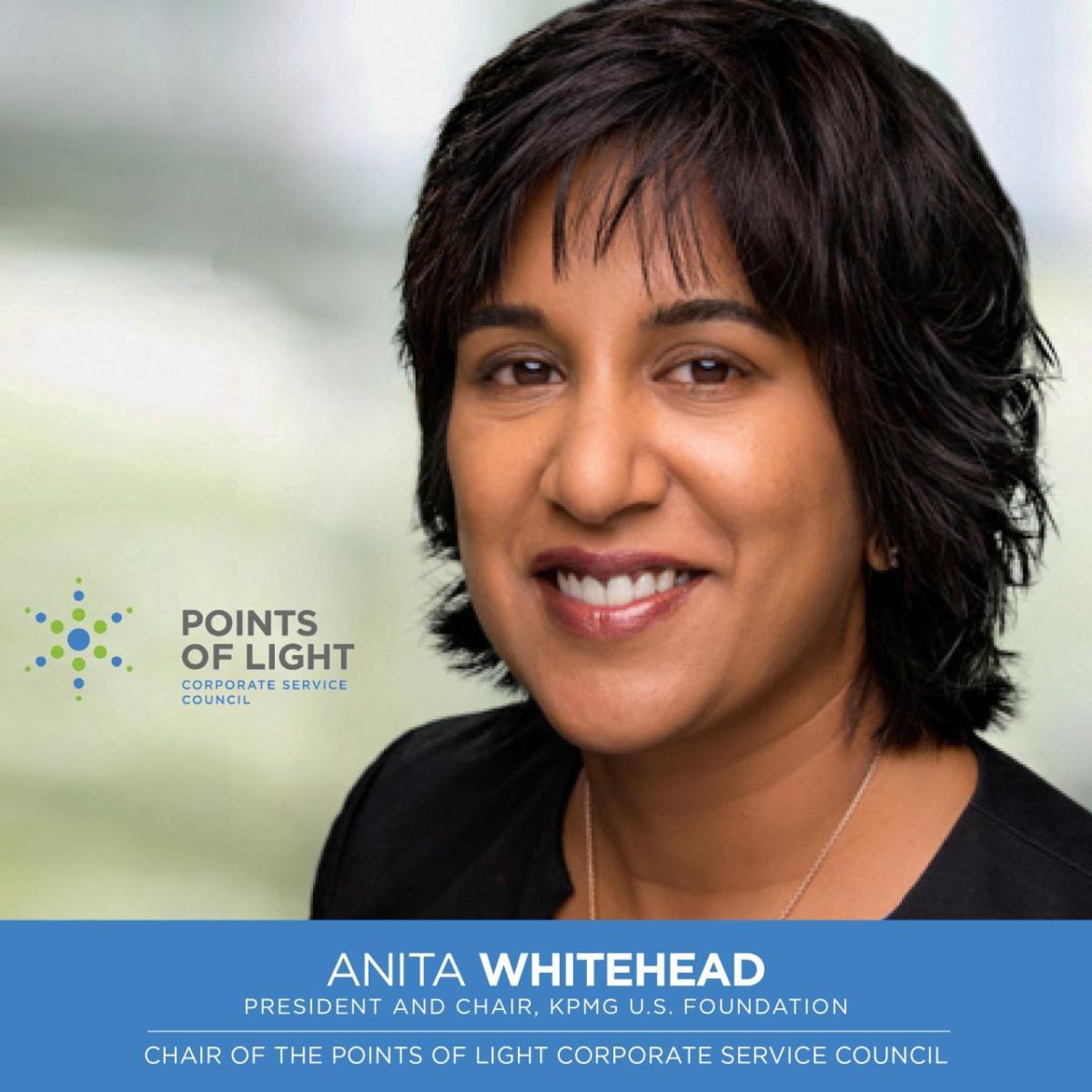 Anita Whitehead, president & chair KPMG U.S. Foundation and chair of the Points of Light Corporate Service Council
July 19, 2023 /3BL/ - Points of Light, the world's largest nonprofit dedicated to accelerating people-powered change, announced today that Anita Whitehead, president and chair of the KPMG U.S. Foundation will serve as the chair of the Points of Light Corporate Service Council. Started in 2005, the Corporate Service Council is a membership program for businesses that provides top CSR and corporate citizenship leaders with actionable resources, sector trends and insights, in-person and virtual learning events, peer networking opportunities and access to a network of industry experts to spark innovation and advance social impact goals.
"Anita Whitehead is a leader in the corporate social responsibility field and brings expertise that will benefit all of Points of Light's Corporate Service Council members," said Diane Quest, interim president and CEO of Points of Light. "Her insights into best practices in corporate giving and employee engagement will help our council companies engage more deeply and effectively in communities around the globe. We are grateful for her leadership as the Corporate Service Council chair."
In addition to her role as chair of the KPMG U.S. Foundation, Anita serves as the KPMG lead for Social Impact services, where she focuses on the needs of nonprofit and corporate clients as they fulfill their charitable purpose. In her 22 years with the firm, Anita has advised some of the world's top companies on industry-leading practices in corporate responsibility strategy and corporate philanthropy.
"Our commitment to having a positive impact on our communities is core to our values at KPMG. Our people work together, for better every day to build trusted relationships and drive lasting change in our communities that is measurable, sustainable and transformational," said Anita. "We continue to find the most impactful ways to serve those around us, which is why I'm thrilled to continue collaborating with Points of Light and support the Corporate Service Council in this role."
Points of Light is grateful for the leadership of outgoing Corporate Service Council Chair Charlene Lake, AT&T Chief Sustainability Officer and Senior Vice President of Corporate Social Responsibility, and Chair of the AT&T Foundation. Her support helped Points of Light shepherd civic engagement leaders through a time of unprecedented challenges, from COVID-19 and its crushing health and educational impacts to societal unrest as companies reckoned with and address racial injustices.
About Points of Light  
Points of Light is a nonpartisan, global nonprofit organization that inspires, equips and mobilizes millions of people to take action that changes the world. We envision a world in which every individual discovers the power to make a difference, creating healthy communities in vibrant, participatory societies. Through 145 affiliates across 39 countries, and in partnership with thousands of nonprofits and corporations, Points of Light engages 3.7 million people in 16.7 million hours of service each year. We bring the power of people to bear where it's needed most. For more information, visit pointsoflight.org. 
About KPMG LLP
KPMG LLP is the U.S. firm of the KPMG global organization of independent professional services firms providing Audit, Tax and Advisory services. The KPMG global organization operates in 143 countries and territories and has more than 265,000 people working in member firms around the world. Each KPMG firm is a legally distinct and separate entity and describes itself as such. KPMG is widely recognized for being a great place to work and build a career. Our people share a sense of purpose in the work we do, and a strong commitment to community service, inclusion and diversity and eradicating childhood illiteracy. Learn more at www.kpmg.com/us.