Keysight Malaysia Wins CSR Award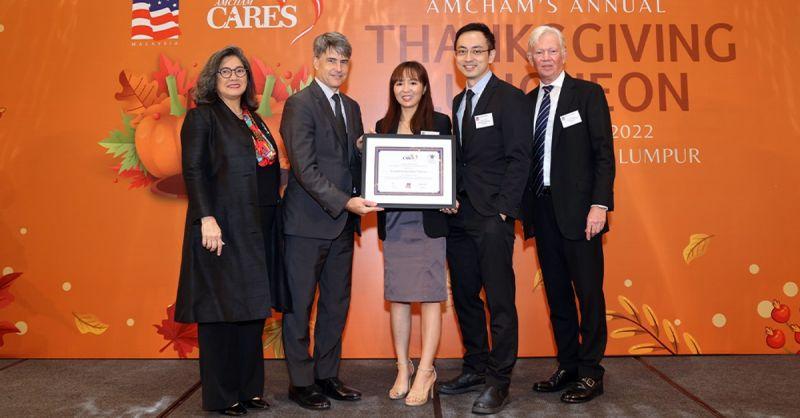 Left to right: Siobhan Das, AMCHAM CEO; Brian McFeeters, U.S. Ambassador to Malaysia; Keysight's Jessica Lim and Jerry Yeoh; and Steven R. Clayton, AMCHAM vice chair.
Keysight Malaysia recently won one of the country's top corporate responsibility honors for the fifth consecutive year.
Keysight was among nearly 50 companies recognized by The American Malaysian Chamber of Commerce (AMCHAM) with the MY AMCHAM Cares award during an event in Kuala Lumpur attended by the U.S. ambassador to Malaysia.
Specifically, the companies were recognized for developing and deploying corporate social responsibility (CSR) activities, and for achieving high scores in five key categories: strategy, sustainability, measurability, communication, and partnerships.
AMCHAM granted All-Star Achiever status to Keysight and 12 other companies for winning the Cares award for five consecutive years.
AMCHAM's award honors its corporate members for their continued commitment to the best environmental, sustainable, and responsible business practices, giving back to communities, and enriching lives. The goal is to recognize efforts to create long-term economic and social value.
In Malaysia, Keysight continuously nurtures the upcoming generation of engineers and strives to uplift the community in which it operates. They do this through:
Empowering employees to impact the community positively. Keysight supports and strengthens the community through volunteerism, financial assistance, and community outreach programs.
Focusing on STEM education. Partnering with governmental and community-based institutions in effort to drive educational science, technology, engineering, and math (STEM) programs.
Net zero emissions with rooftop solar panel installation. Keysight upholds its long- term commitment to achieve low-carbon future. Keysight hits another milestone with the completion of the largest industry rooftop solar panel in Penang. The 5.8-megawatt solar installation that covers the rooftops of all eight buildings at the Bayan Lepas site is also the largest solar power generation system for Keysight globally.
Empowering tomorrow's technologies. Keysight continues to enable purposeful innovations in clean technology, wellness, safety, and security through products, solutions, and services—with a goal of making further progress towards building a better planet.