Keysight Expands E-Mobility Charging Test Portfolio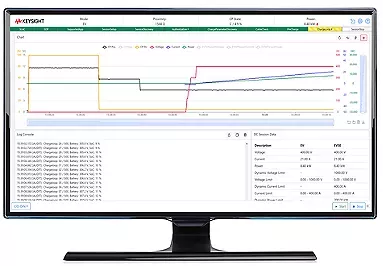 Keysight has created an industry-leading portfolio of charging test equipment and test solutions for e-mobility with the addition of software tools such as its Smart Charging Emulation Software.
New tools complement existing e-mobility charging test portfolio with component-level and field testing solutions
Solutions improve product interoperability through conformance testing and type approvals by focusing on communications protocols
Expansion provides support for the entire electric vehicle charging development cycle
SANTA ROSA, Calif., May 1, 2023 /3BL Media/ - Keysight Technologies, Inc. (NYSE: KEYS) has expanded its electric vehicle (EV) and electric vehicle supply equipment (EVSE) charging test portfolio to create an industry-leading toolset of design, emulation, and test solutions for e-mobility. The newly introduced tools complement Keysight's EV / EVSE charging test portfolio with component-level and field testing solutions.
The EV market is experiencing dynamic growth with the number of electric cars expected to reach more than 300 million globally by 2030 according to the International Energy Agency. To meet this demand, automakers and electric charging infrastructure manufacturers are working quickly to design and release new products to the market. However, interoperability among e-mobility products is a growing concern for the industry, as is the rising complexity of charging use cases ranging from fast charging to bidirectional power transfer such as vehicle-to-home.
The expansion of Keysight's e-mobility charging test portfolio helps EV / EVSE manufacturers tackle these complexities with solutions addressing the underlying communications protocols used in e-mobility products. Keysight's new charging test solutions improve interoperability between EVs and EVSE products through conformance testing and type approvals by focusing on the complete range of communications protocols employed by the Combined Charging System (CCS) standards.
Keysight's new e-mobility charging test solutions include:
SL1550A EV – EVSE Charging Communication Interface Tester (Com Tester) – A fully integrated test adapter for electric vehicle communication controllers (EVCC) or supply equipment communication controllers (SECC) enabling equipment emulation or test case execution to test charging communication and protocols. The Com Tester provides component-level testing for development tests, type approval tests, manufacturing tests (end-of-line), and hardware-in-the-loop tests.
SL1556A CCS Charging Protocol Tracer (Protocol Tracer) – A portable power line communication (PLC) sniffer enabling seamless observation of the CCS communication channel between EV and EVSE in the lab or in the field through conductive or inductive coupling with the charging cable. When used with the Keysight SL1487A CCS Charging Protocol Trace Viewer (CPT), over-the-wire data transfer between EV and EVSE can be analyzed to resolve interoperability issues.
SL156XA EV – EVSE Charging Test Robot Series – A test automation process that can be used with the Com Tester to incorporate mechanical actuators to simplify the testing process and enable fully automated testing sequences with hundreds of test cases.
TTCN-3 Charging Communication Test Automation Software (CCT) – An automated conformance testing solution for CCS charging communication-based on ISO 15118 conformance testing standards that empowers design engineers to prepare for type approvals and certification tests.
Smart Charging Emulation Software (SCE) – A highly customizable and configurable emulation environment for scenario- and functional-driven EV and EVSE tests based on CCS Basic, CCS Extended, and CCS Advanced profiles supporting DIN 70121, ISO 15118-2/-3, and ISO 15118-20/-3.
CCS Charging Protocol Trace Viewer (CPT) – A software application that enables decoding of CCS charging protocols and supports the DIN 70121, ISO 15118-2/-20 for vehicle-to-grid communication standard as well as other proprietary messages defined for the hardware abstraction layer.
EV smart charging infrastructure innovation center ElaadNL has adopted the new Keysight Com Tester in combination with the SL1047A Scienlab Charging Discovery System – High-Power Series, the SL1203 Scienlab Regenerative AC / Grid Emulator, and the SL1830A Scienlab Regenerative DC Emulator to support its industry partners in the development of new e-mobility products. Keysight's complete EV / EVSE charging test portfolio enables ElaadNL to help automakers and charging system manufacturers implement new standards such as the Megawatt Charging System.
Onoph Caron, Director of ElaadNL, said: "Keysight's complete charging test portfolio provides the tools we need to help our partners emulate real-life use cases to analyze the effects of EV charging on the power grid – both for quality and immunity tests. With these new solutions, we can speed innovation by mitigating interoperability challenges to bring new products to market quickly and smoothly, especially with new market developments such as vehicle-to-grid and new versions of the ISO 15118 standard. As an open facility, the ElaadNL test lab is working closely with our partners in the industry to build a robust energy system for new mobility."
Thomas Goetzl, Vice President and General Manager for Keysight's Automotive & Energy Solutions, said: "With the introduction of new communications-based charging test solutions to Keysight's already strong EV / EVSE test portfolio, we are giving the industry the tools it needs to respond to the accelerating e-mobility market. Keysight is the only vendor offering a complete turn-key solution, from R&D to maintenance."
About Keysight Technologies
At Keysight (NYSE: KEYS), we inspire and empower innovators to bring world-changing technologies to life. As an S&P 500 company, we're delivering market-leading design, emulation, and test solutions to help engineers develop and deploy faster, with less risk, throughout the entire product lifecycle. We're a global innovation partner enabling customers in communications, industrial automation, aerospace and defense, automotive, semiconductor, and general electronics markets to accelerate innovation to connect and secure the world. Learn more at Keysight Newsroom and www.keysight.com.