Join 3BL Media's Chicagoland Corporate Responsibility Stories Forum
Astellas, Conagra,and Walgreens will share stories of corporate responsibility at a breakfast hosted by 3BL Media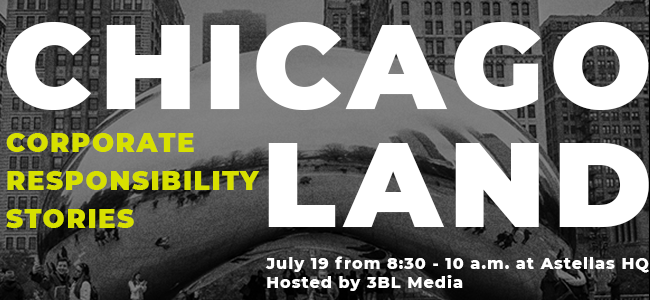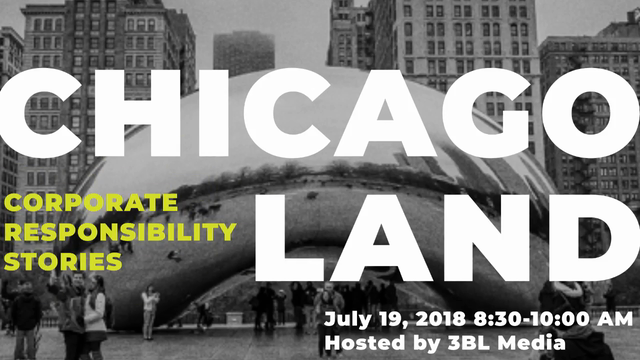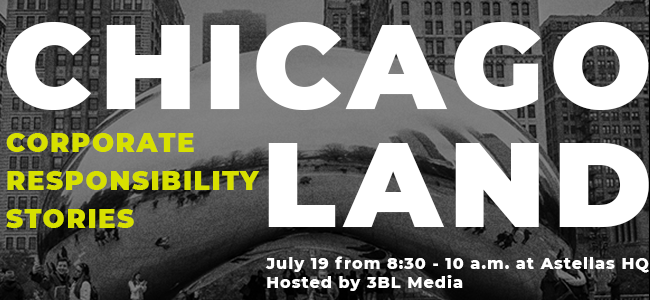 3BL Media, the world's leading communications partner for purpose-driven organizations, will host a free breakfast forum, "Chicagoland Corporate Responsibility Stories", on July 19. 
While sustainability is a competitive advantage for many companies, it can be difficult to break through the noise to get a media mention. In addition to sharing sustainability stories, we will explore best practices for making them "pop" to garner media attention.
This networking forum for corporate, nonprofit, and agency communications professionals is free to attend, and will be held from 8:30 to 10 am CDT, at the Astellas HQ located at: 1 Astellas Way, N.19-20, Northbrook, IL 60062.
About Our Panel, Moderated by Jen Boynton, Editor in Chief, CR Magazine:
Moyra Knight is executive director, Communications and Corporate Citizenship at Astellas US LLC, where she oversees corporate communications, business communications, regional communications, employee engagement, corporate citizenship and charitable giving, and she also is president of the Astellas USA Foundation.
Katya Hantel is director of sustainable development for Conagra Brands, where she works to integrate sustainability across the company's portfolio of leading frozen food, snacks and grocery brands such as Healthy Choice, Peter Pan, Orville Redenbacher and Frontera.
Malorie Frederick is responsible for implementing the WBA CSR strategy at Walgreens, which includes coordinating work across the network of their 9,000 + U.S. stores in the four focus areas of environment, community, workplace and marketplace.
About 3BL Media 
3BL Media is the world's leading communications partner for purpose-driven organizations. Through targeted content distribution, multimedia promotion and hands-on learning experiences we connect you to an unrivaled network of purposeful professionals and organizations so you break through.
About Astellas
Astellas is a pharmaceutical company dedicated to improving the health of people around the world through the provision of innovative and reliable pharmaceutical products. For more information on Astellas, please visit our website at www.astellas.us. You can also follow us on Twitter at @AstellasUS, Facebook at www.facebook.com/AstellasUS or LinkedIn at www.linkedin.com/company/astellas-pharma.