Investing in Our Planet Through Science and Innovation
by Andre Argenton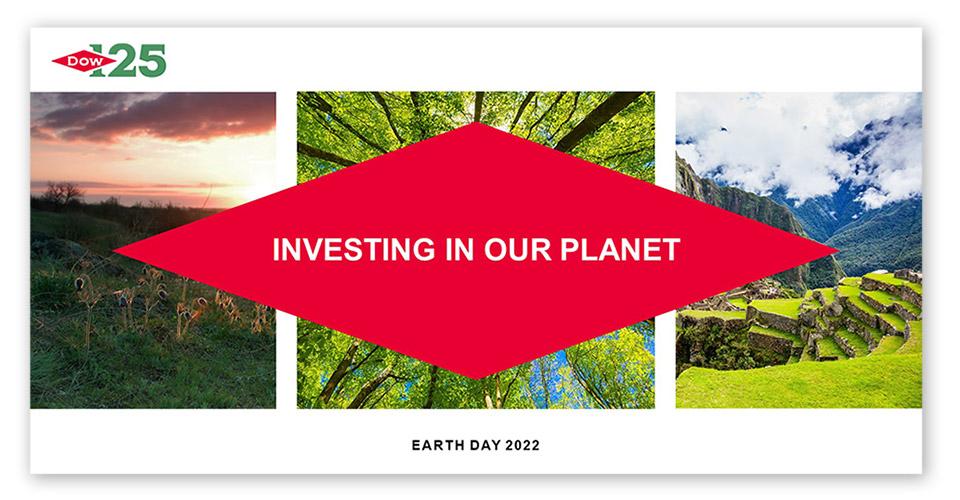 We have one planet with finite resources.
Our collective call to action is urgent.
On Friday, April 22, over a billion people in more than 193 countries will celebrate Earth Day. This annual event marks an opportunity to acknowledge all that the Earth provides us. It also reminds us of the importance of protecting the Earth for future generations. The 2022 Earth Day theme, "Invest in Our Planet," is a call to action for all of us – from individuals to governments to industry – to innovate and collaborate for a healthy, prosperous planet.
We can identify countless examples of how the Earth naturally sustains life. Over time, we have learned how to harness the Earth's resources to sustain a growing population and advance technological progress. Even since the first Earth Day in 1970, breakthrough innovations have radically changed our access to healthy food, readily available energy sources and clean water. Advances in medicine mean that people live longer. And in many parts of the world, relative comfort has become the norm. We are accustomed to access to food, on-demand medical care and clean, bottled spring water.
This evolution was powered by science, developed by academia and industry and supported through investment in our planet. Most of us enjoy the results of progress without seeing the process. Consider the remarkable 14-year increase in life expectancy since 1970.1 Achievements like this were possible through science that enabled materials that are key to our most vital hygiene and medical products and that elevated the standard of living of the population on the planet. Science is one of the fundamental pillars of human progress.
The question now is: "How do we maintain the gains of societal progress while protecting our planet from some of our most pressing challenges like climate change?"
A sustainable future requires continued investment in science and innovation from industry
As we celebrate all that Earth has provided and the life it sustains, it is important to remember that our planet's resources are not inexhaustible. We must continue to invest in our planet. We must invest in science and innovation to protect these resources.
Just as our journey to today's modern society was powered by science and industry, so will be our evolution to a sustainable future. Customers and consumers are demanding safer, more sustainable materials. And using our materials science expertise, we're delivering solutions that are:
Water saving: Our easy-rinse silicones in laundry soap that reduce foam, enabling up to 50% less water use;
Lower carbon: Paints formulated with bio-based binders that contain up to 35% of bio-based carbon obtained from renewable feedstock;
Energy efficient: Polyurethane foam systems that improve insulation performance in refrigerators and freezers – appliances that account for approximately 30% of the total household energy consumption; and,
More circular: Our RENUVA™ Mattress Recycling Program that works across the value chain, so mattresses are recovered and the foam is recycled back to polyol, used again to make foam for insulation.
Dow already is investing in bold technologies to address circularity and climate protection. This includes advanced recycling technologies in which used-mixed plastic waste is broken down into its basic elements and repolymerized into the equivalent of virgin plastic – keeping it out of incinerators or landfills. And to help us decarbonize and grow, we plan to build the world's first net-zero carbon emissions integrated ethylene cracker and derivatives site in Alberta, Canada. This investment will enable our company to produce and supply approximately 3.2 million metric tons of certified low- to zero-carbon emissions polyethylene and ethylene derivatives.
As a scientist, I have a passion for solving meaningful problems. We have one planet with finite resources. Our collective call to action is urgent. I believe we need continued investment in science and innovation to deliver a sustainable future for all.
Andre Argenton, Chief Sustainability Officer and Vice President of Environment, Health & Safety
1 Max Roser, Esteban Ortiz-Ospina and Hannah Ritchie (2013, rev 2019) - "Life Expectancy". Published online at OurWorldInData.org.