Inspiring the Next Generation of Aviators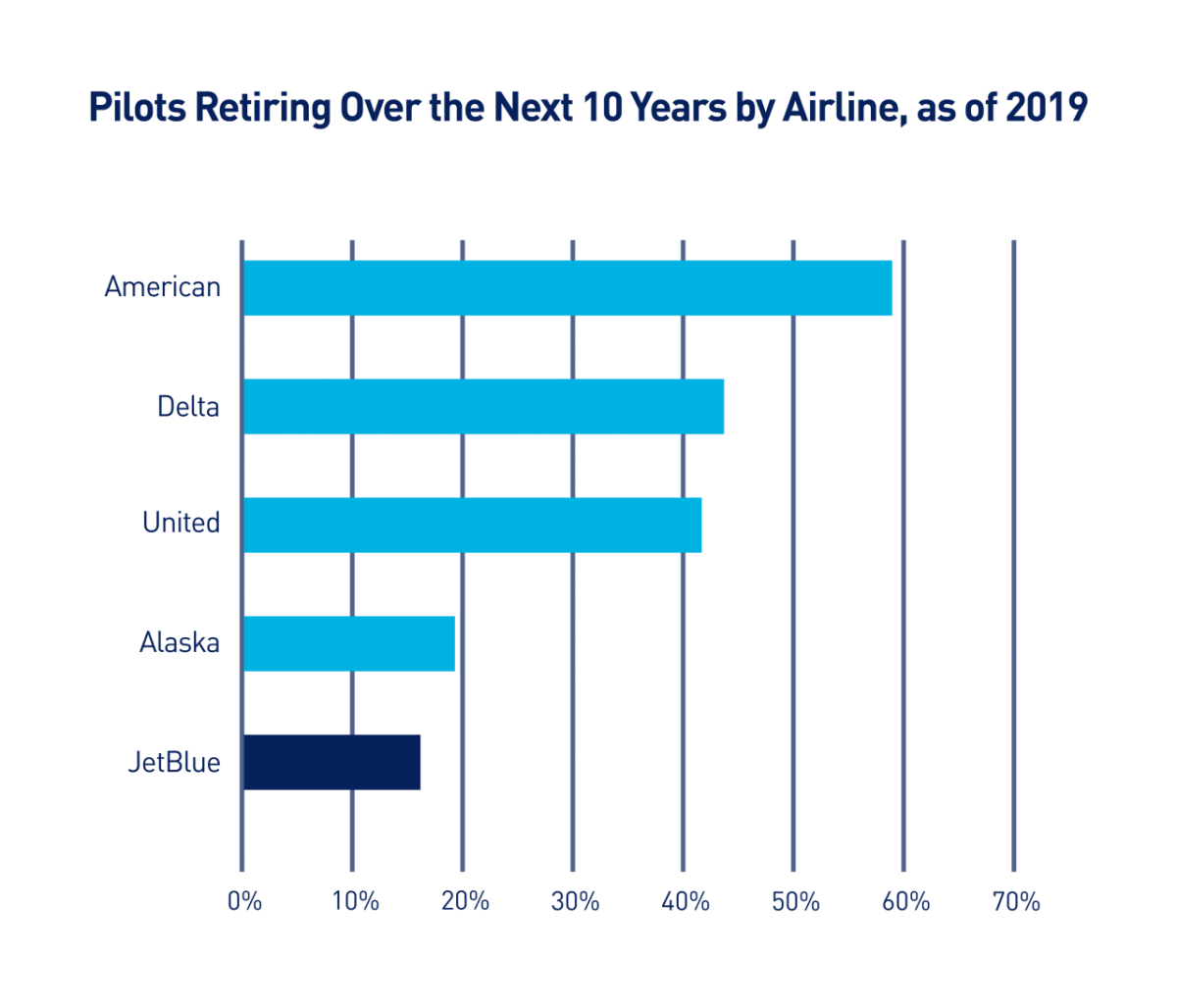 Source: <a href=" https://www.airlinepilotcentral.com/"target="_blank"> www.airlinepilotcentral.com </a>
Some investors are aware that the United States' aviation industry is facing a shortage of pilots within 10 years, as 15,000 pilots will be entering retirement. At the same time, fewer young pilots are going through training due to rising training and certification costs. It is now three times more expensive to become a commercial pilot than it was in 1990.* JetBlue's relatively young age as a company is reflected in its pilot demographics, currently giving JetBlue an organic advantage over its competitors.
JetBlue is also proactively establishing its own pilot talent pipeline, making it easier for those interested in JetBlue to receive the necessary training to become JetBlue pilots. In doing so, JetBlue acquires skilled pilots who fully embrace its culture and values and retains them for the length of their careers, addressing one of its largest costs: pilot wages.
For each pilot trained, JetBlue sees a return on investment after one year while also addressing our staffing needs for the future.
Programs include:
University Gateway Program, a direct-path program for college aviation students who have set their eyes on JetBlue. The program allows participants at specific aeronautical universities to serve as flight instructors and then fly with one of our airline partners. This completes their technical requirements to become a JetBlue first officer
More than 60 graduates are now JetBlue pilots; 100% of these graduates are still at JetBlue.
Gateway Select Program, which allows aspiring pilots with little or no flight experience, from any background, to apply and train to become a JetBlue pilot. The program includes primary training and also a specialized preparation course on JetBlue simulators with JetBlue instructors. The program culminates with a stint as a flight instructor to build experience and flight time before coming to JetBlue.
Currently, 61 trainees are in Gateway Select. The first group of six pilots will be at JetBlue in the spring or early summer of 2020.
Transition Gateway Program helps crewmembers in our other workgroups (such as Ground Operations or Inflight) to become pilots. This program provides a prescribed path and pilot mentorship to crewmembers as they gain experience and flight time before returning to JetBlue as a first officer.
Currently, 22 pilots are either in or have completed Transition Gateway, with another 10–20 new crewmembers entering the newly revamped program in 2019.
An additional advantage of these programs is increased pilot diversity, something the industry currently lacks (see "Case Study: JetBlue Foundation"). Across all of our above mentioned programs, 7% of pilots are women, almost double the national average for airline transport.** In Gateway Select, 20% of the pilots in our program are from underrepresented groups, about five times the national average.***
Learn more about JetBlue's commitment to create industry-leading environmental social governance (ESG) strategies, programs, and disclosure reports in our 2018 Sustainability Accounting Standards Board Report
* "US Airline Pilot Supply Forecast," University of North Dakota, 2016. http://www.airservicealliance.com/wp-content/uploads/2017/02/UND-RASA-MTG-IN-MSP.pdf
"Pilot Workforce and Training Solutions," Regional Airline Association, 2018. https://www.raa.org/wp-content/uploads/2019/04/May_Update_04302018.pdf
** "Current Statistics of Women in Aviation Careers in U.S.," Women in Aviation International, 2017. https://www.wai.org/resources/waistats
***. "Labor Force Statistics from the Current Population Survey," Bureau of Labor Statistics, 2018. https://www.bls.gov/cps/cpsaat11.htm