Inclusion and Diversity Council Inspires New and Ongoing Initiatives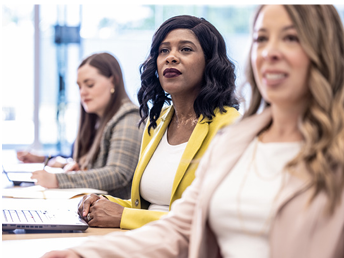 Originally published in Quest Diagnostics 2021 Corporate Responsibility Report
"People genuinely want to understand. It's a journey and it's an important journey, but it won't be immediate. You have my personal commitment to have these types of forums on a more frequent basis to help move the conversation forward."

Karthik Kuppasamy, PhD Vice President and General Manager, Northeast Region, and Co-chair of the QIDC, speaking before an African-American Business Leaders EBN Forum
Founded in 2021, the Quest Inclusion and Diversity Council (QIDC) is critical in informing and driving our I&D strategy. The QIDC is comprised of 18 diverse senior leaders from across the business, which helps to ensure alignment and integration between our I&D strategy and overall Quest strategic priorities. The QIDC is responsible for sponsoring proactive and impactful I&D initiatives, providing perspectives on social issues, identifying new opportunities to enhance Quest's current I&D programming, and communicating our progress and priorities out to the rest of the organization.
"Integrating different perspectives from employees with different backgrounds, experiences, talents, and capabilities is a key business imperative," explains Cathy Doherty, Senior Vice President, Regional Businesses, Regional Businesses, and co-chair of the QIDC. "Diversity enables us to gain critical insights into problem-solving, enhance creativity and innovation, extend market outreach, minimize turnover, strengthen leadership and teamwork, and enhance regulatory compliance. Diversity is what gives us strength at Quest."
Celebrating a culture of inclusion
The addition of Diversity Day to our annual paid holiday calendar is an important milestone on our I&D journey. Employees are empowered to take their Diversity Day on a date that is meaningful to them, in addition to holidays already observed by Quest. Approximately 18,000 Quest employees took advantage of Diversity Day in 2021.
Quest supports gender parity
Since 2015, Quest Diagnostics has been a proud founding member of the Healthcare Business Women's Association Gender Parity Collaborative, a group of healthcare and life sciences companies dedicated to developing and committing to action to promote women in the workplace and accelerate gender compensation parity.
"Inclusion inspires innovation, a key company value at Quest Diagnostics," says Cecilia K. McKenney, Senior Vice President and Chief Human Resources Officer. "The Collaborative provides a great laboratory for ideas to germinate and be exchanged to accelerate gender parity in all the member companies."