#ImpactInAction: A Year of Virtual Volunteering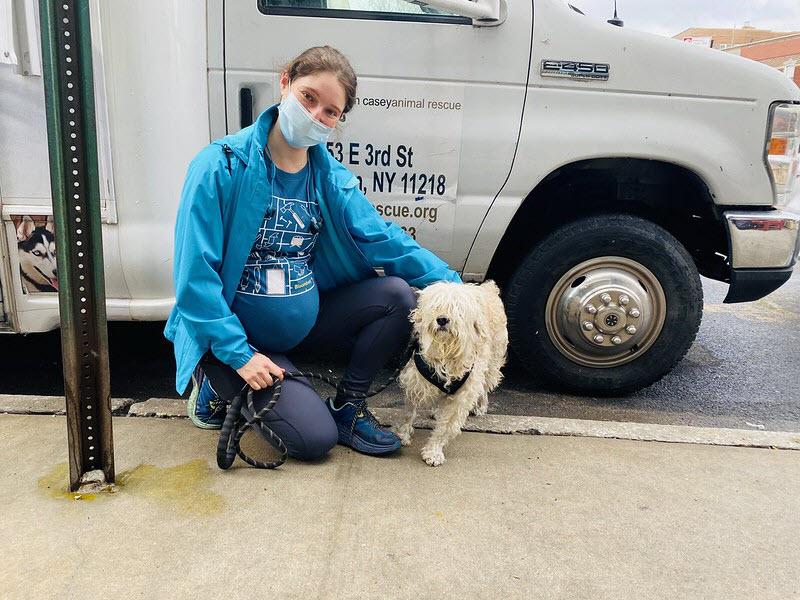 Where it is safe, Bloomberg is reintroducing socially distanced in-person volunteering events that employees love, like dog-walking with Sean Casey Animal Rescue in New York.
#ImpactInAction: A year of virtual volunteering
Originally posted on bloomberg.com/company.
When it comes to supporting our local communities, Bloomberg employees like to roll up their sleeves. Bloomberg's "Best of Bloomberg" program connects employees with causes they care about, with near-daily volunteering activities made possible through the company's corporate partnerships with non-profit organizations around the world.
Like our Friday chess club meetups at our New York headquarters, volunteering is very much a social activity at Bloomberg. People often bring their families to annual river clean-ups and deliver meals around the city to the home-bound, networking with colleagues along the way. But as the early spread of the pandemic exacerbated need in our communities, it also isolated employees from helping as they normally would. Yet that didn't stop Bloomberg's engaged base of employee volunteers. In 2020, 11,640 employees in cities all over the world channeled their skills, time, and expertise in creative ways — even at a distance.
Research-based volunteering
The watchword for 2020 volunteering was "virtual." Bloomberg volunteers spent hundreds of hours together in the past year contributing to virtual research projects that leveraged our data-driven expertise.
Employees across 68 cities supported Humanitarian OpenStreetMap, countering the devastating impacts of COVID-19 by providing invaluable logistical data that put some of the world's most hard to reach areas on the map. In Peru, our volunteers' work identifying roads and buildings enabled financial support to reach the most vulnerable communities and helped humanitarian services manage data about health implications in the region. In Botswana, map completion helped create a COVID-19 response dashboard used by local governments to distribute food to those most in need. In all, 2,000+ Bloomberg volunteers were part of this effort to better enable humanitarian services to reach remote communities with critical aid.
In addition, thousands of employees also spent quality time catching up with colleagues while supporting the scientific community. Through people powered research platforms like Zooniverse and the Smithsonian's Freedman Bureau's Records, teams added 376,000+ classifications across biology, astronomy, and humanities projects.
Mentoring
COVID-19 disrupted the education of millions of young people, yet our skill-building and mentoring programs adapted to the virtual environment with the help of our partners and employees. Employees in New York, for instance, are working with students from the East Harlem Tutorial program to build robots with the FIRST Robotics competition. Bloomberg supported FIRST's robotics build season this year with a new coding language called Scratch that makes it easier for Bloomberg volunteers to teach children remotely on tablets and cell phones, not just computers.
"This year has been especially challenging with Covid," says Bloomberg engineer, Sharon Kass, an active volunteer with FIRST Robotics. "These kids have been warriors, as have my fellow Bloomberg coaches and mentors. We're learning a lot of extra skills that we wouldn't otherwise learn if it weren't for Covid."
In some ways, remote volunteering made the world a little closer-knit. Bloomberg's Corporate Philanthropy connected key education partners in the Asia-Pacific region with English language support — some joining from half a globe away. Bloomberg volunteers taught from their offices and homes through the Stepping Stones program, conducting weekly classes for 200+ Chinese elementary school students in rural provinces. And 40 Bloomberg volunteers from across the globe virtually mentored students at the Asian University for Women in Bangladesh.
In London, Bloomberg volunteers worked with the Head Start program, which supports young people from refugee, asylum-seeking and ESL backgrounds. The program focuses on employability and personal development and the partnership is being expanded through 2021.
Volunteers remotely led webinars to provide continuing business and financial education to more than 200 journalists, editors, and civil society leaders within the Bloomberg Media Initiative Africa (BMIA) alumni network and Community Media Fund grantees, reaching 18 countries in Africa and beyond.
Helping Neighbors in Need
Our efforts may have taken place at a distance this year, but Bloomberg volunteers also didn't hesitate to make a difference in their local communities — like in London, where volunteers provided communications support for the SilverLine Helpline, which serves isolated elderly people in need across the UK. Company volunteers assessed and triaged applications for the London Community Response Fund, resulting in the successful distribution of 41.8 million GBP to 2,041 nonprofits throughout London.
In São Paulo, Bloomberg volunteers worked with Litro de Luz to build solar-paneled LED lamps with everyday supplies for Brazilian communities that lack access to electricity.
Working with Litro de Luz was a great experience on many levels," says Adriana Dupita on the Research team in Sao Paulo. "It was an important reminder that many people living in the same country do not have access to something as simple as electrical light to read at night. I hope the lamp itself and the gesture convey to the community that, while basic infrastructure may remain far, love and support find a way to get to them."
Americas-based volunteers also showed their care, particularly over the holiday season, by decorating holiday cards and Thanksgiving recipes included in the 200 food baskets coordinated by the Princeton Office Committee and donated to Bentley Community Services, Mercer Street Friends, and Children's Home Society.
One of the largest cross-office regional volunteer projects has been the "1,000 Kit Challenge." From Bangkok to Beijing, Mumbai to Tokyo, employees across our Asia offices have been convening to assemble hygiene kits, which are then delivered to essential workers like security guards, street sweepers, delivery personnel, migrant workers, and others in need. In conjunction with Pride Month, BPROUD Singapore joined the challenge to deliver kits to the first and only social organization serving the nation's transgender community.
"The '1,000 Kit Challenge' is the first time we have involved 16 Asia offices in a single volunteer effort, and it's supported by Corporate Philanthropy, regional Office Committees and the local chapters of our D&I Communities," said Vandna Ramchandani of APAC Corporate Philanthropy. "Not only is it exciting to bring the region together towards a common goal, but giving back to the communities in which we live and work is also known to be a key way to building resilience."
Learn more about Bloomberg's Corporate Philanthropy and employee engagement initiatives in the Bloomberg Impact Report 2020.